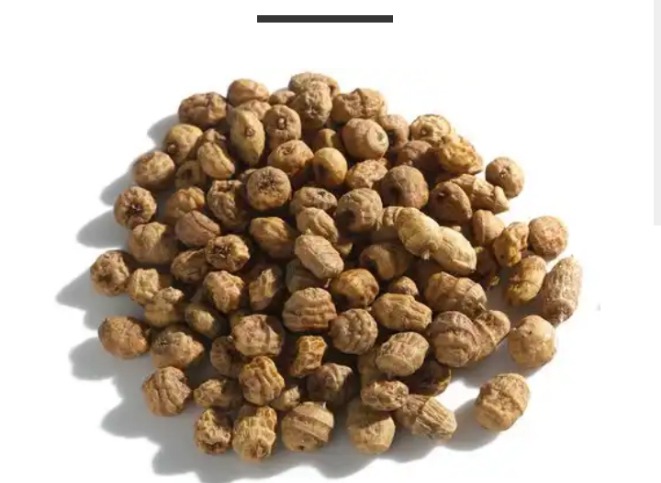 Tiger nuts, also known as chufa, yellow nutsedge or earth almonds, are not actually nuts, but rather edible tubers.
They're the size of a chickpea but wrinkly with a chewy texture and sweet nutty flavor similar to coconut.
Tiger nuts were one of the first plants cultivated in Egypt and traditionally used as both food and medicine.
They're rich in a variety of nutrients and have been linked to several health benefits — ranging from better digestion to a reduced risk of heart disease.
TigerNuts are rich in prebiotic fiber. Prebiotics act as food for your body's natural organisms. They help your gut's natural probiotics thrive. A single ounce of TigerNuts has 40% of our daily recommended fiber!
Health benefits of Tiger Nut.
Rich in Nutrients. Tiger nuts contain a variety of nutrients and beneficial plant compounds.
May Improve Digestion.
May Reduce Blood Sugar Levels.
May Improve Heart Health.
May Boost Your Immune System and Help Fight Infections.
May Act as an Aphrodisiac.
Tigernuts when heated up or pressed secrete a flavorful oil that you can use while cooking or drizzled on any dish. While you can find tiger nut oil at most health food stores, making your own is much more rewarding.
Procedures of extracting your Tigernut oil.


How do you peel tiger nuts?
Soak the tiger nuts in water for about 8 hours to 10 hours
Tigernut with the shells on are a little tough, and they can be hard to eat and cook with. Submerge the nuts in water for 8 to 10 hours to soften up and dissolve the shells.
The shells will naturally come off on their own once they're in water—no need to actually peel them with your handshake.
How do you extract oil from nuts at home?
Use an oil press machine if you have one.
Pour your tiger nuts into the funnel in the top of the press, then turn it on (if you're using a manual press, light the candle instead). Crank the handle to crush the nuts and extract the oil into a bottle underneath the press.
Roast the nuts and extract the oil if you don't have a pressing Machine.
Spread your peeled tiger nuts out onto a baking tray and put them in the oven at 350 °F (177 °C) for about 20 minutes. Mash the roasted nuts into a pulp, then put them in a pot on medium heat. As the nuts heat up, the oil will naturally separate, and you can scoop it out of the pot with a spoon.
You can use tiger nut oil in place of olive oil for most dishes.
Try drizzling it on salads, mixing it in with pasta, or using it on appetizers. It has a rich, slightly nutty taste that isn't overpowering, so it goes well with savory dishes.
You can also try using tiger nut oil in homemade beauty products, like face and hair masks.
Hope you got value from this article? Please like, share, comment and follow me for more interesting updates.
Thanks.


Source: Organicgemini.com, wikiHow and healthbenefits.
Content created and supplied by: miniharry (via Opera News )