The plantain and egg frittata is a delicious and nutritious breakfast choice that can easily appeal to anyone.
Its prime ingredients are the African plantain when it is fried and several eggs which are utterly delicious on their own. Combined together, they are just wow. This makes this special breakfast choice a must eat for everyone.
It used to be believed that too much egg isn't good for people but now, it has been made certain that a person can eat up to five eggs in a day and that is a good thing as egg contains HDL which is the good kind of cholesterol.
In an egg you get;
1. Selenium.
2. Vitamin D, B6, B12.
3. Minerals like zinc, iron and copper.
4. Egg yolks are a source of vitamin A, D, E and K and lecithin.
5. Egg yolk contains more calories and fat.
The African plantain is a favorite of all. You can have it boiled and eaten with red oil or fried and eaten with fried eggs or in a plantain and eggs frittata like you are about to learn. It is highly nutritious to the body. A half-cup of plantains has about 2 grams of fiber.
Some of its nutritional value includes,
1. Magnesium.
2. Potassium (more than bananas). 
3. Vitamin A, K, C (thiamin) and B (riboflavin). 
Frying plantain.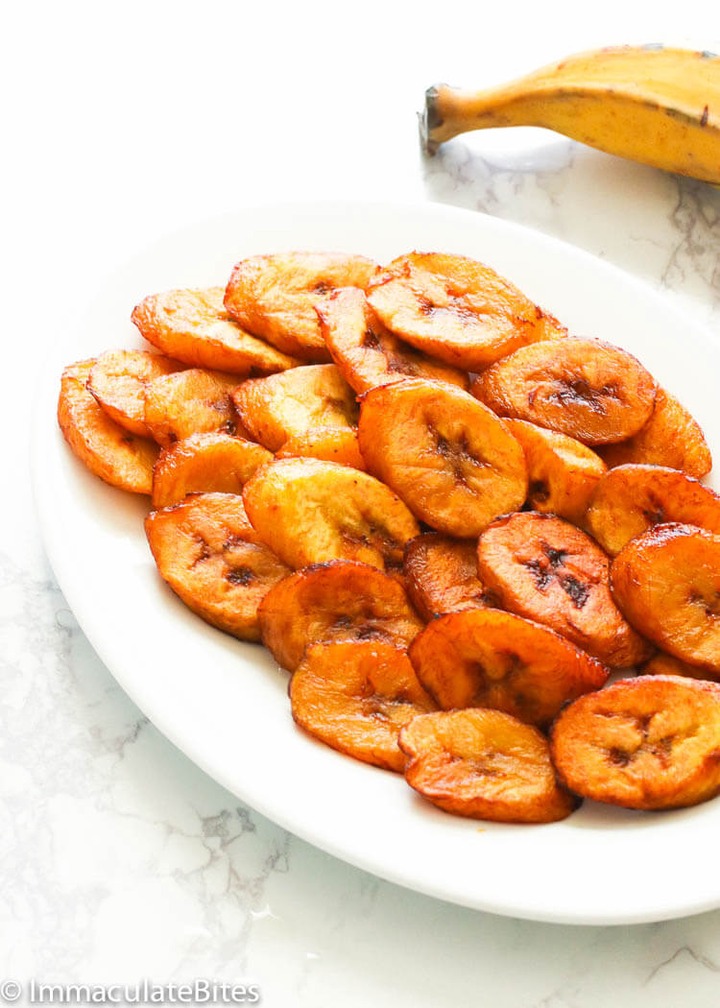 When making the plantain and eggs frittata, fry your plantain before hand. Due to its sugar content, a ripe plantain when it is fried will caramelize and produce the most wonderful and delicious flavors.
Frying the plantain is very easy. All you need to do is to peel the back, then cut it up either in the circular shape or the long shape. Both works for the plantain and eggs frittata.
Once done, heat up some healthy oil on your stove. You can place your plantain in the hot oil like that or you can add some salt to taste before hand and thoroughly distribute it through the plantain with your hands. Either way, your plantain will come out delicious as long as you don't over salt it. Leave it in the hot oil and check regularly. When the bottom takes on a golden brown color, turn it over so the top can fry. When every side is browned over, remove from the pan while remembering to drain the oil. That is how to fry a plantain. 
You can use freshly fried plantain or leftover plantain as long as it is enough.
There are two ways to make a plantain and egg frittata. You can oven bake it or you can just prepare it on a non-stick frying pan if you don't have an oven. Either way, your result is a delicious new meal your family will love and commend you for.
Now, without much ado, this is how to make a plantain and eggs frittata.
Ingredients.
These ingredients are not necessarily standard. Be inventive with yours. You can add and remove whatever you want. You can use beef, diced ham or chicken, any type of sausage available to you, frozen vegetables, parsley etc.
1. An onion bulb.
2. Olive oil.
3. Crushed garlic (2 cloves).
4. Chopped tomatoes (5 pieces).
5. Sausages. Any type of sausage (2 pieces).
6. Thyme, curry powder, ground chilli powder, stock cubes and salt.
7. Red and green peppers cut to strips (optional).
8. Eggs (8 pieces).
9. Plantain (cut in circles and fried in oil).
Process (the filling).
1. Cut up your onion bulb into a small bowl. In a non-stick pan, you should then add and heat up three tablespoons of olive oil over low heat. 
2. Saute (lightly fry) your cut up onions and then continuously stir. This way they will barely brown over.
3. Add the crushed garlic to the pan and stir around.
4. Add the previously chopped up tomatoes and leave all this to simmer for about 3-4 minutes.
5. Slice your sausage up (make them round small pieces like the round way of cutting plantain) and then add this to the pan. Stir around.
6. Now, add all your seasoning to your desired taste and stir to combine it all. Leave for about 1-2 minutes.
7. For some pop of color, add in your red pepper strips and your green pepper strips.
Process (the eggs).
1. Break your eggs into a big bowl and add salt to your desired taste. 
2. Now, thoroughly whisk the eggs with a hand held whisker.
NB: You can also use a fork to whisk the eggs.
3. Pour in your filling into the whisked egg mixture.
Process (oven method).
1. With a brush, evenly cost the inside of your baking dish with butter. You could also use olive oil but butter just adds to the taste so why not.
2. Next, pour your eggs mixed with the filling into your oil coated baking dish.
4. Now, arrange your fried plantain very gently on top of the mixture in a circular pattern. Do this until you have covered the whole surface.
5. Although this is optional, you can now garnish the middle of the dish with some more red and green pepper strips.
6. Place the baking dish in your oven set to 350°F and leave to bake for 20-25 minutes.
7. Once the time is done, remove and transfer to your delicious breakfast meal to a plate. Cut it up with a knife or a pizza cutter the usual way pizza is cut up and your oven baked plantain and egg frittata is ready to be enjoyed by all.
Process (frying pan method).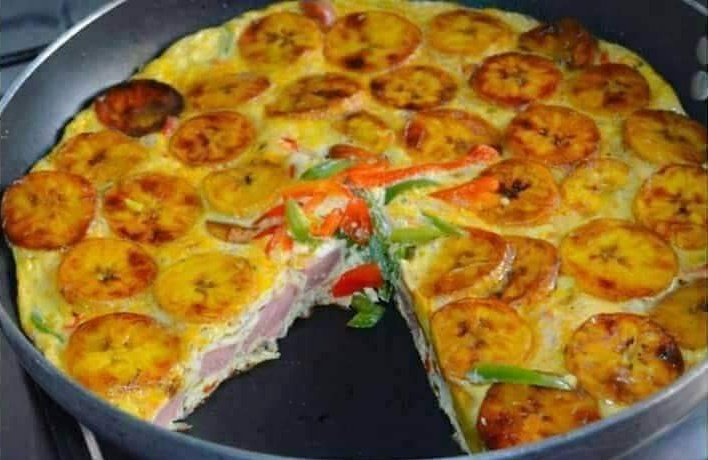 1. Coat your non-stick frying pan with either olive oil or melted butter. Use a brush to even it out.
2. Pour the egg and filling mixture into your frying pan.
4. Get you your fried plantain and gently arrange on top of the mixture in a circular pattern until the entire surface is covered.
5. Garnish the middle with some more red and green pepper strips.
6. Cover with a pot cover and cook for 20-25 minutes.
7. Onceit is properly cooked, remove and place in a plate. Cut it up with a knife and your frying pan baked plantain and egg frittata is ready to be enjoyed by you and your family.
Potato and egg frittata.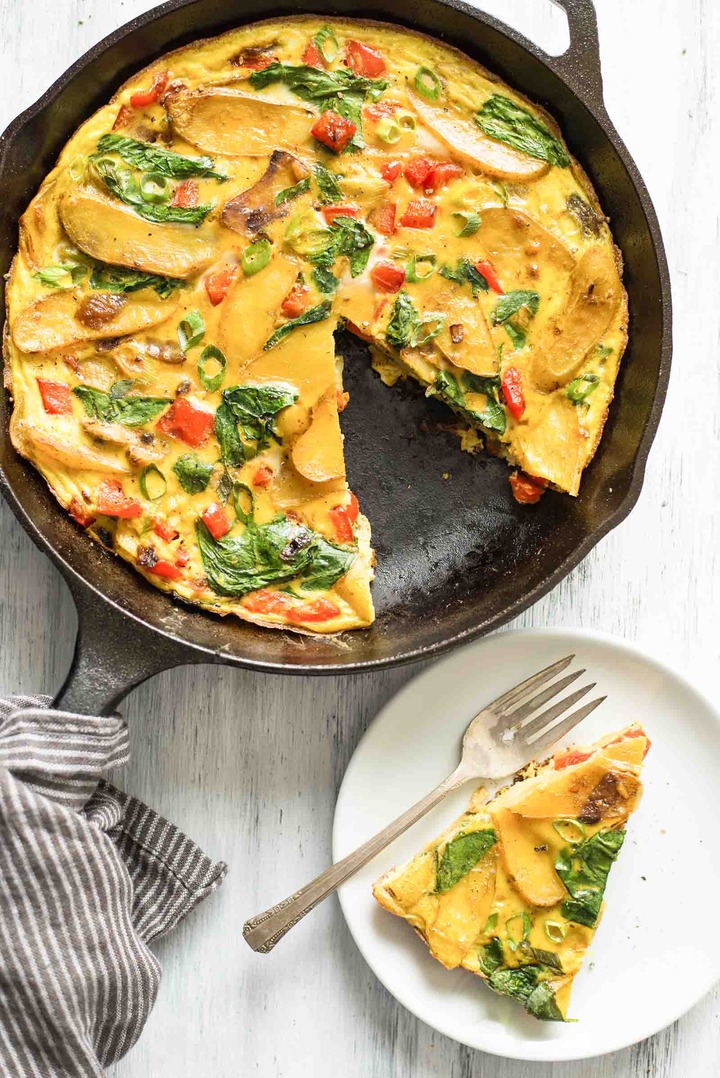 This dish is absolutely delicious from start to finish. Its prime ingredients are clearly potatoes when already cooked and eggs.
The potatoes have to be boiled and salted already. Infact, you can use leftover potatoes from a previous meal to make the potato and egg frittata.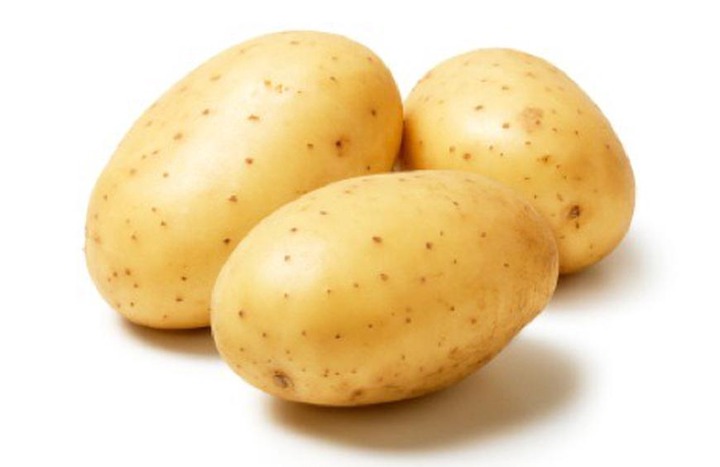 Potatoes are high in:
1. Vitamins.
2. Minerals.
3. Antioxidants.
4. Fibers.
5. Resistant starch. 
The steps in making the potato and eggs frittata is quite straight forward and easy to follow.
Ingredients.
1. Leftover Potatoes or freshly boiled ones if you have no leftovers but still want to eat Potato Frittata. (can be boiled or fried).
2. Vegetable oil (2 tablespoons).
3. Eggs (5).
4. Chopped scent leaf.
5. Crushed garlic and ginger
6. Fresh tomato (sliced).
7. Chopped onions.
8. Green pepper (optional)
9. Stock cubes and salt.
10. Deboned smoked fish.
Process.
1. Preheat oven to 180°C.
2. In a skillet, add oil and use it to fry the onions, ginger, curry and garlic till its browned over.
3. Add the green pepper, the sliced tomatoes and the fish.
4. Add the potatoes and the seasoning. Cook for 6 minutes.
5. Prepare your whisked egg by adding salt and seasoning, then pour into the skillet. Transfer this into the oven and let it bake for 30 minutes or leave on the fire following the pan method in the plantain and eggs frittata recipe.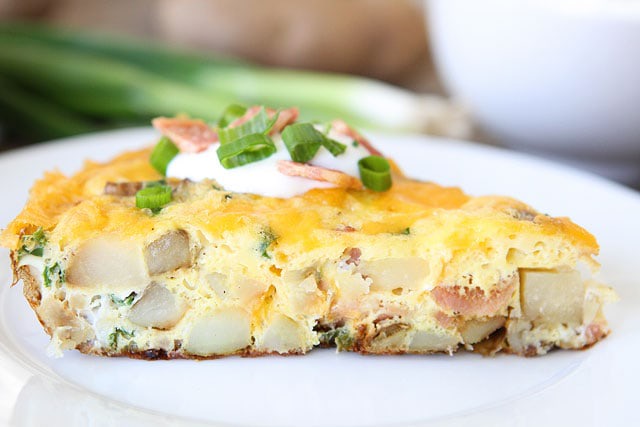 Thank you so much for reading. Like and share and follow for more recipes from all over the world.
If you tried this, let me know your progress in the comments section.
Stay safe and eat healthy.
Content created and supplied by: Mimifood (via Opera News )
Opera News is a free to use platform and the views and opinions expressed herein are solely those of the author and do not represent, reflect or express the views of Opera News. Any/all written content and images displayed are provided by the blogger/author, appear herein as submitted by the blogger/author and are unedited by Opera News. Opera News does not consent to nor does it condone the posting of any content that violates the rights (including the copyrights) of any third party, nor content that may malign, inter alia, any religion, ethnic group, organization, gender, company, or individual. Opera News furthermore does not condone the use of our platform for the purposes encouraging/endorsing hate speech, violation of human rights and/or utterances of a defamatory nature. If the content contained herein violates any of your rights, including those of copyright, and/or violates any the above mentioned factors, you are requested to immediately notify us using via the following email address operanews-external(at)opera.com and/or report the article using the available reporting functionality built into our Platform See More