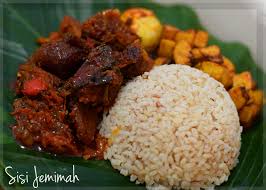 INGREDIENTS 
-200g Ofada(native)rice 
-10 pieces semi-ripe red chili peppers 
- 1 oz Locust beans 
- 2 ½ cooking spoon of Palm Oil 
-400g Assorted meat 
-7 pieces Tomatoes 
-1 Onions 
-1 Garlic/ ginger 
-1 oz Shrimps 
-½ Crayfish 
-8 Snails 
-Seasoning (Maggi, salt, thyme and curry) 
Method
STEP 1 Boil the native Ofada rice till cooked (be sure the rice is clean before boiling) 
STEP 2 Grind or pound all the pepper, with tomatoes, few onions, a bit of garlic and gingers. 
STEP 3 Add 2 ½ cooking spoon of palm oil with sliced onions, a pinch of salt, allow to fry for 3mins. 
STEP 4 Add all the grinded pepper, crayfish, shrimps, snail, assorted meat and the rest, enough locust beans, Add a pinch of salt and 1 ½ Maggi to cook and add, curry, thyme and brown stock, but check the taste if okay.
Cook all for 15minutes and serve in moi moi leave.
Content created and supplied by: Dammywrites (via Opera News )