Lift Up Your Legs For 15 Minutes Every Day And You'll Be Amazed At What Will Happen To Your Body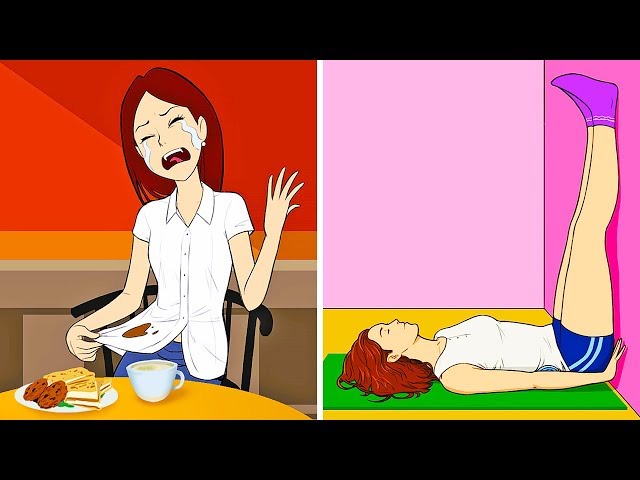 What will happen if you lift your legs for 20 minutes every day? Finding an exercise that doesn't require much time and effort seems like an impossible mission until today. Believe it or not just one exercise can seriously improve your mood, shake off your tiredness and provide you with a whole bunch of other health benefits. Want more details? Then keep reading. But before we get down to business, don't forget to Follow our channel so you won't miss a thing.
So what do you think this miraculous exercise is? A plank or a cool yoga pose? No just leg lifting. The only thing required from you is to do it correctly. Let's go through all the steps together and then you'll understand all the nuances that help this exercise work its magic to the fullest.
Step 1 - Pick a comfortable position near a wall.
Put a pillow or a soft roller under your lower back.
Step 2 - Lift up your legs and stretch them along the wall.
Your hands should be relaxed down by the sides of your body. Stay in this position for about 15 to 20 minutes.
And there you go. Simple but highly effective. Don't forget that it is important to choose comfortable clothes that won't block or interfere with your blood circulation such as loose clothes without waistband.
Keep in mind that this is not a daily exercise. It's more of a training technique that will boost a lot of your body processes and help you relax as well. Doing it 2 - 3 times a week is enough to get all the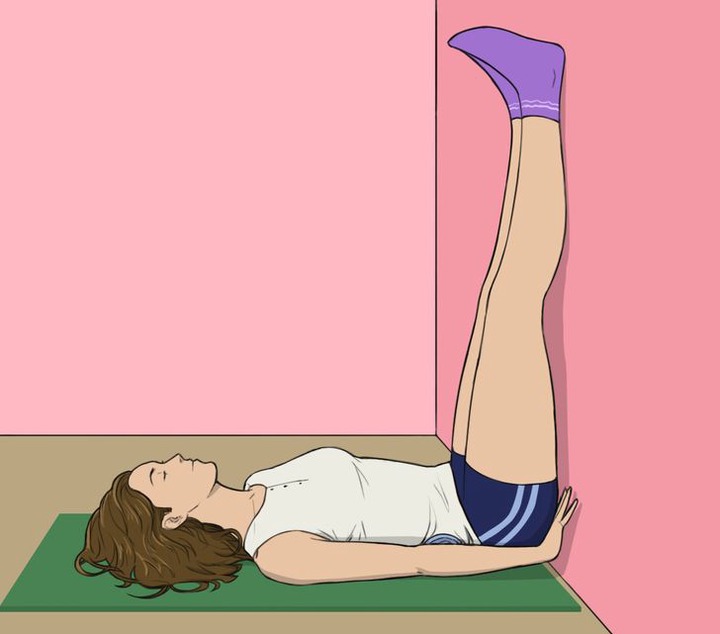 Be sure to follow all the instructions carefully and try not to make these common mistakes:
Lying down too far from the wall or too close to it or putting a roller that's too soft under your neck. Any of these actions can lead to muscle tension and can interfere with the leveling of the spine and you definitely won't appreciate all the changes that come with incorrect leg lifting. If it's too uncomfortable or you feel like something is wrong, go through all the steps once again to double check if you're doing everything correctly. If everything looks good it won't take long for you to see astonishing results.
So what exactly are these results? Time to find out!
#1) The feeling of heaviness in your legs will disappear
A lot of people suffer from a frequent feeling of heaviness in their legs. If you're one of them you'll certainly enjoy the change that will come with regular leg lifting. The feeling of swelling and heaviness in your legs that you are experiencing is actually connected to poor blood circulation. Other possible reasons for this issue include a heart or kidney malfunction, excess weight or an unhealthy diet. If it's really bad you must visit your doctor before doing anything major. Always follow their recommendations closely. Still leg lifting be an amazing addition to whatever your main treatment is. All you need is 20 minutes twice a week and you'll feel fabulous again.
#2) No more tiredness when wearing high heels
Every woman looks incredible in high heels but the struggle of wearing them is real. Nothing can compare to the sweet release of taking them off, right ladies😁😁😁. Well with regular leg lifting, you'll forget the feeling of high heel tiredness within days. The discomfort you face comes from the poor body weight distribution caused by high heels. So it's no surprise that your legs feel incredibly tired after a long day in heels. To make this feeling go away and give your leg some rest, you just have to change the position of your body to improve your venous duct. Fortunately there's a little routine you can do to treat your legs after a long day in stilettos. Take off your high heels. Lift up your legs and relax for 15 to 20 minutes in this position. Then massage your legs gently and take a warm shower. Your legs will surely appreciate the effort making it less and less troublesome to wear heels with each leg lifting session.
#3) Your Digestion will improve
Lying down with your legs lifted up like this improves the work of your stomach. Leg lifts also increase the blood supply to your internal organs through the drainage of blood from the legs. The smooth muscles responsible for Paracelsus of the stomach get toned too and that's exactly what you need. Since prosthesis is a muscle contraction necessary for the movement of digesting food at the same time, increased blood circulation boosts the work of your digestive system. Doubling the positive effect. Moreover regular leg lifting allows most of the nutrients you consume to be absorbed quickly.
#4) Your Nervous system won't be stressed
The workweek usually increases your stress levels quite a bit. The constant tasks you have to do fast enough the deadlines and all the work problems that have to be solved can drive anyone crazy. That's why when we come home, we often just want to lie down, watch TV.and forget about all that work drama. Leg lifting however is a great alternative to this. It'll help you relax and breathe in more air. Getting more oxygen for your body tissues and improving your blood circulation. As a result all your inner organs will be supplied with important nutrients and elements your nervous system will be happy to. Leg lifts reduce muscle tension around the temple's neck and stomach a perfect ending to an awful workday.
#5) Your Quality of Sleep will improve
One of the most common reasons for insomnia is a recurring unpleasant feeling in the legs, goosebumps, burning or swelling and of course regular leg lifts can help you get rid of these symptoms in no time. Proper breathing and great blood circulation, as we learned earlier are also on the long list of the benefits of leg lifting and this will get more oxygen to your brain so the quality of your sleep can improve too.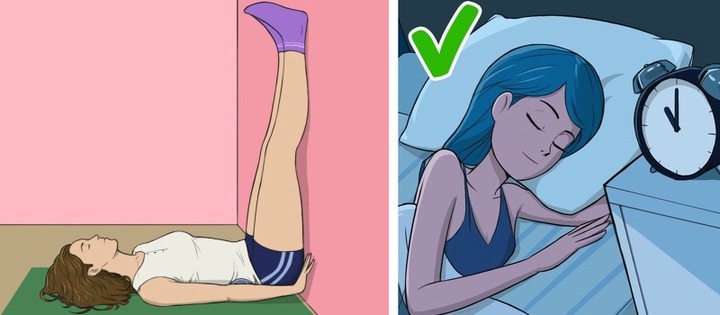 And those are the main benefits of leg lifting. But there are a couple of additional ones - helping with anxiety, arthritis, headaches, migraines, urinary disorders, menstrual cramps and menopause. So whatever your health problem is there's a high chance that leg lifting will be seriously useful in the fight against it. As you get more used to the exercise, you can mix it up with different variations. Try sliding your legs apart into a V shape to give a good stretch to your inner thighs or push your hands against the top of the inner thighs to stretch the groin. Either way just stick to a healthy lifestyle. Do leg lifts regularly and good changes will follow. So what do you think?
Would you like to incorporate this exercise into your daily routine?
Tell us in the comments below. Don't forget to give us a Like and click the Follow button to stay on the bright side of life.
Content created and supplied by: BeBusinessSmartWithHilary (via Opera News )