Today's Headlines: Sunday Igboho Speaks Again, Naira depreciates, And More
Sunday Igboho Speaks Again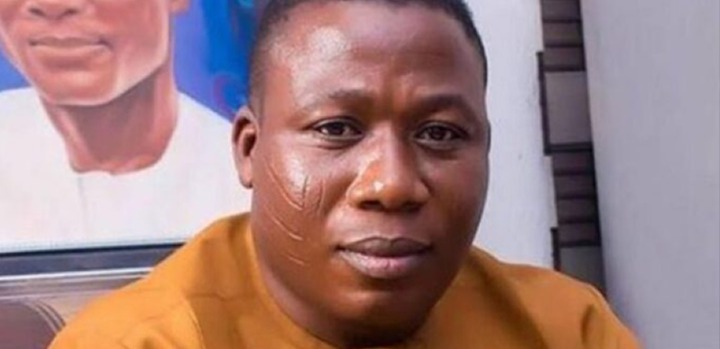 I Am Ready To Fight Boko Haram – Sunday Igboho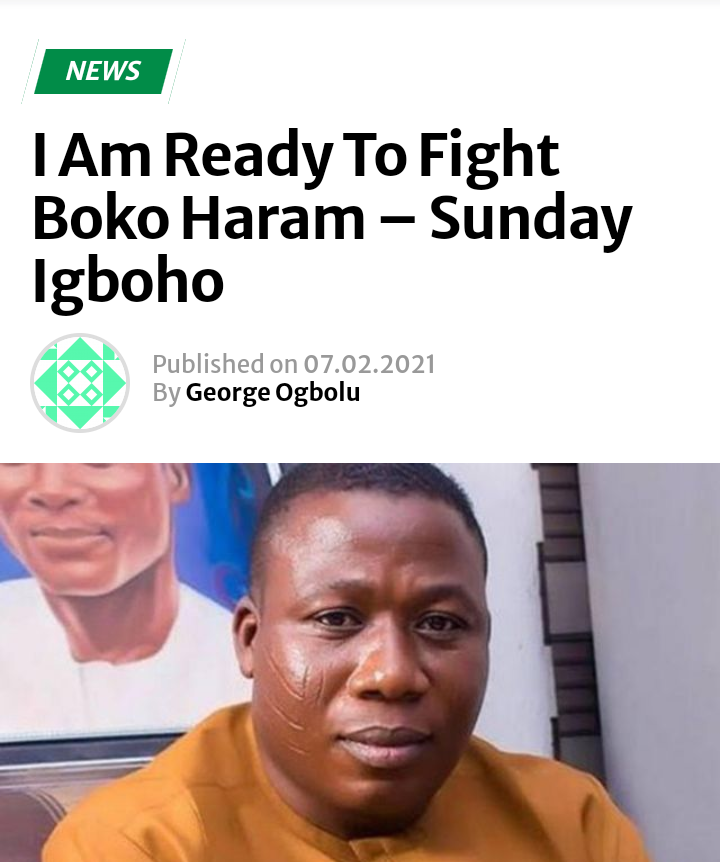 Yoruba activist Sunday Adeyemo, also known as Sunday Igboho, has said he has what it takes to defeat Boko Haram insurgents. In a video interview released in 2021, Igboho said he was ready to fight Boko Haram without the government's support.
He said: "That which I will use in the fight against Boko Haram, I have it already."
Speaking further, Igboho claimed that the Western Nigeria Security Network, also known as Amotekun, will be ineffective under government control.
He said: "These herders we are fighting against, they are not after money, they only get orders from their leaders. Yoruba freedom fighters should not be kept under Governors, these governors will turn the fight against insecurity to business.
‌Hoodlums attack APC registration centre, kill ward chairman in Benue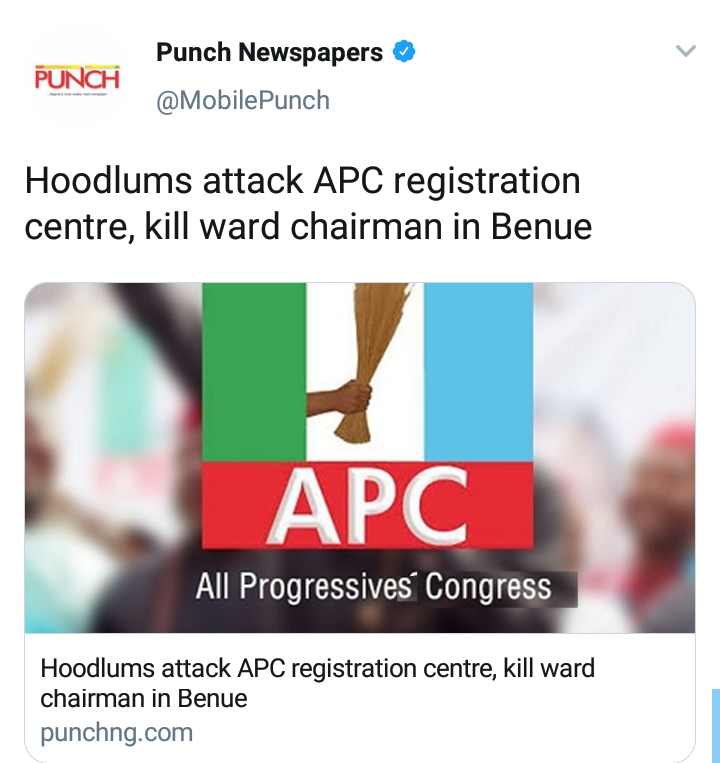 The Police Command in Benue State has confirmed the murder of Mr Tersoo Ahu, the Ward Chairman of the All Progressives Congress, Gboko South, Gboko Local Government Area by suspected hoodlums.
The Command's Police Public Relations Officer, Catherine Anene, confirmed the incident in a telephone interview with the News Agency of Nigeria on Sunday in Makurdi. Anene said that preliminary investigation revealed that suspected hoodlums allegedly from a faction of the party in the council ward carried out the attack at the party's registration and revalidation training centre.
DR Congo announces 'resurgence' of Ebolab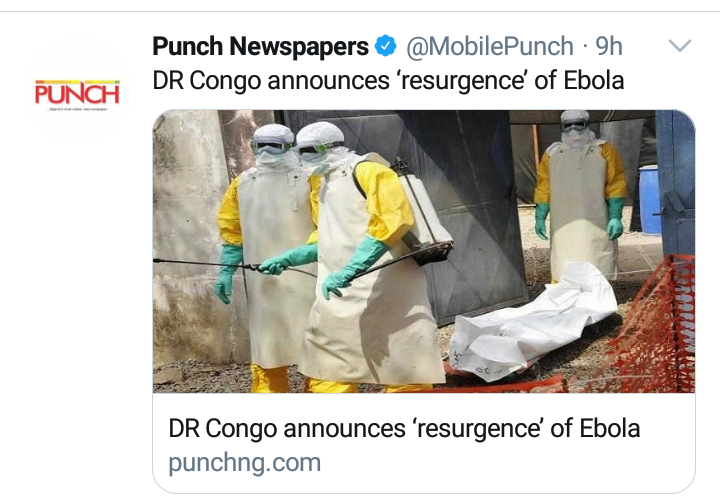 DR Congo on Sunday announced a "resurgence" of Ebola in its troubled east after a woman died of the disease, just three months after authorities declared the end of the country's previous outbreak.
"We have another episode of the Ebola virus" in the Biena health zone of North Kivu province, Health Minister Eteni Longondo told state television RTNC.
"It was a farmer, the wife of a survivor of Ebola, who showed typical signs of the disease on February 1," he added. She died on February 3, after which a sample of her blood tested positive for Ebola, the health ministry said. The Democratic Republic of Congo declared on November 18 the end of its eleventh Ebola outbreak, which claimed 55 lives out of 130 cases over nearly six months in the northwestern province of Equateur.
Single Pfizer vaccine shot 90% effective after 21 days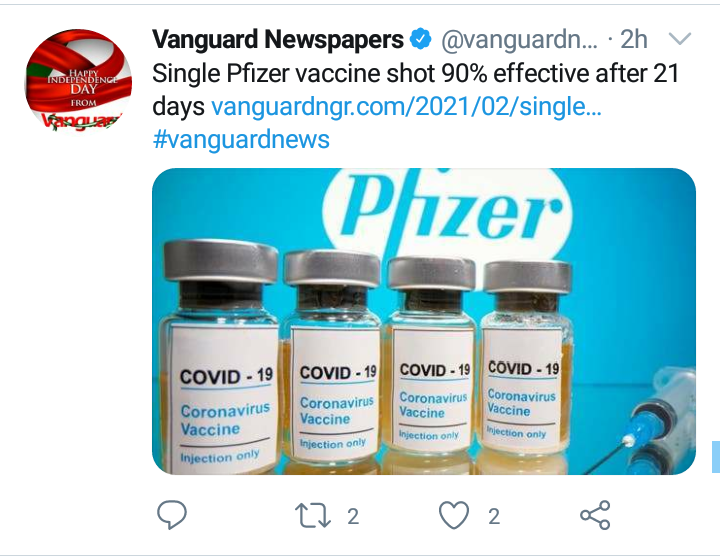 A single dose of the Pfizer vaccine provides "very high" protection from Covid-19 after 21 days – without the need for a "top-up" dose in the recommended time frame, according to a new study from the University of East Anglia. When researchers looked at data from Israel, where the vaccine has been rolled out, they found that the Pfizer vaccine becomes 90 percent effective after 21 days – supporting UK plans to delay the timing of a second injection. However, they warn that people's risk of infection doubled in the first eight days after vaccination – possibly because people become less cautious. Due to the rapid response nature of this research, it has not yet been peer-reviewed.
Naira depreciates
Naira depreciates as external reserves decline persists to $36.12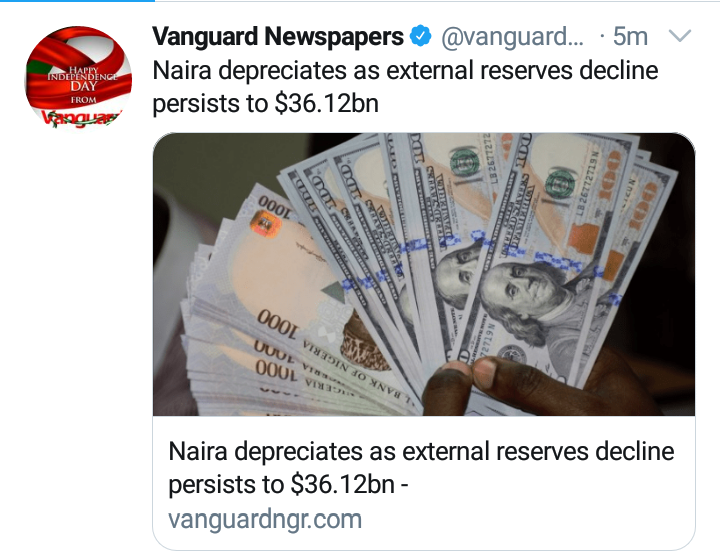 The naira last week buckled under the weight of increaseddollar demand,depreciating in both the parallel market and the Investors and Exporters (I&E) window, even as the nation's external reserves declined further to $36.12 billion last week. Data from the Central Bank of Nigeria (CBN) showed that the external reserves fell to $36.116 billion Wednesday last week from $36.395 billion Wednesday the previous week. This translated to a $279 million week-on-week (w/w) decline and it represents the second weekly decline in the reserves since December 17th.
'It's Fueling Terrorism' – CBN Defends Ban On Cryptocurrency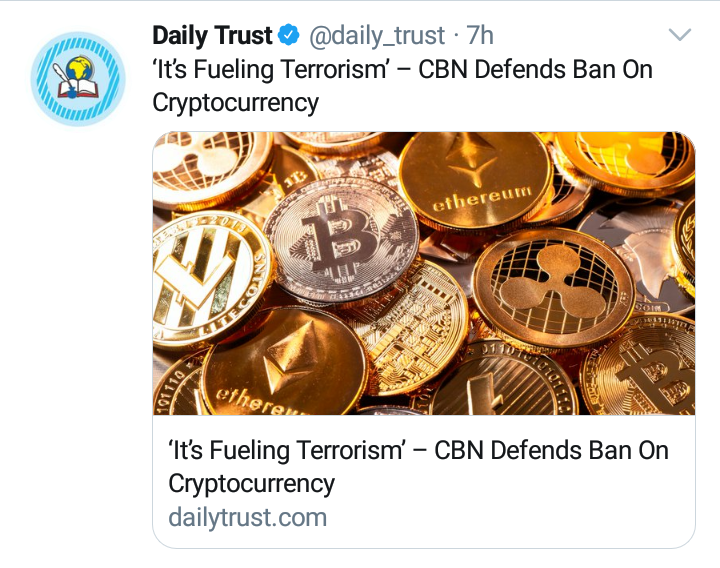 The Central Bank of Nigeria (CBN) has justified the ban on cryptocurrencies, saying it fuels illicit financial flow and terrorism. In a statement, The Central Bank of Nigeria (CBN) has justified the ban on cryptocurrencies, saying it fuels illicit financial flow and terrorism. In a statement, Osita Nwanisobi, Acting Director, Corporate Communications, CBN, said the ban on cryptocurrencies will not have any negative impact on Fintechs as there are other robust platforms they can thrive. "The use of cryptocurrencies in Nigeria are a direct contravention of existing law. It is also important to highlight that there is a critical difference between a Central Bank issued Digital Currency and cryptocurrencies. As the names imply, while Central Banks can issue Digital Currencies, cryptocurrencies are issued by unknown and unregulated entities" Nwanisobi explained.
3 'Almajirai', 8 Others, Burnt In Tanker Explosion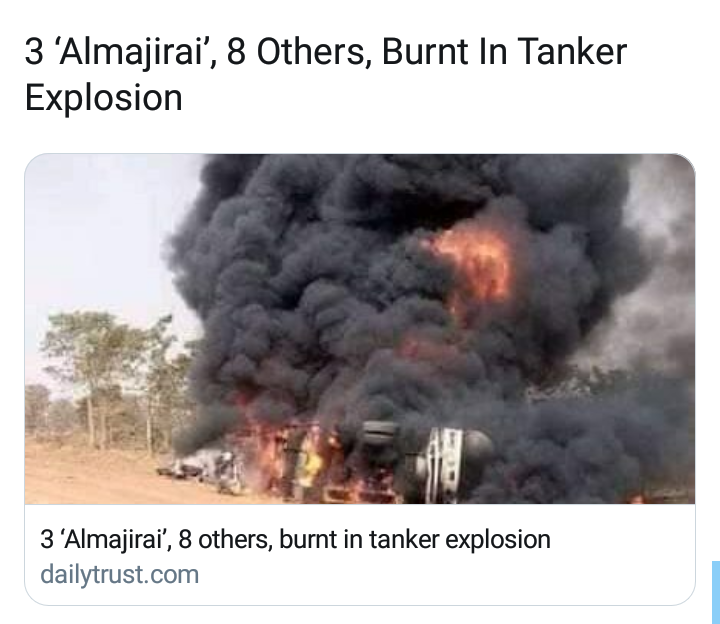 The incident happened when residents were scooping fuel from the tanker.
Three 'Almajirai' children, whose names were yet to be identified alongside eight others were burnt to death after a petrol tanker exploded in Gawu community in Abaji Area Council, Abuja .GaDay community, shares boundary with new-Gawu in Suleja, Niger state.
Among those that also lost their lives in the explosion were a house wife, Halima Mohammed Yusuf, chairman of the vigilante of Gawu, Adamu Ibrahim, Dantala Usman, Umar Aliyu, Mohammed Hamza, Hassan Usman, Gambo Hamisu and Sani Abdulmutalib.
Content created and supplied by: Flashentertainment (via Opera News )