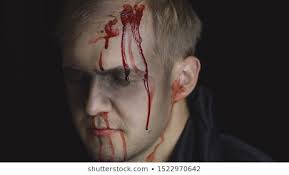 It was a cloudy morning and a cold one at that. All I wanted to do was get wrapped up in my blanket and forget about this world. My mum spoilt it all, with her early assignment for me. She needed me and my cousin to go pick up the goods to be delivered for her that morning at the estate gate. 
After much grumbling and persuasion, we set out in the thickest of clothes to ward off the cold. Setting out, the cold was the height of all troubles have experienced. Myself and my cousin to keep warm and get done with the work, we began jogging. We were few minutes away from the estate gate when we met Kola popularly called 'Coal'. You can actually guess why he's called that. Down to earth dark complexion! 
He detest being called that, but na hood we dey jo! What you hate the most is what your fam will call you. The fact that be would get furious but won't do anything because we're friends makes calling that name more fun. He was in his jogging suit and wore a frown, who cares? 'Coal! Coal!! Coal!!!' 
Hailing him excitedly, he moved closer and punched me in the shoulder just as he usually does when he wants us to stop calling him that. I gats to hail my padi now, I called him Coal again until successive punches were thrown at my face and I began to feel the sticky red gum flow from my face before the cloudy morning gave way to darkness. 
To be continued
Thanks for reading
Follow for more update
Content created and supplied by: Identified (via Opera News )