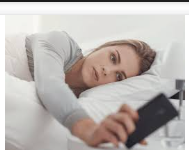 1. Checking your phone in bed: using your phone in the morning can affect your brains ability to prioritize take. The information overload that hits (you) before you're fully awake interferes with your ability to prioritize tasks, "Dr Said Nikole" . Banders-Hadi, a psychiatrist, was quoted as saying by Elite Daily.
2. Snoozing: we've established that hitting the snooze button will probably make you feel foggy and more tired . And regularly relying on it to sneak in more zzzzs with mess with your body's internal clock, which can actually deprive you of sleep and set you up for some major health problems.
3. Leaving the blinds closed; studies have shown that the dioxide level in the bedroom goes up first if you sleep with a closed window.
4. Getting out of bed instantly: waking up abruptly can cause higher blood pressure and heart rate. Besides increasing your blood pressure, an alarm can add to your stress levels.
Content created and supplied by: Samuelpatrick100 (via Opera News )