Many times people face this condition known as sleeping paralysis.
You are not so deeply asleep but you feel that someone is pressing you down or sitting on your chest. Some people's sleeping paralysis go as far as seeing a dark figure in the room.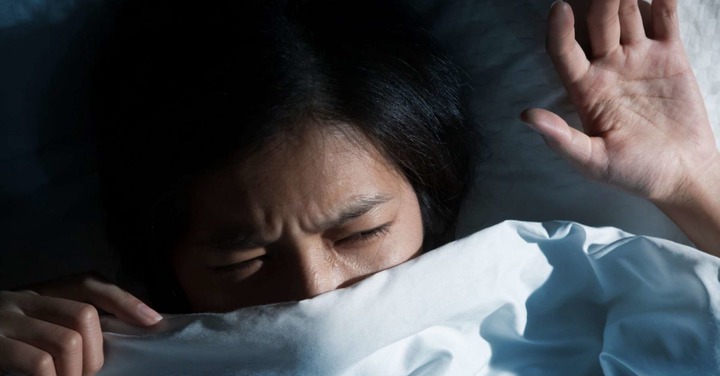 This is not a metaphysical invasion, it is forgetting your BRAIN to turn back on your muscles, so you find it hard to move and you think someone is pushing you down.
The brain makes sure that we don't end up strangling ourselves to death when we sleep, or our bedmate when we have a bad dream. Often, when you have an awful dream or a dream where you see yourself fighting if your brain doesn't turn your muscles off, you may be kicking your brother or sleeping with your spouse without knowing it. That is why, as we sleep, the brain momentarily paralyzes our body to prevent causing harm when we are deeply unconscious during a bad dream. Many individuals have attributed this condition to spiritual attack, well, praying about anything is good, but let us be wise. Nearly all Nigerians have been affected by this condition once or twice, tell me, is it all Nigerians who were spiritually attacked? Everything we need is wisdom.
Now, as this disorder arises, the reason you see a dark person in the room is that your brain is still puzzled as to what exactly is happening when you fail to turn your muscles back on. To explain the occurrence that takes place before itself, in order to make meaningful sense of its own uncertainty, the brain comes up with an illusion picture of another. " let us assume your child has broken a glass cup and he or she does not want you to know that he/she broke it, she now gave you a story of how the cat in the house broke the glass "even if the story is a lie, you're going to believe it, that's exactly what the brain does in this case, it brings up a dark figure to explain why you can't move to keep its own secret.
That is why the person you see is still dark because faceless, and the brain does not know whose face to use.
Sleep paralysis is also induced by fatigue, stress and inadequate nutrition.
it is not a spiritual attack, it is a brain condition that is not actually a threat to your life.
Thanks for reading, the topics covered here are available for positive progress and critical assessments. Please do well to drop a comment below and share the article with as many as possible as possible
Content created and supplied by: Frydey6 (via Opera News )