Menstruation
Is a normal part of the female reproductive system, the uterus sheds its lining once a month, resulting in menstruation. The lining exits into the vaginal canal after passing through a small gap in the cervix. More information on menstruation can be found on the internet.
What is PMS (premenstrual syndrome) and how does it affect you?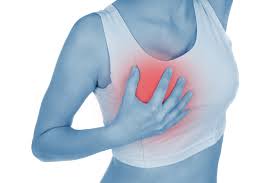 PMS is a collection of mental, physical, and psychological symptoms that arise after a woman's ovulation and usually end with the start of her menstrual flow. Irritability, sadness, crying, oversensitivity, and mood swings are the most common mood-related symptoms. Fatigue, bloating, breast tenderness (mastalgia), acne flare-ups, and appetite changes with food cravings are the most common physical symptoms.
Causes of premenstrual breast swelling and tenderness
Premenstrual breast swelling and tenderness can be caused by a variety of factors.
The majority of premenstrual breast swelling and tenderness is caused by fluctuating hormone levels. During a natural menstrual cycle, the hormones rise and fall. Each woman's hormonal shifts occur at a different time. The breast ducts expand as a result of estrogen. The milk glands swell as a result of progesterone intake. Your breasts can become sore as a result of any of these events.
In a "typical" 28-day cycle, estrogen and progesterone both rise in the second half of the cycle, from days 14 to 28. Progesterone levels increase during the week before menstruation, while estrogen levels peak in the middle of the cycle.
Breast changes such as tenderness and swelling can also be caused by estrogen-containing medications.
Treatment for breast swelling
Over-the-counter nonsteroidal anti-inflammatory medications (NSAIDs), such as Acetaminophen, Ibuprofen, and Naproxen sodium, can effectively relieve premenstrual breast pain.
These drugs can also help with the cramping that comes with PMS.
If you have mild to serious breast swelling and pain, talk to your doctor about the best treatment options.
Remedy for a healthy lifestyle
- Premenstrual breast swelling and tenderness can also be controlled by making lifestyle adjustments. When the symptoms are at their worst, wear a supportive sports bra. You may also wear the bra at night to provide additional support when sleeping.
- Breast pain can be caused by a variety of factors, including your diet. Caffeine, nicotine, and high-fat, high-salt foods can all make you feel worse. In the week or two before your time, reducing or removing these foods from your diet can help you control or prevent symptoms.
- Take a mixture of foods rich in Vitamins and Minerals these nutrients, such as: Corn, Carrots, Bananas, Peanut, Spinach, Avocados, etc.
If you find any of the following, contact your healthcare provider:
- Breast lumps that are recent or evolving
- Discharge from the nipple, especially if it's brown or bloody
- Breast pain that prevents you from sleeping or performing everyday tasks
- Unilateral lumps are lumps that appear in just one breast.
Note: All information is provided solely for educational purposes. Consult your doctor for detailed medical advice, diagnosis, and care.
Content created and supplied by: uniquehaywhy (via Opera News )