It was just a beautiful Friday evening when my husband, Kelvin got back from work. Then I was deep asleep. My husband kept on knocking but I didn't hear him, he became so angry that he shouted my name, Christabel aloud and used a rod to hit the door. Well that's when I woke up out of shock and hurriedly went to open up for him. The look he gave me told me how much of a mistake I made. I quickly apologized to him and told him I was deep asleep, then he forgave me. When he looked at my face closely, he realized how pail it was and asked me why it was so, I said nothing and he should freshen up while I prepare dinner.
Kelvin got back downstairs refreshed. He came into the kitchen and saw me slicing plantains for frying. He asked "baby are you okay?" I tried walking out on him but he pulled me back and said "you better start telling me what's up with you" in an angry tone. Then I told him I wasn't feeling too fine and I have been having bad abdominal cramps and vomiting. He was shocked and asked "do u need to go to the hospital" I said no, I will be fine. Then he asked "what about the family get together in my parents house, will you go?" I told him yes, if I don't go your mum will start suspecting. So we agreed on that issue.
The food was ready and Kelvin served both our food and a glass of mango juice each. We were having oil beans, fried plantains and juice. When u tried taking a sip from the juice I became super nauseous. My husband asked if I was ok because my facial expression wasn't looking good, I told him I felt like vomiting because of the juice, then he said finish your food before taking it again. I tried taking it after we had finished eating, this time I rushed to the bathroom to vomit. My husband followed me to see what was going on and assist me. I was so weak after that so I retired to bed.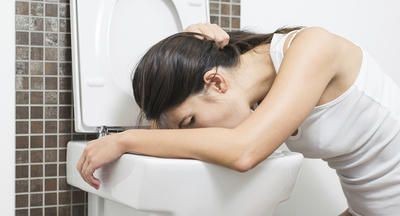 Morning came, I was still feeling nauseous but it was manageable. We got prepared, ate breakfast and we were of to my in laws house. When we got there in was so fun, the whole extended family members were present. I had a long chat with all the women in the family, they were all gathered in one place. I wasn't talking too much like before, so one of my husband's aunty asked what was wrong and u said nothing. Immediately after I said nothing my mother in law shouted "liar" in a way that everyone around heard including my husband, we laughed so hard, my husband and I looked at each other. My mother in law eh, that woman was starring at my husband while we were making eye contact. When we stopped starting at each other, I turned facing my mother in law. She gave me a look and told me to get inside. ohh knew it was time to answer questions from her.
So we both went to a room in the house, she sat me down on a bed and asked me when last I saw my period, it was so embarrassing, I asked her "mum why are you asking such a question?" She said "I'm asking you a question and you are answering me with questions this pikin". She went further to touch my breast, when gave it a light touch it pained me and that was unusual. She then asked me how many weeks or months have I gone in my pregnancy. I told her that I wasn't pregnant, then she said how them is your breast so heavy, your glow like that of a pregnant woman and look at you, you are adding weight so rapidly. For the last time when last did you see your period, I told her last two months. She asked if my husband knew I haven't seen my period, I told her not yet. Then she laughed and said baby girl you are sure pregnant. For a moment I started believing her but I was still unsure.
Evening came, we prepared and served to everyone at the dinning. I was so hungry I took permission to eat because I couldn't wait for them to finish the prayer, luckily I was permitted. After they finished they saw that I have eaten half of the food and I'm not the kind of person that eats fast and much, my husband was shocked alongside the other family members but my mother in law looked at me and said "Shay I'm telling you that you are pregnant, your head nor wan gree". That statement by her added to the shock of the others, my eyes and that of my husband came in contact again. Well we continue with our various food.
I was about to take a sip out of the juice provided but the smell stopped me, it made me nauseous so I dropped it. My mother in law smiled and looked at me. I picked it up again with a brave heart and drank all of it, the woman was surprised. In about 1 minute I knew I was going to vomit. I quickly rushed to the kitchen to vomit, it was so much. My husband came to check on me and help me clean up. Going back to the dinning room in the arms of my husband, everyone was just starring at me like I was shooting a movie scene. One of my husband's aunty said "Christabel I'm already thinking what your mum is thinking oh". I couldn't answer her because I was getting weak and still feeling nauseous. My husband helped me in taking my seat but It was not up to 2 minutes I got up and rushed back to the kitchen to vomit and my husband followed. This time I spent up to 5 minutes vomiting. I was done and he aided me back to the dinning. One of the little children asked "aunty boo what's happening to you". My husband told her "Kara your aunty boo is not feeling too well and Kara said sorry, I nodded my head to tell her thanks.
I was about to reach for my seat when I started feeling dizzy and fainted in the arms of my husband. According to what i was told when I woke up; My husband was so worried, my father In law called the family doctor. My mother in law was making sure the ventilation was ok for me. Everyone was worried. The doctor finally came and she did some examination and found out I was actually pregnant. About an hour later I regained consciousness, my head was still spinning but I was able to manage it, I asked them what happened to me and my husband began to smile, I was like what is making this one to smile, then he told me that the doctor confirmed me to be pregnant. I was over joyed, I looked at my mother in law and laughed, she said you have luck we didn't place a bet. We celebrated in small way that night. One memory I will never forget.
Content created and supplied by: Bellablaze (via Opera News )
Opera News is a free to use platform and the views and opinions expressed herein are solely those of the author and do not represent, reflect or express the views of Opera News. Any/all written content and images displayed are provided by the blogger/author, appear herein as submitted by the blogger/author and are unedited by Opera News. Opera News does not consent to nor does it condone the posting of any content that violates the rights (including the copyrights) of any third party, nor content that may malign, inter alia, any religion, ethnic group, organization, gender, company, or individual. Opera News furthermore does not condone the use of our platform for the purposes encouraging/endorsing hate speech, violation of human rights and/or utterances of a defamatory nature. If the content contained herein violates any of your rights, including those of copyright, and/or violates any the above mentioned factors, you are requested to immediately notify us using via the following email address operanews-external(at)opera.com and/or report the article using the available reporting functionality built into our Platform See More