A few scientist have claimed that they got the solution to their scientific or natural question in the toilet, either while bathing or while pooing. This can be said to be true depending on the environment, for those in a clean environment, it is the best place to properly think or meditate and this is not a theory based verdict but one that is based on facts.
This is because at this point your mind is kept busy and when fully engage one can think in many dimensions especially when one is disturbed with a question to solve. This has an anatomy explanation because an adage is always said in various native language in Nigeria that "one cannot defecate and do another thing at the same time." This is said to be true because at this point the bowel is only concerned with emptying it's content which is toxic to the body.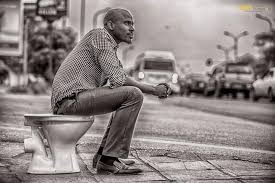 After the bowel has been emptied, there is a normal wait that is observed by every individual and at this point the body is free of a burden which also affects the mind hence freeing the mind too which eventually creates space for creative thinking of any kind, for those with an already dormant questions in their mind solution seems to sprout and germinate because of the serenity and infusion of the peaceful body and mind.
Content created and supplied by: Ginigeme101 (via Opera News )