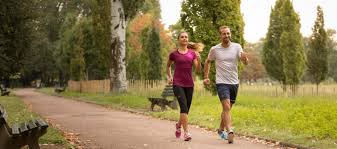 All experts agree in recommending the daily walk. Walking, walking, marching ... They are natural activities, which have a favorable influence on health and as important in the quality of life as a good diet. Most specialists advise walking at all ages but especially from mature age, strongly recommending it from the age of 50 because, according to different statistics, the life expectancy of people who perform this daily exercise will be about eight years superior to those who lead a sedentary life and do not do it.
The importance of walking daily Walking is a spontaneous and natural activity that can be done alone or in company, both in urban and rural settings. It must be adapted in its duration and intensity to the capacities and physical qualities of each one and can be carried out without hesitation at any age and in any condition. Taking a 60-minute walk a day has multiple health benefits. It helps to control overweight, obesity, high blood pressure, diabetes, hypercholesterolemia, cardiovascular disorders, mental disorders, stress, metabolic syndrome, osteo-articular problems and sleep disorders. It relaxes us, improves the mood and the feeling of well-being and induces tiredness and restful sleep.
Being a simple and spontaneous activity, walking does not require a lot of knowledge, but certain recommendations to do it well can be useful. They are listed below:
1. Wear suitable, flexible and adapted footwear and comfortable clothing in relation to the outside climate.
2. Pre-stretching and warm-up can be beneficial.
3. Walk with your head upright, looking forward, never down.
4. The back is straight and relaxed and the abdominal muscles slightly contracted.
5. Rhythmic and fluid swing of the arms, and correct movement of both legs and feet using the steps, the heel and the toes.
6. As it is a daily activity, certain routines can be followed, such as the type of route and the time of day it is carried out.
Content created and supplied by: Greenlanda (via Opera News )