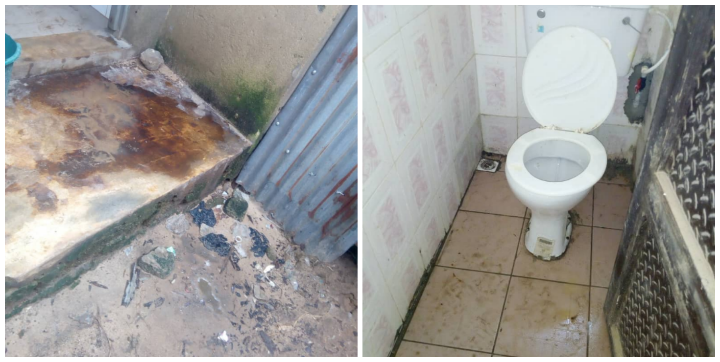 Lack of good toilet facility in most public and some private schools have been one of the major issues faced by women and girls in sub-Saharan Africans, especially in Nigeria.
Recently, during the World Toilet Day, so many persons took to their social media complaining lack of toilet facilities in some areas, many posted pictures of the different unclean toilet.
A post on Twitter captured my interest on how a student of RumuApara Community Secondary School in Obio/Akpor Local Government Area of Rivers State, Nigeria, defecated on his body due to lack of good toilet facility in his school, according to the post, the student was asked to go home just to use the toilet. It sounds annoying, right?
In the avoidance of doubt, I intentionally visited some public schools in Rivers State, shocking enough, these schools do not have a toilet.
This issue is not only applicable to Rivers State, but in other States including some tertiary Institutions. some students in tertiary institutions shared their ordeals as worst experiences, especially girls menstruating, and I was wondering, how would the few available hostel toilets look like, especially in public schools!
When the toilet is not clean women and girls suffer the most. Most schools have fewer toilets for thousands of students, and in such a condition where 1,000 students are to one toilet, women are at higher risk to toilet infections, especially when the toilets are not clean.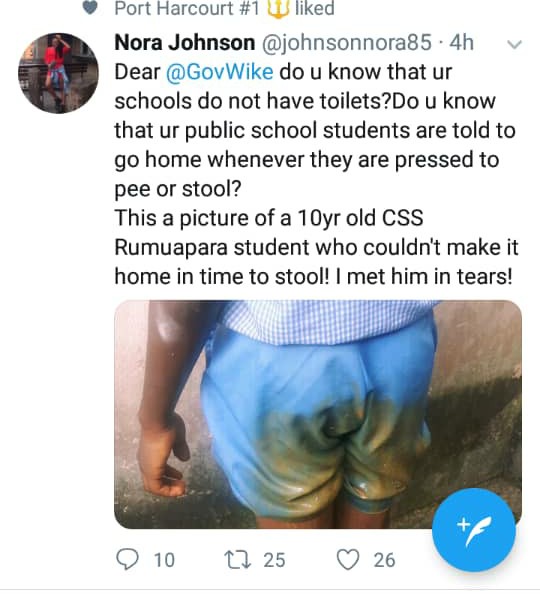 As the name implies, toilet infections(disease) are diseases contracted through the toilet. The different types of toilet diseases include Escherichia Coli, Staphylococcus, norovirus, streptococcus, Gardnerella, shigella bacteria, influenza amongst others.
My interaction with an environmental health officer, GOD'SOWN BARIERE reveals that because women and girls' bodies are widely open when using the toilet, an unclean toilet used by an infected person, the same infection can be contacted when another person uses the toilet.
The United Nations Women on her twitter handle noted that access to toilet is often taken for granted, adding that women are disproportionately affected by the lack of basic sanitation. This, they say undermines their dignity and safety from sexual and gender-based violence.
In my quest to know what was happening I started looking for students on the streets of Port Harcourt, to know the condition of their toilet in schools, I ran into 2boys on a sky blue mix with white shirt and plain sky blue short, who happens to be in a Junior Secondary School I asked them; Do you have toilet in your school? One of the boys responded, "we used to have 5toilets but they have taken it away maybe because the toilet is full." His answered triggers me to know his schools, he said Rumuapara. The boys said they last used the school toilet since last year 2018, "yes last year when I was in JSS1 and am now in JSS2'', answered one of the boys.
Giving free education without constructing a toilet facility is something the government needs to reconsider. In fact, the toilet is one of the basic facilities to aid hygiene and remains an integral part all school should have, not just a toilet but a clean toilet.
Still searching for students, on a Thursday morning in November, I met two girls in a white and purple skirt going to school, at first I never knew their school, I was only interested in the toilet issues, they boldly told me they have no toilet in their schools, adding that, "we have 4mobile toilets but I heard it was stolen".
This brings us to how helpful are we to the government? If the government or a company or any Philanthropist provides a mobile toilet for students, why on earth should anyone steal something as important as a toilet for students not minding that women and girls will be the most affected.
We use the toilet to get rid of toxic substances out from our body, but most student(s) who does not have toilet(s) in school are forced to hold it beyond their control, most times till they get home. Then, how possible is this?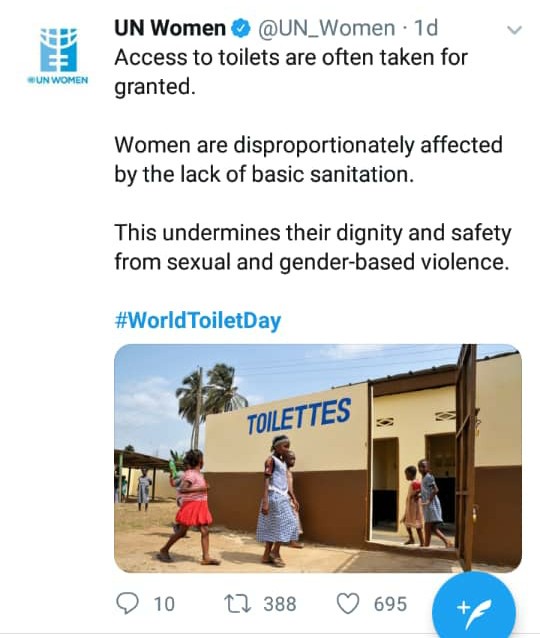 Teachers are also affected, "My place of work toilet is not to write home about, not safe for women for use," said a female teacher from one of the public schools in Rivers State.
When asked if she does use it; Yes, I do when I do not have an option on rare cases", she added.
The Managing Director of Century Medicaid Services, DANIEL Onyetulem said obstruction from removing those toxic substances could lead to swelling and rupture, then what we call peritonitis which can lead to death. "No way, one cannot do without going to Toilet if the person eats", DANIEL added.
But the case is different in Federal University, Oye, Ekiti State. In an interview with one of the students, I was told the school has newly built toilets, it is locked up and unavailable to students, which has made students use the back of their building to indiscriminately defecate to dispose waste in their bowels and feel relief.
"It is worst for us as girls who need to change our sanitary pads, imagine changing pads while standing next to a pile of feces', said my source. Some girls with the heavy flow do not bother to come to school and our classes smells because of this", my source added.
In telephone conversation with the Deputy Director, Corporate service of the Federal University, Oye, Ekiti State,Mr. ADEYINKA ADEMUYIWA, denied that the school toilets have been locked. "We have toilets and it is opened for students to use, but however, we still have some work to do in the school, if they say there is no toilet I am not aware of that", and "it means the students have not reported to the appropriate channel for the issue to be resolved"', ADEYINKA added.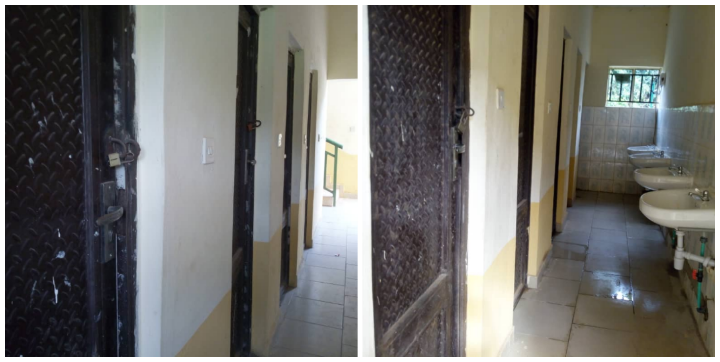 Federal University Oye, Ekiti, locked-up toilets.
It is terrible that with these kinds of lack of or insufficient toilets in rural-urban what would be the fate of students, women, and girls in the underdeveloped areas, areas that are underrepresented.
If proper cleanup is not done in our toilet system it harbors germs capable of causing toilet infection on the users'. Toilet infection is something that keeps you uncomfortable, and restless. It is uncomfortable for both male and female but seems the effect are mostly on women.
While trying to get people views about if they have ever had toilet infection at Rumuola, Port Harcourt, I walked to an old woman who sells some herbs to find out if she has medicine for infection, unfortunately, the woman does not understand English, quickly, I got a respond from behind, Is it toilet infection, you can use "Teem drink with bitter Kola". Wow, I turned it was a young girl, chocolate in complexion with a travel bag, it seems she is waiting for someone.
I walked 4steps to her and asked again the last statement, she repeated, " use Teem drink, remove the bitter kola chaff, do no cut the Kola just put it inside", the girl said. She still does not know I am a Journalist, I inquired how she got to know about it, she said it was her friend who told her when she has toilet infection. "Mine, scratches me alot, I usually feel uncomfortable, my friend caught me scratching and told me about the Teem and Bitter Kola Method and it works", she added.
Toilet infection has killed so many if proper attention is not given, especially young girls who seek help from friends can be misled on what to use to cure the disease(s).
Some go as far as just taking antibiotics without specialist descriptions. The theme for the 2019 World Antibiotic Awareness Week is handle antibiotic with care. In a statement released by World Health Organization on World Antibiotics Awareness Week, which I received directly from the WHO media WhatsApp group, the Regional Director for Africa, DR. MATSHIDISO MOETI, disclosed that "misuse of antibiotics could put us all at risk"'.
I was so worried to know how toilet infection(s) has affected women and girls, fortunately, I started hearing noise from above, " e dey cure diarrhea, e dey kill staph, e dey cure gonorrhea etc, it was coming from a shop from one of the upstairs at rumuola in Port -Harcourt, I moved to inquire how many women do patronizes them on toilet infection, the seller said, Madam dem plenty everyday.
To be continued..........
Drop your comment if you know any school that has no toilet, I am interested in hearing how toilet infections have affected you or someone you know.
Please, Like, Follow me and Share with Friends.
Follow me on twitter @ElfredahKevin
Reporter's Note: (Toilet infection is not particularly to the states mentioned, it cut across most African and European countries. The reporter aims at bringing to the fore how lack of toilet could endanger women's and girls' health, by ELFREDAH KEVIN-ALERECHI)
Content created and supplied by: ElfredahK (via Opera News )
Opera News is a free to use platform and the views and opinions expressed herein are solely those of the author and do not represent, reflect or express the views of Opera News. Any/all written content and images displayed are provided by the blogger/author, appear herein as submitted by the blogger/author and are unedited by Opera News. Opera News does not consent to nor does it condone the posting of any content that violates the rights (including the copyrights) of any third party, nor content that may malign, inter alia, any religion, ethnic group, organization, gender, company, or individual. Opera News furthermore does not condone the use of our platform for the purposes encouraging/endorsing hate speech, violation of human rights and/or utterances of a defamatory nature. If the content contained herein violates any of your rights, including those of copyright, and/or violates any the above mentioned factors, you are requested to immediately notify us using via the following email address operanews-external(at)opera.com and/or report the article using the available reporting functionality built into our Platform See More