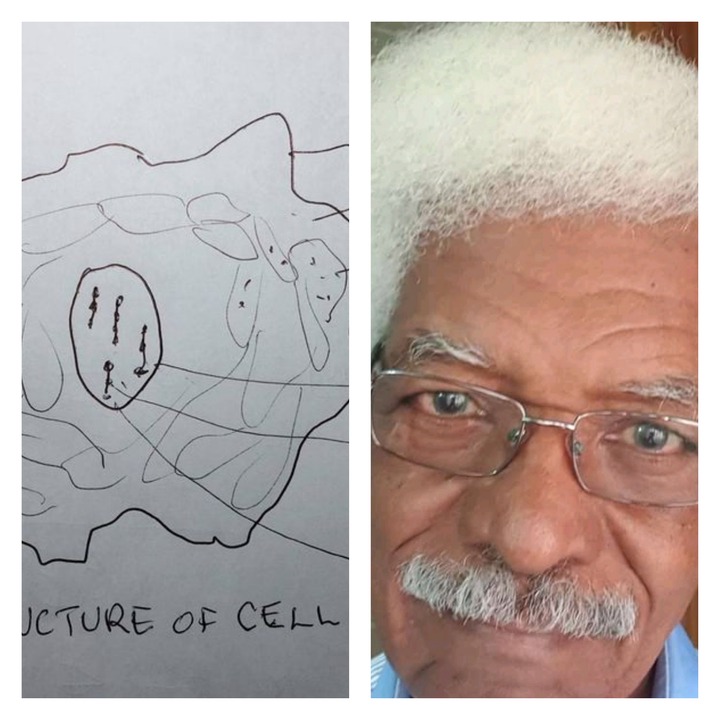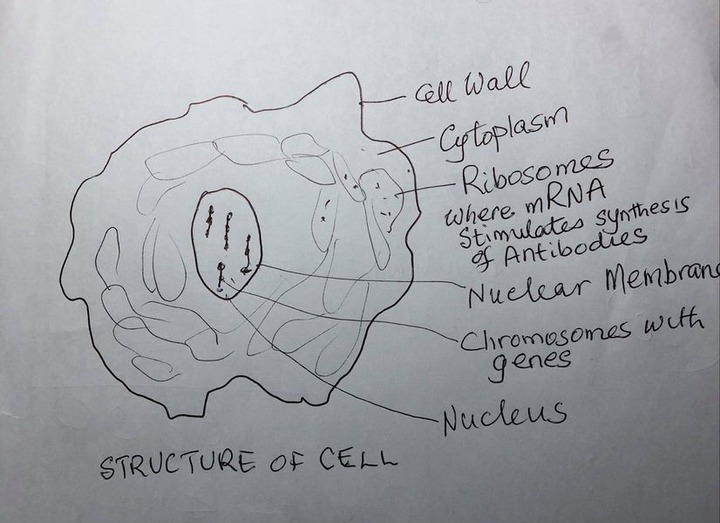 There are various, very sincere and honest lies causing fear that the vaccine being developed to curb the coronavirus epidemic will alter the genetic structure of recipients. Some go further and claim that the injection contains computer chips that would enable some nebulous "authority" monitor people, though no one provides a rational identification of the "authority." Yet another theory is that the vaccines are for sterilising the black race, or for reducing the population of the world.
Human genes reside on chromosomes like beads on a string, and they are confined by a membrane within the nucleus. The mRNA vaccines currently in use is manufactured in tubes (ribosomes) within the cytoplasm of the cell, outside the nucleus and nowhere near the chromosomes. (see diagram). The process does not affect genes within the nucleus.
It is most unfortunate that well-produced videos from America and Europe making ridiculous claims are being widely shared on the social internet network in Nigeria. They involve people who introduce themselves as very experienced doctors or professors, and give superficially convincing evidence, laced with impressive scientific and medical jargon to confuse people whose education is not in this subject. Unfortunately, even some university-educated medical doctors are among the spreaders of these fables. It only goes to prove that education does not always modify the primitive instincts of all that receive it; some medical doctors are superstitious and believe in witchcraft.
Many of these superstitions are linked to religion, and Bible verses are usually twisted to explain and support the grotesque prophesies and conspiracies involving God! People who do this become fiercely militant, spreading the vitriol, urging you to read it quickly before "they delete it." Philanthropists who are spending their wealth and time to help the survival of people in poor countries are accused of the exact opposite intention- they want to kill us and eliminate black people from the world, to reduce world over-population!
Looking back in history, deadly pandemics used to appear just once in about 200 years. The rate has steadily increased to every 20, then 10 and now the World Health Organisation estimates they are occurring every year, recent examples being Severe acute respiratory syndrome (SARS), Zika, Ebola, avian and swine flu. This is thought to be the result of human interference with nature particularly forest clearings and contact with all sorts of wild animals.
The old methods of vaccine production that took five or ten years are no longer suitable. Humanity can only survive by utilising the faster methods to keep up with the accelerated speed of appearance of the epidemics. Many countries may be forced to protect their populations by requiring vaccination before granting entry visas, and it has already started with COVID-19.
Although the fury of the pandemic is starting to abate in the US, it can also happen here provided we all strictly observe the precautions of frequent washing of hands, social distancing, avoidance of crowds particularly in poorly ventilated places and self-isolation by anyone who has been a contact in a chain of infection. Self-isolation is also advised for the elderly and those with cardiovascular and respiratory health issues. Nigeria is now in a dangerous state of "pandemic fatigue," and the rate of COVID-19 denial among the population is surprisingly high. Let us all be advocates of correct information and take actions that will lead to the containment of this pandemic
Content created and supplied by: Orngu (via Opera News )