Sickle cell anaemia is a autosomal recessive genetic disease, it means it can only be transferred when a child inherit the traits from both parent. If it is only one parent that has the trait then there is no inheritance.
That is why ;
AA can marry SS, AS, AC,SC but
AS cannot marry AS,SS,SC,AC . in the first instance AA has no sickle cell trait so can marry anybody with the trait, something like balancing , the worst case is having AS which is just a carrier and not affected but for the second instance AS is already a carrier marrying another carrier may lead to an affected child.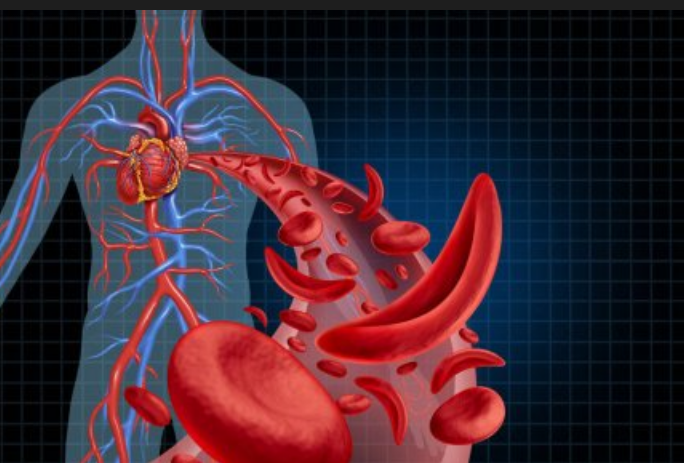 Before getting married, it is important to check your genotype and your to be partner as one of my lecturers would say before you ask for her name you should ask 'what is your genotype?'.
The pains sickle cell anaemia patients go through during crisis is painful and also the stress of their parents. To save yourself of this stress it is better you know your compatibility and if you are not compatible, you just have to let go. It may be painful considering your love and sacrifices but it is worth it in the long run. That is why test should be done early before you dedicate yourself fully in the relationship.
How does this sickle cell manifest?
The red blood cell (RBC) which is normally disc- shaped is changed to sickle shaped, this caused the blocking of capillaries. This results decrease in oxygen uptake and distribution and cause shortness of breath.
As a result of this disease, the RBC are easily destroyed and instead of the normal 120days lifespan spend about 20 days which lead to shortness of RBC and hence decrease in transport of oxygen and also constant destruction leads to high level of bilirubin which cause JAUNDICE.
The symptoms of sickle cell anaemia are :
Painful erectile penis in male.
Prominent forehead.
Swelling of hand and foot.
Yellowing eyeball; jaundice.
Difficulty in breathing with change in temperature or altitude.
To mitigate the crisis experience by sicklers as the affected people are usually called, rehydration, giving oxygen supplement and blood transfussion are done.
All these are accompanied by a lot of pains and also economically it is disastrous. That is why it is sacrosanct to consider genotype testing before marrying.
Economically, parents or family of sickle cell patients a spend a lorlt of money to take care of them and it even affect some to concentrate on their works. To save yourself from the all these stresses and your children from pains it is advisable to marry a compatible partner considering your genotype.
Before due to ignorance, people tend to marry without considering their genotypes but thanks to medical science we can know our genotype and help stop the transfer of this painful trait from generation to generation.
People that are affected should be taken care and shown love and should not be stigmatized, showing them love helps to mitigate the pain and crises but stigmatization can increase stress of which triggers crises.
Comment + like + share.
Content created and supplied by: Raybod (via Opera News )