Would you ever have a reason to disown a child you once prayed and catered for?, I know many would greet this question with divergent answers and some others would rather not attempt to answer it because of the sensitivity of such matter in their personal lives.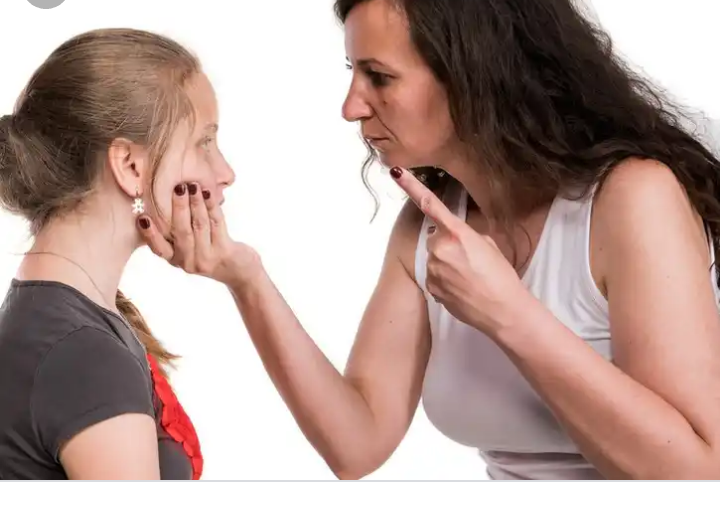 The sensitivity of this subject is hinged around the fact that children are blessings from the Lord, from whom only those he favours get this blessing, others are made to either wait for their time or accept the fact that they would live on their lives without kids at all.
The sole desire to have kids isn't only borne out of the need by many adults to enjoy a lifetime assistance and company, it is also from the desire to want to have offsprings that would take after you and most probably continue the spread and extension of the longevity of your blood line.
This major reason alongside other minor reasons is perhaps the reason why many describe themselves as being not fortunate in life the moment the possibility of having children winds out or eludes them.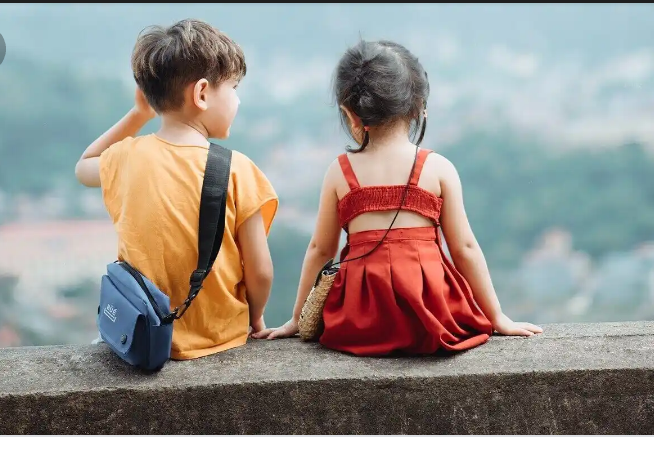 Because of the desire to have kids, Young promising Couples could separate, olds couples could also put their love and experience aside and go there separate ways, either of the gender could cheat in a marriage, men could attempt polygeny and women could even sanction a serrogate mother to receive the sperm of their husband.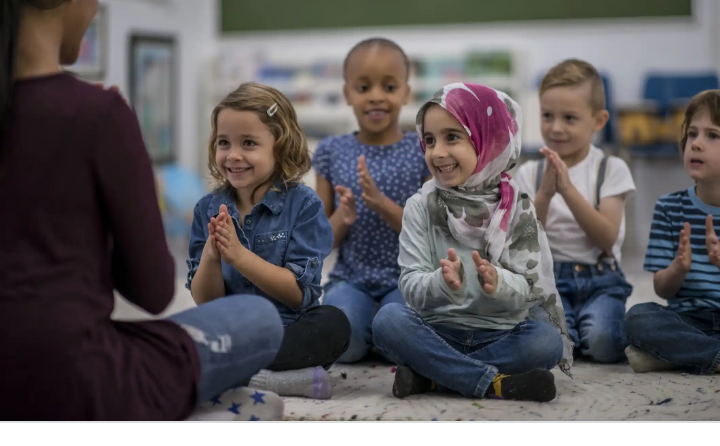 When it comes to what people can do to have kids, the list is endless hence, the issue surrounding children of ones self is deemed as being quite sensitive by many.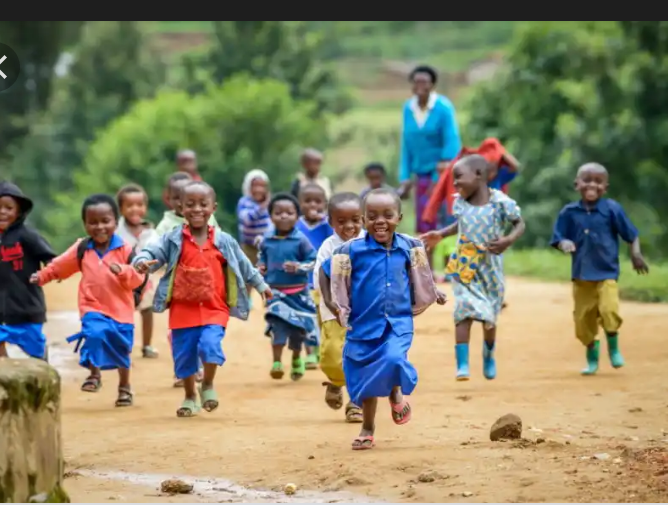 On the flip side, it would seem that despite all these sacrifices people make to have kids, there are moment in life where your own kids torment you emotionally and psychologically to the point where the thought of a permanent separation begins to precipitate in your mind i.e you disown your own kids.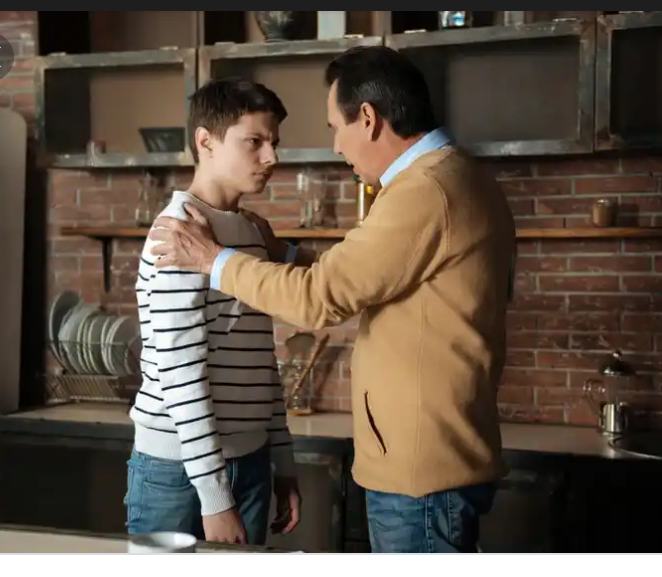 While the desire to have kids is quite sensitive on its own, the desire to want to part ways with your kid is however more sensitive as both the parent and the children often prefer not to talk about it, they just go on with their lives waiting for what destiny throws at them in the absence of the either parties in each other's life.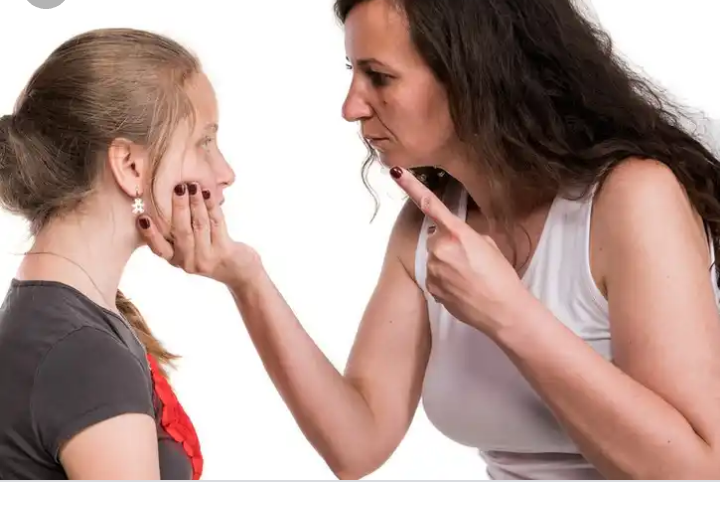 In a recent poll or interview conducted by Zikoko, 8 Nigerians pull of the courage to reveal why they were disowned by their parent and the one that gathered more reaction and controversy was the story of one Tinuke, whose story was both hilarious and at the same time, sympathetic.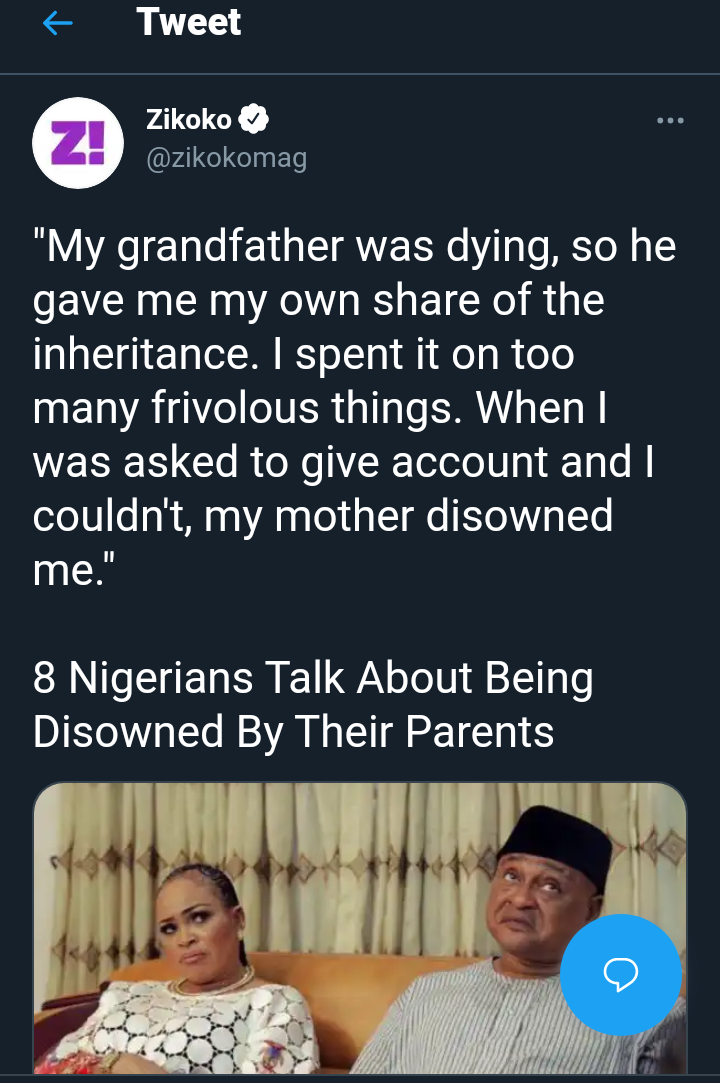 Read full story below;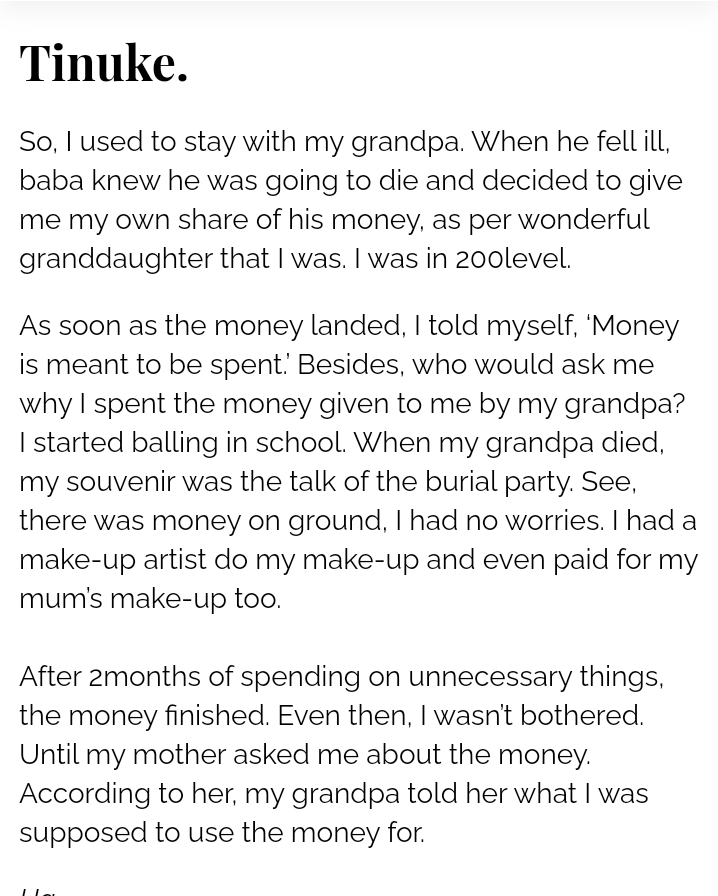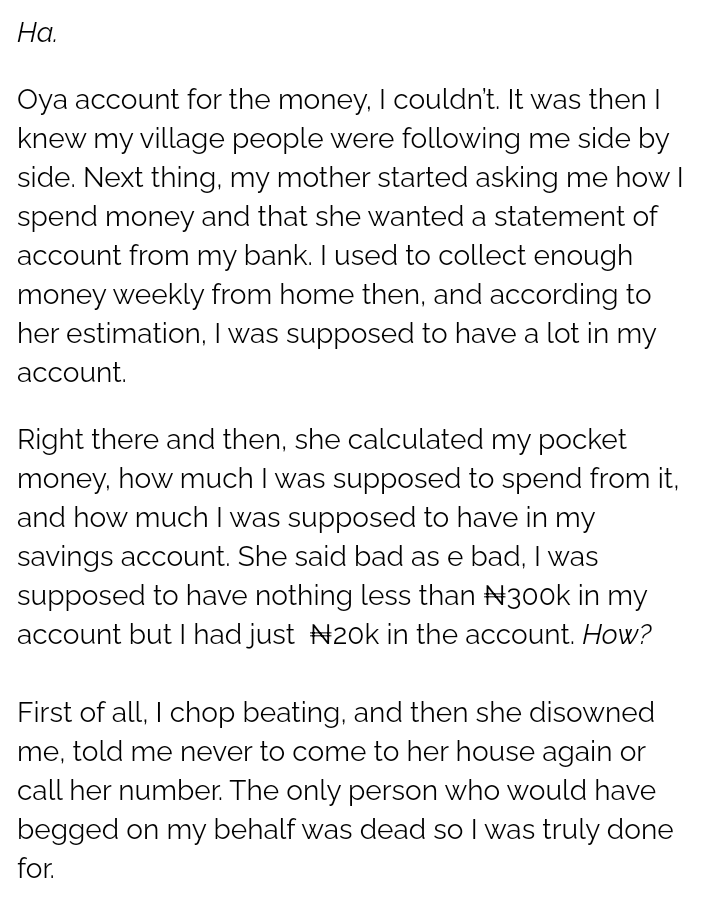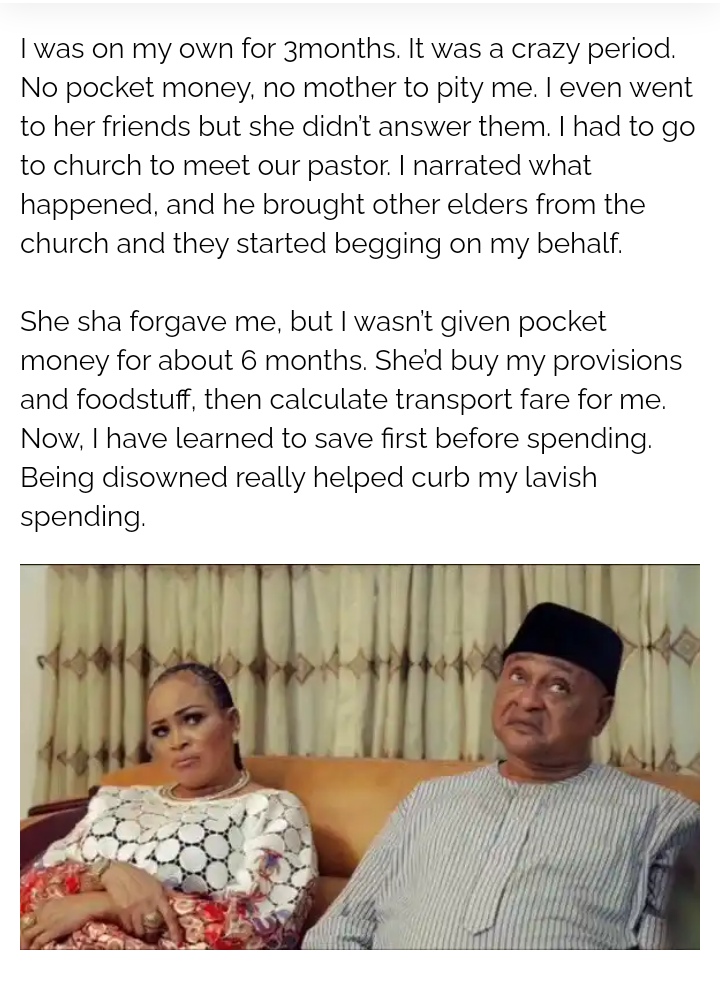 While I can't really judge the mother or the child in this case, I however, find the revelation as being too petty a reason to disown a child. The mistake is done already and apart from money or finances, a child could be of so much relevance to a person in this life.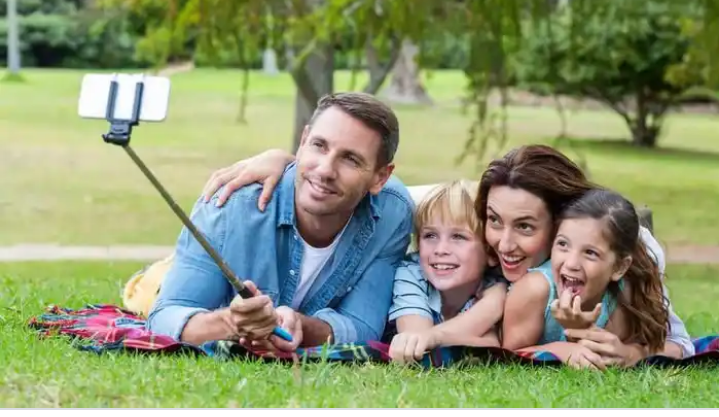 Since she is an adult, I would rather leave her for life to teach her a lesson as I would definitely cut her off from any financial assistance for sometime while she is still my child.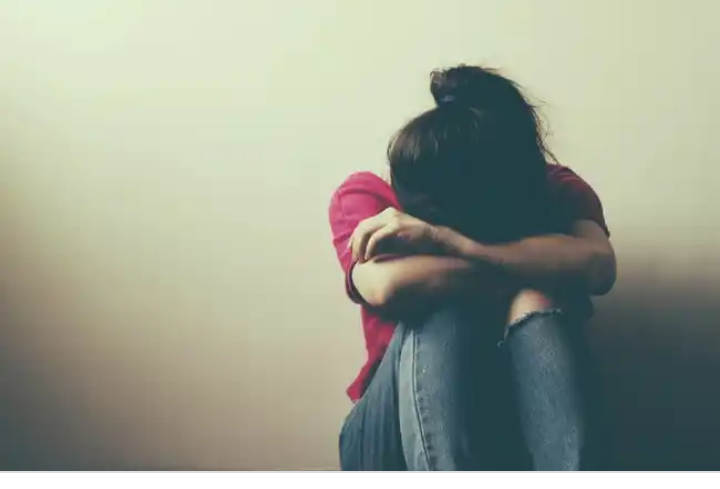 Like I said earlier, the decision to disown a child is too sensitive and I can't be a perfect judge in this story, so what would you rather do if you were the in the parent's shoes?
Content created and supplied by: Linxcx (via Opera News )