Drugs used for a long time to treat high blood pressure can damage the heart
studio.opera.com
2020-08-01 10:05:25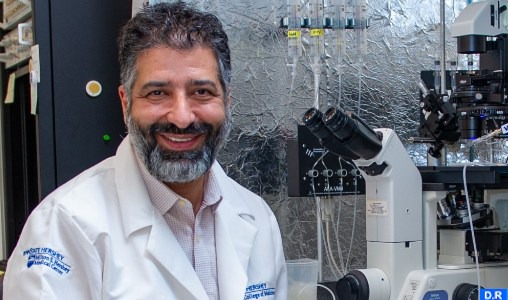 New York – A class of drugs that have been widely used to treat hypertension for over 70 years, called L-type calcium channel blockers (LCCBs), can harm the heart, argues Mohamed Trebak, professor of cellular and molecular physiology at the American Penn State University and co-author of a scientific study on the subject.
Indeed, the team led by Professor Trebak at the Penn State research lab found that in rats and human cells in vitro, LCCB drugs cause changes in blood vessels – called vascular remodeling – that reduce blood flow. blood flow and increase pressure.
Looking at the epidemiological data, the research team also found that LCCBs are associated with a higher risk of heart failure. Therefore, their findings suggest that care should be taken when prescribing these drugs to patients, especially the elderly and people with advanced hypertension.
Professor Trebak explains in an interview with MAP that LCCBs are used to block the entry of calcium into smooth muscle cells and allow blood vessels to relax, thereby stopping high blood pressure.
"Our team discovered that during the chronic phase of high blood pressure, there is a new family of calcium channels (type: STIM / ORAI) that appear on the surface of smooth muscle cells. In addition, it has been found that LCCBs activate these new STIM / ORAI channels causing increased calcium fluxes in smooth muscle cells, and thus leading to an exacerbation of blood pressure by a new molecular mechanism, so far unknown " , he notes.
Therefore, LCCBs, which are supposed to reduce blood pressure by blocking L-type calcium channels, activate new STEM / ORAI-type calcium channels and exacerbate hypertension, notes the Moroccan expert.
Therefore, the study carried out under the direction of Professor Mohamed Trebak suggests that patients who are elderly or already suffering from cardiovascular remodeling should avoid LCCB, because "these drugs may cause more harm than good in patients. this category ".
Mr. Trebak believes, therefore, that physicians should approach the treatment of hypertension taking into account the results of this study sponsored by the United States National Institute of General Medical Sciences, the National Institute of Allergy and Infectious Diseases, among others. , and the United States Department of Defense, and the results of which were recently published in the registers of the American National Academy of Sciences.
In addition, the research team led by Professor Trebak reviewed epidemiologic data from the Penn State Clinical Database and found that the incidences of heart failure were significantly higher in patients with hypertension treated with LCCBs than in patients treated with other types of blood pressure medication.
The Moroccan expert also recalls that cardiovascular diseases represent a major cause of death in the world and their prevalence continues to increase, especially in developing countries. This particularly concerns arterial hypertension, which, if left untreated, can lead in most cases to cardiovascular disease such as heart failure, ruptured aneurism and stroke.
And to note in this regard that in specialized circles, hypertension is nicknamed "the silent killer", in allusion both to its dangerous aspect and unknown to the general public, specifying that hypertension is defined by the "American Heart Association "as systolic / diastolic pressures that consistently occur above 130/80 millimeters of mercury (mm Hg).
Professor Mohamed Trebak also notes that despite the impressive arsenal of anti-hypertension drugs available to us at the moment, there are a significant number of patients who do not respond well to these drugs, sometimes requiring the administration of a high dose or administration of two or more classes of drugs to control hypertension, obviously with increased side effects and others.
Thus, major research efforts are currently being invested to develop new more efficient drugs, he observes, specifying in this context that if effective inhibitors against the new STEM / ORAI calcium channels are discovered, they could represent a promising new class. blood pressure medication.
"And it is on this path that we have oriented research in our laboratory for the next few years," said Professor Trebak.
Source: Opera News