Mr and Mrs Akaka had three beautiful children, one male and two females. They were named Ivie, who was five; Isi, who was two; and little Irene, who was just four months old.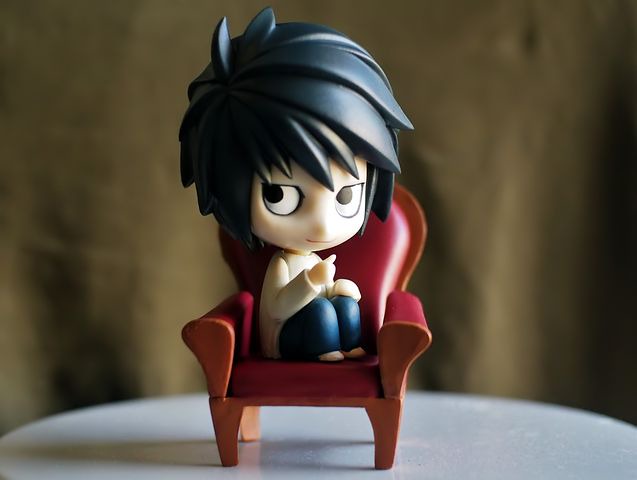 One day, on her way home, Mrs Amaka bought some groundnuts for herself and her family.
On getting home, she shared the groundnuts, giving Isi and Ivie their shares on separate plates. Isi, being a faster eater than his sisters, quickly finished his share and looked unto his mother for more. His mother gave him a little bit more out of her own and told him to eat them slowly because he would get no more.
Despite his mother's warning, Isi rushed the groundnuts his mother gave him and once again asked for more. His mother allowed him to take out from her share yet again but, because he was afraid his mother would finish the groundnuts, he continued to greedily rush them into his mouth.
As he was rushing to eat more groundnuts than his mother, he did not know when he accidentally put one of the groundnuts into his nose. He did not realise how serious what he had done was, nor when he did it.
Their mother, after eating, went to feed the youngest of children, Irene while Isi and Ivie went to play. After a while, Isi realised that he had a groundnut in one of his nostrils. He immediately went back to inform his mother.
His mother, who at first thought, he was only joking but, on checking, saw sometimes like the groundnut there blocking one of his nostrils.
Isi tapped his mother, "mummy, I think there is something in my nose."
The mother quickly replied, "What do you mean, dear?" Isi repeated himself, Mummy I am feeling something strange in my nose. How can I get it out?
His mother was getting very scared. She did not want the groundnut to go further into Isi's nostril so as not to disrupt his breathing. She quickly went to the kitchen to get a match-stick, hoping she could get it out with the piece. Mrs Akaka, then drew her son Isi, closer to herself.
She tried to put one of her fore-fingers on Isi's nose so as to feel the position of the strayed nut. But the more she tried, the deeper the groundnut seemed to go inside Isi's nose!
"Okay come here. Let's see what first aid treatment we can try to get it out. You see, we have to be very careful. "His mother stressed.
Ivie and Irene thought it was a very funny thing for Isi to have a groundnut stuck in his nose. They laughed and teased each other until their mother threatened to beat them both. She told them that it was very, very bad thing to happen.
"Ivie, Irene, will you stop that? This is not a funny thing. It's a serious matter, their mother said angrily.
Their mother did not know what to not know what to do any longer, so she took Isi to her neighbour's house for help.
The neighbour, on seeing how serious the problem was, advised that, Isi should be taken to the University clinic.
However, Mrs Akaka decided to take all her children with her so as to prevent any further accidents which might occurred during her absence.
"Okay, I agree with you. It's highly necessary we see the doctor. Let me go home quickly first and get prepared." Isi's mother pleaded with her neighbour.
Mrs Akaka, while leaving her neigbhour and returning home, said to herself. "Ah! Oh, my God! We had better go altogether to the clinic. I can't leave anyone behind." So, as she got home with Isi, she called Ivie and carried Irene on her back.
Ivie could not but ask her mother that, where are we going to Mummy? Won't Daddy go with us?
Their mother had to quickly cut in, "Darling, thank you, we are going to the hospital. The doctor must attend to Isi, your brother, in order to remove the nut that enter his nostril. You know, Daddy is away in office. So, let's go."
And so they left for the university clinic which was not too far from their home. They only had to walk the distance, hand in hand, accompanied by their neighbour.
On getting to the University clinic, they were told by a nurse that, the doctor had not yet come. They had to wait. While they were waiting, the nurse tried to remove the groundnut with a pair of tweezers (a tiny scissors-like instrument used in picking up small objects) but she could not.
As Mrs Akaka and her neighbour were waiting for the doctor, Isi and Ivie played around the waiting room, happy that they were outside their house and were in a new environment. Because Isi did not feel much pain, but merely the discomfort of something blocking one side of his nose, he did not understand why his mother kept telling him to sit down in one place and stop running around. He did not feel sick and he tried to tell his mother this, but all he got was a firm "sit down!" from his mother.
Soon, the doctor came after about an hour of waiting. The doctor was a young man who did not believe in rushing things, he patiently listened to Mrs Akaka's story. Then, he peered into Isi's nose to see the groundnut blocking one of the nostrils.
"Ah, Madam your son will be well soon. But let me examine his nose more closely," the doctor assured. He went for a torch-like instrument, switched on its light and drew it close to the nostrils.
After examining lsi, the doctor said that he would have to lie on bed, put him to sleep and then do a minor operaion tto remove he groundnut. He said the operation would have to be performed the next morning because of other patients he might have to attend to that evening.
He was afraid that while doing the operation, some of these patients might come and he would not want to leave Isi in the middle of performing the operation.The doctor reassured Mrs Akaka and her neigbhour that, Isi would get better the next morning as long as he did not put his finger or any other thing, for that matter, into his nose.
Said the doctor, "Madam-let me assure you again, your son will be alright, but not immediately after the operation, we shall have to keep him here till the next day, we must observe him very carefully. There may also be some other patients who need immediate and speedy attention. So, don't you worry,"
Isi's mother was very angry at this. She felt that the doctor was just giving silly excuses. How could he say that he might have more patients to attend to in the evening than in the morning. The young doctor probably could not handle the case. He was obviously thinking they would leave the clinic and then, hoping that the next morning when they were to come again, a more experienced doctor would be there to remove the groundnut without any trouble.
So, Mrs Akaka remarked. "lt's alright, doctor. But rather than staying away from home all the night to stay in the hospital without being treated as expected, we had better go and come back."
The nurse on duty allowed them to do as they wished.
Thus, they left the University clinic and went to a privately owned one that was not all that too far from the University clinic.
Once again, they told their story to a doctor on duty, who, after examining the nose, said he could remove the groundnut. The doctor and a nurse took in Isi, his mother and the neighbour while Ivie and little Irene waited outside in the waiting room.
Some minutes later the nurse came out with Isi and the groundnut in her hand. Isi's mother was very happy. She and her neighbour thanked the doctor and the nurse. Mrs Akaka was very happy to see the groundnut. If the nurse had not showed it to her, she would have thought that they pushed it down into the nose.
A very relieved Mrs Akaka was accompanied home by her children and their neighour. On getting home, Mrs Akaka gave Isi a sound flogging and warning him never to put anything into his nose again.
Later, when there father came home, they told him all that had happened. He asked his son, Isi, what the doctor used to remove the groundnut from his nose, but Isi did not know. At first, he said a spoon, but later he said a pair of scissors, his parents did not bother to ask him anymore.
What lsi did was very dangerous. He was lucky that the groundnut did not go too deep inside his nose than the doctor could have been able to remove it.
Since then, Isi had been very careful on how he ate. He tried not to rush food so that he could be sure that he was putting it rightly into his mouth and not into his nose.
The End.
Content created and supplied by: Temito (via Opera News )
Opera News is a free to use platform and the views and opinions expressed herein are solely those of the author and do not represent, reflect or express the views of Opera News. Any/all written content and images displayed are provided by the blogger/author, appear herein as submitted by the blogger/author and are unedited by Opera News. Opera News does not consent to nor does it condone the posting of any content that violates the rights (including the copyrights) of any third party, nor content that may malign, inter alia, any religion, ethnic group, organization, gender, company, or individual. Opera News furthermore does not condone the use of our platform for the purposes encouraging/endorsing hate speech, violation of human rights and/or utterances of a defamatory nature. If the content contained herein violates any of your rights, including those of copyright, and/or violates any the above mentioned factors, you are requested to immediately notify us using via the following email address operanews-external(at)opera.com and/or report the article using the available reporting functionality built into our Platform See More