People go through the day, an event or activities socializing around with people, making judgments, getting angry, happy, behaving understanding to one another and so many other things. we see in our everyday life keep using the concept Social perception. Thus what is Social perception?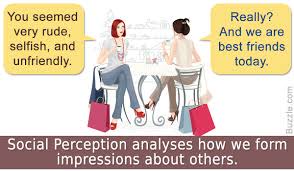 Social perception is that part of perception that allows people to understand the other people in their social world. This sort of perception is defined as a social cognition which is the ability of the brain to store and process information. Social perception allows individuals to make judgments and impressions about other people. It's primarily based on observation, although pre-existing knowledge influences how we perceive an observation. Social perception gives individuals the tools to recognize how others affect their personal lives. They help individuals to form impressions of others by providing the necessary information about how people usually behave across situations.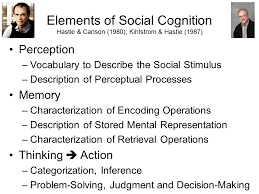 Social perception generally is about how we make sense of other people. Because we draw inferences about someone else's personality so readily and usually have little trouble understanding the meaning of their actions, it may seem that our social perceptions are straightforward and direct. However, the fact that we often have to correct initial impressions suggests that things may be more complicated.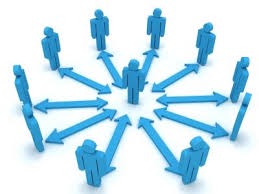 Most social psychologists believe that we piece together and weigh up available information before arriving at any conclusion, even when we are not explicitly aware of going through the various stages of such a process. And each additional stage brings another opportunity for bias to creep in. One proposal to explain how social perceptions provides information needed for impression formation is by approaching the behavior with an implicit personality theory outlook.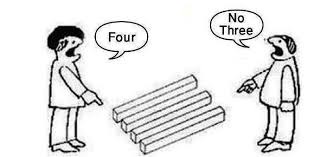 Implicit personality theories state that if an individual observes certain traits in another person, she/he tends to assume that his or her other personality traits are concurrent with the initial trait. These assumptions help us to make quick judgments about the character of an individual. It also helps us to "categorize" people so that we can infer additional information about them and predict their behavior.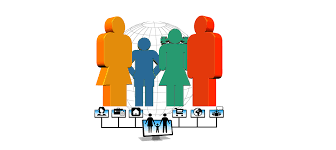 Ways of making social perception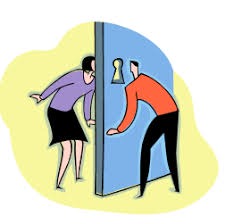 Observations
Observations serve as the raw data of social perception an interplay of three sources: persons, situations, and behavior. These sources are used as evidence in supporting a person's impression or inference about others.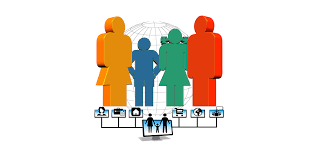 Attribution
Attribution is expressing an individual's personality as the source or cause of their behavior during an event or situation. 

Integration
Integration simply means organization into a unified pattern, especially of different aspects of the personality into a hierarchical system of functions.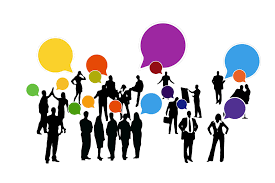 Confirmation
After making and integrating attributions, individuals form impressions that are subject to confirmation biases and the threat of a self-fulfilling prophecy.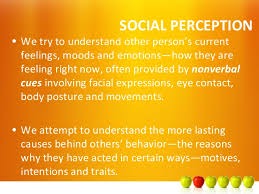 Factors that influence social perception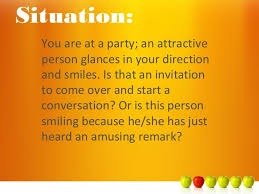 Accuracy
The accuracy of social perception relates to the connection between judgments people make of others' psychological attributes, and the reality of those attributes with regards to the people being judged.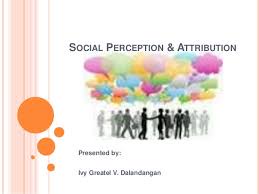 Testing
An audiovisual test that in the past for the clinical assessment of social perception. The test is based upon several critical components of social perception that are crucial for social competence using complex, dynamic, visual, and auditory cues to assess these critical components. The test assesses the ability to identify emotions, a skill that is impaired in many clinical conditions.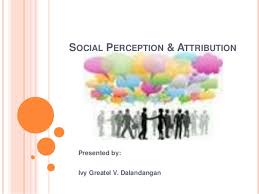 Inaccuracy /bias
People are prone to numerous types of confirmation biases tendencies to construe, find, and formulate information in ways that prove existing opinions. Preconceived prejudices, stereotypes, and discrimination otherwise known as social biases can contribute towards these tendencies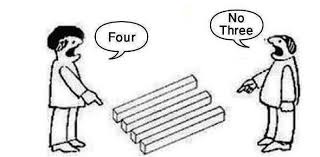 And in some other ways social perception could still be formed. click the follow button as we explore some more on social perception and how it affects our day to day activities.
Content created and supplied by: Gannah (via Opera News )