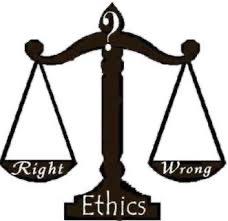 MEDICAL LABORATORY ETHICS
➢ Derived from Greek word "ethico" which means "character or custom"-  Body of culture within a given society, group or institution, individual or professional bodies.
➢ Oxford Advance Leaner's Dictionary defines ethic as " a moral principle that controls or influences a person's behaviour, a system of moral principles or rules of behaviour, a strongly defined work ethic"
➢ The principle of doing good and not doing harm.
➢ All medical ethics date back to the teachings of the Greek physician Hippocrates(460-377BC) –father of medicine.
➢ This forms the basis of oath taking and developed by everybody entering medical practice, though wordings have been changed to reflect modern thinking.
➢The best known modern version is the Declaration Of Geneva adopted by WMA in 1948 and amended in 1968,1983,1994 etc
➢The basis for laws regulating medical laboratory practice.
FEATURES OF A PERSON WITH GOOD WORK ETHICS
•1. Integrity
•2. Sense of responsibility
•3. Quality
•4. Discipline
•5. Team work
Principles of all Medical Laboratory Ethics:
➢ Autonomy :- Right of patient to make decision on their own behalf
➢ Beneficence:- Duty or obligation to act in the best interest of the patient.
➢ Non-maleficence:- Duty or obligation to avoid harm to patients.
➢ Justice:- Concepts of fairness and giving what is rightly due especially in place of limited resources.
➢ Privacy /Confidentiality
➢ Medical Lab Scientists have responsibilities to others:
➢ Patients-quality and integrity of service
➢ Colleagues and the profession-uphold the dignity and respect of their profession-integrity
➢ Society-contribution to the general well being of the society
Professional ethics
➢ Professional ethics is the basis of professional duty.
➢ Failure to keep to professional duties in medical practice gives rise to action under either civil or criminal law
➢ Civil liability e.g. torts, contract.
➢ Criminal liability e.g. assault, battery.
COMMON BREACHES OF PROFESSIONAL DUTIES IN CLINICAL PRACTICE
(1). Negligence: - The omission or commission of an act that the average prudent person would or would not do.
what constitutes negligence?
➢An act or commission
➢No reasonable care demonstrated while doing the act or omission
➢Injury was sustained as a result
➢Malfeasance-unlawful act.
➢Misfeasance-lawful act done wrongfully
➢Nonfeasance-failure to perform an act or duty required by law
Dickson Igbokwe &Ors Vs UCH Board of Management (1961) WNLR, 173.
Spadaccini V Dola 407 N.Y 52D 840 (1978)
.
(2) Malpractice
➢Derived from Latin "Male praxis" which means dereliction of professional duty resulting in injury to other-
• S.19 of MLSC Act stipulated rules as to practice.
• S.22 stipulates what constitute offences
•There are Standard Operation Rules in every professions or institute(SOP)
(3) Professional Misconduct
➢Unacceptable behaviour in a profession
➢Infamous conduct.
➢Act which are disgraceful and dishonorable.
➢Drunkenness, advertising, dragging others down, adultery with patient.
➢Holding yourself to be more than you are professionally.
➢  Akintade V Chairman, MDPD Tribunal (2009) 9 NWLR
➢  Pt 930.
Loading…
.
•(4) LICENSURE
•License to practice at the time of practice.
•S.22(8)&(9) of the MLSC Act.
• (5) BILL OF RIGHTS
•Human Right :- Very essential-Cap 4 of the 1999 constitution. You should avoid breaching any of the fundamental Human Rights right.
•-right to life, respect to dignity of person, personal liberty, privacy, freedom of behaviour e.t.c
• (6)ASSAULT AND BATTERY
➢ Assault: threat of harm to the body of another.
➢ Battery : touching or intentional infliction of bodily harm to others. Trespass to body in torts. The basis for treatment is informed consent.
.
•INFORMED CONSENT
➢ Agreement or acquiescence which must be free, genuine and clear.
➢ The questions to be asked include WHAT is to be done 
➢,BY WHOM, WHEN, WHERE, WHY, HOW, WILL it be painful?
•(7)DEFAMATION
•Publication or communication to a third party, which intended to lower a person in estimation of a right thinking member of society and to expose him to hatred, contempt, ridicule or to make others shun him or which injures his credit or his trade, office or profession
➢Libel or Slander.
➢Confidence in one of the tenets of profession.
➢HIV, Tuberculosis e.t.c
LEGAL CONSEQUENCES OF BREACH OF PROFESSIONAL DUTY
(1)Compensation
•    Payment for loss or injury sustained
➢Spadacim V Dola (supra) 
➢Nweka Vs Ajaegbu (1978) 2LRN, 280
•(2) Damages
•     Pecuniary compensation or satisfaction awarded by a court to indemnify a person for a loss.
➢It is not restricted to physical injury alone
➢It include mental aguish, psychological distress, shock, peril e.t.c.
•(3) Fine
•     Sum of money ordered by a court on conviction
•(4) Imprisonment
Liability in Medical Laboratory Practice
•Majority of medical liability cases borders on negligence. Negligence is a breach of a legal duty to take care which results in damage to the claimant (patient). Medical negligence is therefore, a breach of a duty of care by a person in the medical profession, to a patient, which results in damage to the patient, criminal or civil proceedings against health care providers for negligence in the performance of their duties
DEFFENCES OPEN TO MEDICAL PRACTITIONERS
1.Doctrine of Necessity 
•     "choice of evils" or "lesser evil defence".e.g use of force on a patent in a emergency.
•2. Act of God.
➢Act of providence or nature. Supernatural acts. Acts that cannot be explained. e.g. death during transfusion for no traceable case.
•3. Self Defense. 
➢Apprehension of fear of attack or actual attack. The act must be reasonably necessary,
•4. Inevitable accident.
➢The professional must show that what happen is beyond his/her control.
•5. VOLENTI NON-FIT INJURIA
➢Whatever a man gives consent to cannot be considered an injury. In cases where the patent choose a higher risk him/herself.
.
•6. Contributory Negligence.
➢Defense to Negligence.
➢Consultation of patent to negligence
➢Will not completely exonerated the defendant
•7. Laches and Acquiescence.
➢Delay defeats equity
➢Equity aids the vigilant and not indolent
➢A person should not sleep over his right.
➢Oduwole V Ibadan City Council (1978)LRN 182
•8. STATUTES OF LIMITATION
A MEDICAL LABORATORY SCIENTIST AS A WITNESS IN COURT
In court evidence could be required.
➢  Mainly for administration of justice. Forensic Medicine(body fluid or tissue)
➢  Histopathology(body tissues) Paternity determination—DNA
Evidence could be Direct or Circumstantial.
➢  Medical mitigation could be required or ordered by court.
➢  Investigation of body fluid or body part can be done e.g. hair, blood, semen, saliva e.t.c.
➢  The purpose is to determine issues that cannot be determined without expertise.
Opinion evidence
➢Generally, opinion evidence is not admissible as to the existence or non-existence of a fact in issue.
➢However S.57-65 of the Evidence Act gave some exceptions.
➢Medical witnesses fall under the exception.
➢Expert opinion is needed where the phenomenon being inquired unto by the court is beyond the knowledge of a mind untrained in the discipline,
Who is an expert?
➢A person specially skilled in any field.
➢It is the duty of the court to determine who an expert is.
➢When an expert witness is called, he must state his qualifications and experience.
➢There must be enough materials before the court for a professional to be treated as an expert. e.g credentials, experience, training, nature of duty e.
➢If the evidence is a written report, it must be presented by the maker of the report
➢You cannot be forced to give evidence. 
Happy reading ....GSB..
Content created and supplied by: Samuel242 (via Opera News )