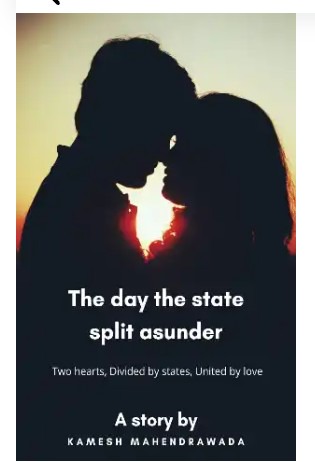 THE DAY THE STATE SPLIT ASUNDER.
Charminar, the ideal landmark which has become known as an iconic symbol of Hyderabad, well-known for its popular and busy local markets, built in the year 1591 AD. The monument's long history includes a mosque on its top floor for over 400 years. It is said that Quli Qutub Shah, the fifth sultan of the Qutb Shahi dynasty of Golkonda, prayed for the end of the plague and vowed to build a mosque if that deadly disease is no longer prevalent in his kingdom.
Historically known for its Ganga-Jamuni tehzeeb, which refers to unity and co-existence of Hindu and Muslim cultures and traditions. Apart from a few instances of communal violence, most of the city residents advocate communal harmony between Telugu people and Hyderabadi Muslims, the two main religious and cultural groups found in the city.
In one of the by-lanes of the main road leading towards the northern arch which serves as a gateway to the historic Charminar, there is an old building with two floors. Inside it, the narrow cement steps lead to the second floor, in which one of the two flats is owned by a sixty-year-old journalist Satyanarayana Goswami and the people in his street affectionately call him 'Swamiji'. 
Swamiji is perhaps one of the first and most formidable investigative journalists of Andhra Pradesh. His forefathers migrated from Maharashtra and settled in the old city of Hyderabad. After completing his bachelor's degree in journalism and mass communication from Osmania University, he joined as a news reporter for 'Andhra Velugu' newspaper. He trained and mentored many young journalists in his lifetime, with many working in leading newspapers and channels.
He has good command over six languages - Telugu, Marathi, Urdu, Hindi English, and Sanskrit and is well-versed in RigVeda. The day he stepped into the world of journalism, he swore not to get married and dedicated himself to his profession. 
Freshly bathed and dressed in a simple white cotton Kurta-Pyjama, he applied the sacred-ash across the forehead in three horizontal lines and a dot of red vermilion paste in the centre. He sat on his prayer mat facing east performing a religious ritual - Sandhyavandan.
After having said Good morning to his God's, he put on the casual outfit, went downwards and out into the street. He is a short man with a neutral skin undertone, with a Roman nose and piercing close-set eyes with elegant grace. The hair on his head has fallen off almost entirely except at the sides above his ears.
The next one hour he would be busy at Imran's Cafe, which is a fifteen minutes walk from his home, where he has his favourite 'Irani Tea'. Sipping on a hot cup of tea while taking in views of the spectacular Charminar is one of the most wonderful experiences which makes every Hyderabadi say - 'We still want more'.
The amiable owner Imran, a seventy-year-old tea seller, will teach and explain to anyone who asks him about the entire preparation process of 'Irani Tea'. Sometimes, to make it thicker and tastier, he adds chunks of mawa to the milk. One can enjoy the taste along with eighteen varieties of biscuits served at his shop.
Swamiji doesn't take 'Irani tea' prepared from any other person except Imran. When asked by his servant Raju he often tells - 'The charge and refreshment you get from the tea prepared from Imran begins long even before you savour that delicious flavour.' 
He enjoys being a part of morning crowds discussion at the cafe. Andhra and Telangana supporters gather at the tea stall and often have a heated debate. When the discussion seems to spiral out of control he immediately jumps to the frontline as a peacemaker. He maintained a neutral outlook, not inclined towards any region.
There is a magnificent uniformity in his demeanour, and it is impossible for anyone not to be struck with his affable air. He has got the gift of the gab and can instantly appease anyone with his words. Because of the tumultuous political and social environment in his times, he developed a skill at diplomacy that almost matched his journalistic talents.
After having completed his tea at Imran's cafe, he would be back home, retiring to his drawing-room where he would spend the next hour going through all the newspapers being circulated in the state. His servant Raju prepares his morning breakfast by nine, which comprises four idlis served along with the Andhra special pickle 'Avakaya'.
The time was around 08:30. A white BMW X5 car with a logo of HBN-7 stuck onto the rear windowpane stopped exactly in front of the journalist's home. The driver stepped down and opened the door from which emerged a man of medium height, with black Ray-Ban goggles, dressed in a slim-fitting Prussian-blue suit that accentuated his broad shoulders wearing a white shirt and no tie. He glanced briefly at the surroundings and informed his driver to keep it parked in the reverse direction by the time he comes down. 
As he opened the gate and stepped into the home, he straightaway manoeuvred towards the narrow staircase and stopped exactly at the doorstep of the journalist's home.
"Sir, are you there?" The man removed the goggles, shoes and stepped into the home without even waiting for the acknowledgement. "Sir, Good morning."
"Oh my God!, Radha, is it you?" the old man folded the paper, tossed it aside, rose from his chair, and scanned him from top to bottom. "I am sorry I couldn't recognize you in this suit."
That man was one of his students Radha Krishna and Swamiji affectionately calls him as Radha. Radha approached him and touched his feet.
"May God bless you, Radha!" said Swamiji, lifting him up and ordering his servant Raju to bring a chair and two cups of tea.
Abiding by his instructions, the servant bought the wooden chair and placed it straight in front of the old man.
"Radha! How is Shanthi doing? I told you many times to bring her along? But you never yielded to my requests."
Shanti is Radha's wife and was also one of his favourite students. 
"Sir! She has got a lot of work on her table, that's why she couldn't come."
Radha and Shanthi, both were his students. They had fallen in love with each other, but the parents of Shanthi didn't agree to their marriage. Swamiji mediated and convinced Shanthi's parents. 
"Radha!" said Swamiji, "I cannot tell you how happy I am. I knew that you will definitely become successful one day. My happiness is indescribable."
"Without your blessings, it wouldn't be possible for me to start this news channel, sir," added Radha, "it is only from you I learned the lessons of journalism."
"How was the launch yesterday?"
"It was more grandiloquent than it needed to be. The Chief Minister, Governor and other ministers attended the event. Except you. I requested you a million times, but you didn't come."
"Radha!" said Swamiji, removing his spectacles, and rubbing his eyes gently. "There are few politicians who won't be happy with my presence. I don't want to throw you and Shanthi in troubled waters, and I wanted to ask you one question." 
"What is that, sir?"
"May I know why you have chosen the name HBN-7?"
"Sir! HBN means Hyderabad Broadcasting Network."
"I see! Then why you included seven in the name?"
"Our astrologer suggested including a number in the name. He said according to my birth chart odd numbers will be lucky. There are three channels which have already taken the numbers: one, five, and nine. Shanthi picked up number seven, as it was her lucky number."
"Splendid! If she had picked, then it will definitely be lucky for your channel." Swamiji chortled with delight. "Truly, numbers hold immense power in anyone's life. The whole politics revolves around the numbers."
"You always used to say that if we are not willing to risk the unusual, we will have to settle for the ordinary. And when we have taken the risk, we cannot rule the importance of luck. My channel is new and I am at the bottom of the list," said Radha, accenting the last word, "There's heavy competition out over there!" 
"Radha! One should be formidable enough to battle with a wooden sword on the battlefield. The keener the competition, the greater the honour of success. Journalism is not a bed of roses. Every word becomes the brick in building up the wall of history, every line is quintessential, every fragment of headline reflects the emotions of a common man. Unfortunately, a toxic mix of political and business pressures is leading to a systematic disregard of ethical journalism principles. Although journalists and media insiders know what is going on, they are often reluctant to talk about it openly. I request you not to fall under those pressures."
"Sir, I am your student," Radha grew tender and devout over those words. "I will never fall into the habit of hyperbole that all other media institutions rely upon to beef-up their TRP ratings. I am committed to ethical journalism."
"Wonderful!" Swamiji exclaimed with pride, "I am proud of you, Radha."
Swamiji's servant Raju bought a plastic tray with floral patterns containing two cups of tea along with Osmania biscuits. He placed it gently on the stool in between them. Swamiji pushed one cup in Radha's direction while he took the other.
"Sir," said Radha, dipping a biscuit in his tea. "I have one small request."
"What is that, Radha?"
"Will you be the advisor for my fledgling news channel?"
"I am sorry, dear." said the old man, his eyes ambivalent. "There are tonnes of things pending on my list. I even cheated death to carry out all of them."
"I need a person who can guide me better. And I want that person to be you. You are my inspiration, my lighthouse on an endless ocean of desperation."
"I will definitely join, but only after having completed my revenge against the owner of the Godavac Life Sciences."
"You still didn't forget that?" asked Radha anxiously.
"How can I forget it? The scars are still fresh in my mind. It is only because of their nefarious activities, I have been in a coma for over two years."
"Why don't you live life peacefully?"
"How can you say to let it go," his voice was fierce, rasping, angry, and strong. "Ten families have lost their breadwinners, I lost my best friend Raghavendra, leaving his six-year-old daughter fatherless."
"Raghavendra means the social activist Akella Raghavendra, which you used to tell us about?"
"Yes! Social activist Akella Raghavendra."
"If you don't mind, can you throw some light on this matter? Every time when I asked you about it, you always said - 'I will tell you later', today I will not leave until you explain the complete story to me."
Radhas resolution became adamantine in its firmness. Swamiji had never shared the details with anyone, but today there's no way he can change the subject of the conversation.
"Radha!" said Swamiji, tilting his head downwards, trying to recollect the sequence of events. "Eighteen years ago, in June, around three in the morning. Raghavendra and I jumped off the compound wall and sneaked into the premises of Godavac pharma plant. We camouflaged ourselves in the company uniform.
"Three German Shepherd dogs were on patrol outside the Research and Development block. Raghavendra threw biscuits intoxicated with sleep inducers at those dogs, and within seconds all those three fell asleep. We hid behind the chemical drums present just beside the door. Two security guards were at the position. They later left to have tea. It was then we walked inside of the building, broke the door of the Director's cabin, and collected a few files in his drawer and later we came down fast running to make sure we made it out before the guards reached.
"We jumped out through the same way as we had entered and got into the jeep. I dropped Raghavendra at his home as his daughter is alone in home. He said he will meet me at the chief minister's office. After having dropped him at his home, I drove towards the Vijayawada-Hyderabad National highway. I remember crossing the Agricultural University and I don't remember how I got knocked by a truck from behind. I opened my eyes two years after that accident.
"I learned from my colleagues that my friend 'Raghavendra' passed away on the same day of my accident. The autopsy report said he died of Cardiac arrest. He is an athletic person and is fit. In case he had contracted why he had contracted it inside of Godavac Plant. I wanted to probe deep into the matter, but the doctors advised me to abstain from getting involved in any adventures."
"Sir! What was the year in which you met with the accident?"
"It was in the year 1995. I think you and Shanthi might be in your school days."
"Do you think you can fight all alone by yourself?"
"God is the one who fights on our behalf, constantly shielding, protecting, strengthening, even when we're unaware. We never have to struggle to fend for ourselves, but he is with us, always covering us, in all of our days. In Bhagavad Gita, He has given us his words that are powerful and true, so we'll have the wisdom to stand strong against the enemy. But I am still waiting for the right time."
"Did anyone plan reopening that case again?" 
"There's no use in reopening that case. The owner of the pharma company has close associations with the politicians. But I am sure one day all his sins will strangle him. Radha, you know what Qutub Shah has prayed to God while laying the foundation stone of Charminar?"
"What did he pray for?"
"O Lord, Fill this city of mine with people as You filled the river with fishes. Yes, God fulfilled his request. The city has expanded. When you refer to people, it includes everything, good and dad He should have prayed that 'Fill this city of mine with good people.' There are many destructive elements roaming freely in this city."
"Do you need any help from my side?" asked Radha.
"Yes! But not now. I will definitely reach out to you in the hour of need."
"In case you need any help, please ask. My doors are always open for you," said Radha Krishna. "It was nice meeting you sir, If you give me permission, I will make a move."
"Carry on, Thank you so much Radha and next time don't forget to bring Shanthi along with you. If you come alone, then don't dare to enter my house." said the old man with a smile.
"I will bring her, sir."
Radha put on the goggles, shoes, marched down swiftly, and raced towards his luxurious BMW car.
The driver held open the door until he settled. Later he moved on to his driving seat, started the car, and drove towards the main road circling around the Charminar. The journalist has been watching the movements of the car from the balcony where he can take an excellent picture of the road extending till Charminar. Within no time, the car disappeared from his screen. Satyanarayana walked back again to his drawing room and sat on the floor, crossed leg in a meditative position. Whenever he feels intense stress, he usually goes into the meditative posture.
"O, Lord! For how long do I need to wait? When are you going to punish him?"
To be continued...
Content created and supplied by: Oloruntoba139 (via Opera News )
Opera News is a free to use platform and the views and opinions expressed herein are solely those of the author and do not represent, reflect or express the views of Opera News. Any/all written content and images displayed are provided by the blogger/author, appear herein as submitted by the blogger/author and are unedited by Opera News. Opera News does not consent to nor does it condone the posting of any content that violates the rights (including the copyrights) of any third party, nor content that may malign, inter alia, any religion, ethnic group, organization, gender, company, or individual. Opera News furthermore does not condone the use of our platform for the purposes encouraging/endorsing hate speech, violation of human rights and/or utterances of a defamatory nature. If the content contained herein violates any of your rights, including those of copyright, and/or violates any the above mentioned factors, you are requested to immediately notify us using via the following email address operanews-external(at)opera.com and/or report the article using the available reporting functionality built into our Platform See More