Democracy is a form of government by the people, for the people & from the people. It is the best form of government which has rule of laws & separation of powers.
In democracy, nobody is above the law but in nigeria today, those who we have at the helm of government practise what we call oligarchy form of government. They are tyrant in disguise.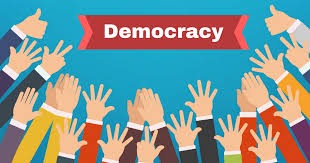 My reason for saying that there is no more democracy in nigeria is not far fetched. I will use the end sars protest has a case study. During the endsars protest. We all know what happened after governor sanwo-olu decided to impose curfew in lagos during the endsars protest. Of course, we all know nigerians youth are very stubborn.
They all failed to leave the toll gate despite the fact that there is a curfew and this led to the lekki massacre where a whole lot of protesters were killed fighting for a better country.
Now, my reasons for saying that there is no democracy in nigeria are as follows:
1) Unharmed protesters who were killed at the lekki toll gate, What has been done about this? Absolutely nothing. They were killed just like that. No investigation whatsoever on who sent the soldiers. The lagos judicial panel who are investigating the case are all answerable to the government of lagos state. They are only deceiving us & playing politics with us with the setup of the panel investigating this case.
2) So many protesters are saying the former chief of army staff Buratai, The governor of lagos state Sanwo-olu & president buhari all have something to do with the lekki massacre. Since they are suspected people, they should be probe to come to court to come & explain if they have hand in it or not. But no, it is not happening. Only governor sanwo-olu came out to talk about it & what he said is contradicting what the nigerian army are saying. Since then, nobody is invited again. Automatically, this means the case has been closed.
3) No justice yet for the citizens that were killed at the lekki toll gate: Up to this moment. Close to 5 months after the incident. There is no justice whatsoever for those who were killed by those who were meant to protect us during the endsars protest.
Dear readers, now tell me yourself. Where is the democracy we say we have in this country. There is no democracy anywhere. Let us not be deceived. Kindly drop your comments in the box below & don't forget to share with loved ones.
Thank you!!!
Content created and supplied by: Olushoy (via Opera News )