The ongoing hashtag to defend Lagos is a counter to the previous movement to occupy Lekki toll gate on February 13. Which hashtag are you in favour of?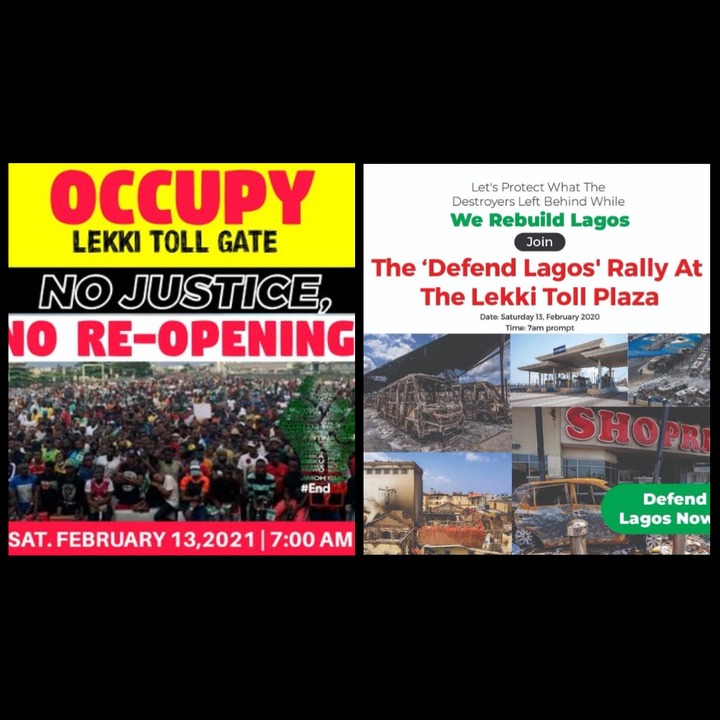 For three months now, the Nigerian authorities are yet to answer the important questions. Who ordered the use of guns on peaceful protesters? Why where the CCTV cameras off? Who gave the order? and many others? To calm the angry nerves of it's citizens, the government directed that a judicial panel of enquiry be set up to investigate the reported killings. At first, this gave us a bit of hope that finally justice will prevail.
During it's proceeding, the panel actually found very useful and informative details. New testimonies gave us insight. These stories were beginning to add up. But suddenly, the panel is in confusion and to think they almost fought themselves! Originally, the toll gate was shut down to enable investigations and forensics. Some panel members believe the work of the panel must be concluded before the gate is reopened, while the other group argue that there's no need for LCC to continue to be shut down. Even when the house divided against itself, the panel ruled that the gate should be reopened.
Citizens were left with no choice but to stage a protest using the hashtag Occupy Lekki toll gate. They believe that reopening the toll will end the search for justice. The believe that reopening the toll gate means the government is not ready to answer questions, is not ready to listen to it's citizens and the happenings/ killings will be swept under the carpet. All of a sudden, a fresh group of people arose with the hashtag defend Lagos.
Defend Lagos from what exactly? According to them, they are protecting what the destroyers left behind. Who are these 'destroyers'? Innocent peaceful protesters? Or the government who allegedly murdered it's citizens? The hashtag is presented in the wrong way. The reality is, if you want to defend Lagos, allow the investigations to be concluded, seek justice for murdered citizens, be on the side of the public.
Content created and supplied by: Sunflowerj (via Opera News )