An Igbo women socio-cultural group known as the Ndinne-Igbo has issued a strong statement condemning the killings of its children by Killer Herdsmen in a recent attack in the Enugu and Ebonyi state of Nigeria.
The group claimed that many of the Igbos have been unfortunate victims of herdsmen attacks and have urged the government to be more sterner in Implementing measures to protect its, Children. 
The group while speaking to the media according to information made available to News agencies reveals that she is planning to march around the entire Igbo land naked, to demonstrate its anger, and to protest the unwanted raping, killings of their children and husbands by herdsmen.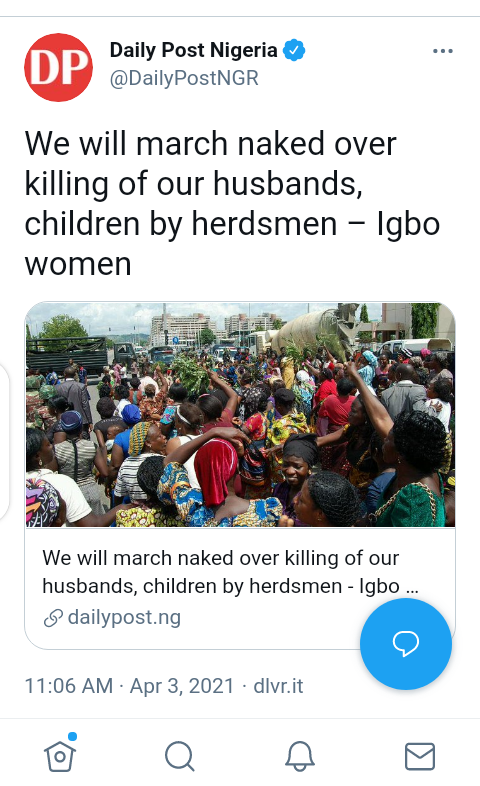 In a message issued and publicized by its President, Mrs. Beatrice Chukwubuike, Daily Post reveal the calls for a serious review from the government to ensure the government takes urgent steps to curb this menace before it degenerates into anarchy.
Recall that there was a series of attacks and killings in some remote villages in Ebonyi state and an unverified number of Indigenes of Ebonyi state lost their lives in an attack suspected to have been carried out by Killer Herdsmen. Governor of Ebonyi state was seen in tears lamenting and condemning the atrocities.
As proposed by the Ndinne-Igbo group, do you think that marching naked in the entire east is what is needed to force the government to come to the rescue of Its citizens? Feel free to comment below, do not forget to like and share for more of this gist.
Content created and supplied by: Iam4real (via Opera News )