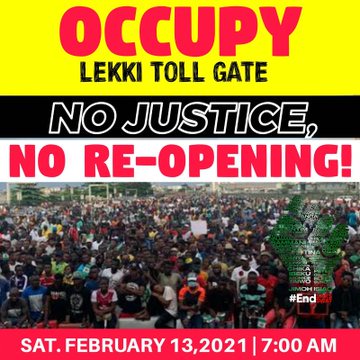 It is no longer news that the Nigerian youths are planning to come out enmasse to protest against the planned repair and reopening of the lekki tollgate on (Saturday, February 13th by 7am) to seek justice for those who were killed by the Nigerian army in October last year.
The Lagos Judiciary gave the go ahead to the reopening of lekki tollgate without seeking justice for the victims of last year incident as this has showed how insensitive our Nigerian government is to the plight of its people. This didn't go down well with Nigerians thereby sparking the return of another massive protest, (#occupy Lekki tollgate).. 
In as much as we all want justice to be served, we should bear in mind that we are dealing with a ruthless govt who don't care about any of her citizens. Below are the 3 likely negative effects of this new protest;
1. Hoodlums being used to disrupt the peace of Lagos again.... It will be recalled last year that the peaceful protest was hijacked along the line by criminals who were looting shops and robbing innocent citizens, same is very paramount to happen if this protest comes to live. As our so called govt that are supposed to ensure our safety can use these miscreants against innocent Nigerians.
2. Increase in Covid-19 second wave infection... The Youths plan to converge at Lekki tollgate at the said date but this is very much a wrong timing because the covid-19 second wave of infection is on the horizon and many people will be infected due to the gathering. And as we all know, most Lagosians are not still serious in taking precautionary measures to protect themselves from the virus. So make sure to protect yourself if at all you are going out for the protest in order to safeguard others. 
3. Lastly, the Lagos state government is very much likely to impose another lockdown/curfew if the protest turns violent and this would negatively impact the recovery phase of the lagos economy. Last year, Lagos state was one of the most hit state that was damaged due to the violent protest that took place and it hasn't stil recovered fully. So staging another protest around this period might hurt the state economy once more if things go haywire.. but nevertheless I still hope this protest turns out to be peaceful so our voice can be heard and eventually Justice served.
What are your thoughts on this. Drop your comments below and follow for more updates.... God bless!
Content created and supplied by: Melito-Jay (via Opera News )