Opinion: Bandits Are Not Freedom Fighters, They Are Terrorists And Thieves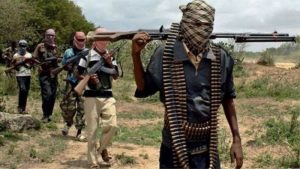 Sheikh Gumi can't change the narrative. Those terrorists are never the victims. The govt must do all within its power to crush them. If not,...
But to some bandits they look themselves as freedom fighters if at all u listen to their claims. They claimed govt neglected them when their cows were rustled their friends and family killed, some of them took arms in frustration and supported by politicians.
No matter how much they try to change the narrative, even the dictionary called them robbers and outlaws.
They are cold blooded murderers. Sheikh Gumi cannot change this narrative no matter how much he tries to trivialise their crime.
The people we voted for, have use over 50% of the security personnel as guard ,I hope you have had them( a high ranking officer) saying go and defend yourself against bandits. What a Nigeria, it is our fight to transform this country, the elite are already comfortable with system.
May God bring an end to this menace.
Comment and share
Content created and supplied by: Sharieyf (via Opera News )