141391 policemen promoted since 2019 IGP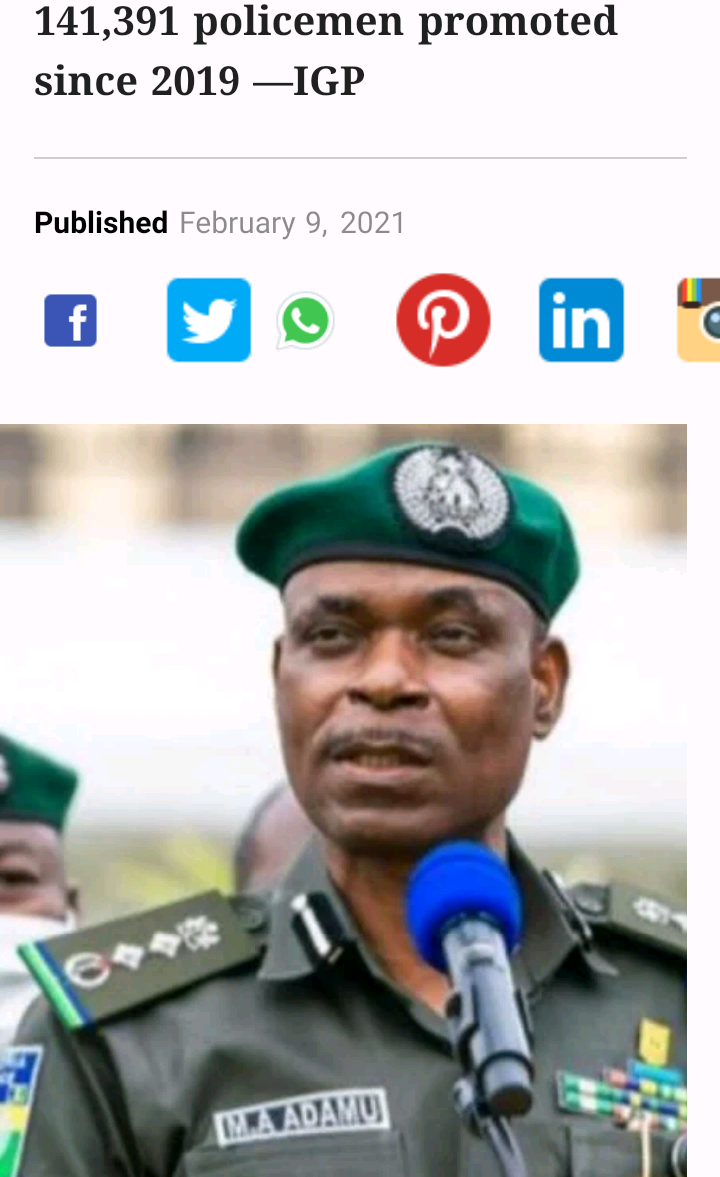 The Inspector General of Police, Mr Mohammed Adamu, has said that 141 ,391 officers and men of the force were promoted across all ranks since 2019.
He spoke during the decoration of 18 CPs and AIGs , including AIG Habu Sani and Dasuki Galdanci.
Adamu said the figure comprised 41, 480 officers and 91,911 rank and file.
He urged the promoted officers to be more committed and dedicated to their assigned duties.
Adamu said, "I am convinced that all of you, the newly promoted officers, who are seated here today fit perfectly into my human capacity development vision.
IGP Adamu decorates 7 new AIGs, 7 new CP's.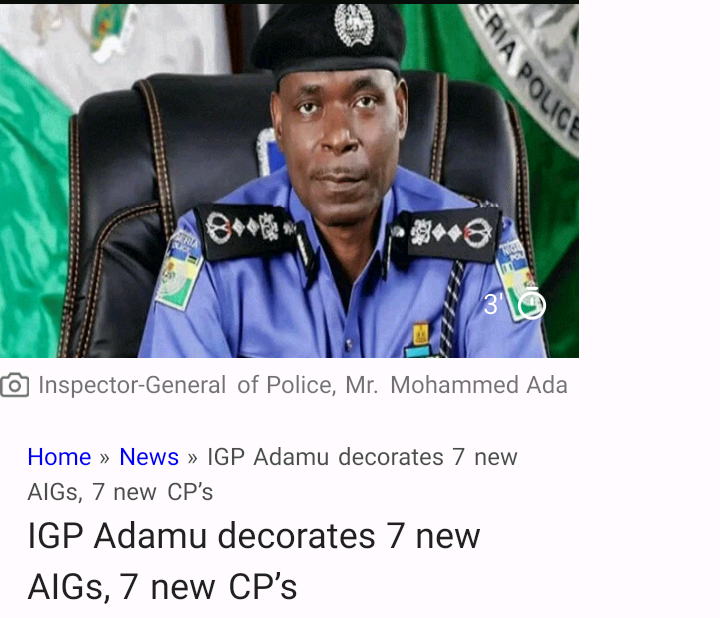 charges them to deploy their wealth of experience in tackling security challenges
Inspector General of Police, Mohammed Adamu on Tuesday decorated seven newly promoted Assistant Inspectors General of Police and seven Commissioners of Police with a charge the officers to deploy their wealth of experience towards curtailing the myriads of security challenges confronting the nation.
Adamu said, "I am convinced that all of you, newly promoted officers fit perfectly into my human capacity development vision. Let me however; remind you that to whom much is given, much more shall be expected.
"The Police leadership demands of you, higher sense of commitment to duty, and the nation expects of you exceptional display of loyalty, courage and professional competence which are needed to move the Nigeria Police and our beloved country into the next level in relation to internal security".
"I trust that you shall not fail the Nigeria Police Force, neither will you fail the nation in the critical responsibilities that your new rank shall impose on you".
Gunmen suspected to be Boko Haram insurgents are currently attacking Geidam local government area of Yobe State.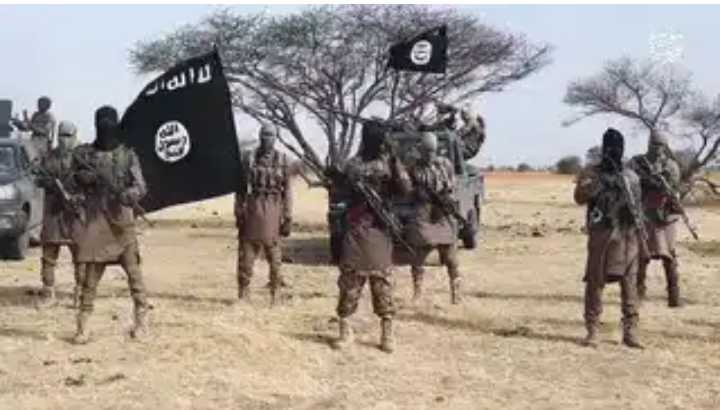 Sources within Geidam told Daily Trust that the insurgents invaded the town after Maghrib prayer.
Muhammad Nura, a resident, said security operatives, had not responded to distress calls as of the time this report was filed.
"We are now hiding indoors with all the family members, thank God they are all home. I am short of words, we just need your prayers, the last attack is still fresh in our memory and in less than one month they launched another attack again".
"Our security formation are doing their best because we could also hear gunshots from their side but that is not enough government should do something about our town before they chase all of us away," he said.
APC Chieftain Dies In Zulum Convoy Crash
Zulum's convoy in road mishap, claims lives of Mai Kanuribe of Lagos, two others in Borno.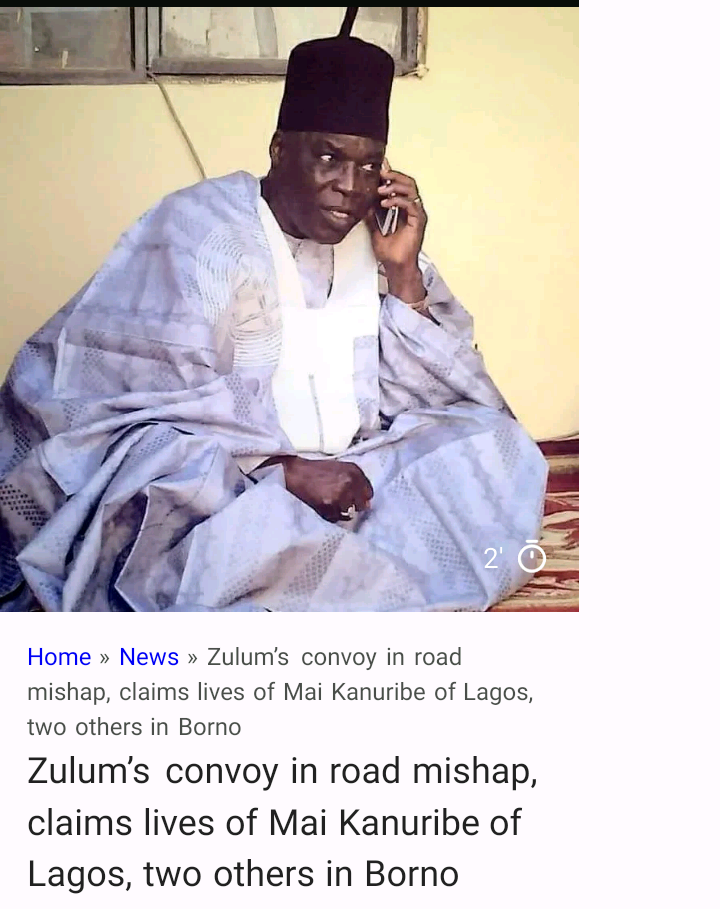 Mai Kanuribe of Lagos, Alhaji Mustapha Muhammadu, and other two persons were confirmed dead in a ghastly road accident involving their vehicle which accompanied the convoy of Governor Babagana Umara Zulum of Borno State.
Sources said, "the Governor and his entourage on Tuesday went to his hometown, Mafa Local Government Area to participate in the ongoing All Progressives Congress (APC) Registration and Revalidation Exercise, unfortunately, while on their way back after the exercise, one of the vehicles in the convoy, conveying the Mai Kanuribe of Lagos had a road mishap and crashed along Mafa- Maiduguri road.
"Two occupants including Mai Kanuribe of Lagos, Alhaji Mustapha Muhammadu died at the spot while the driver who sustained serious injuries later died some few hours after.
"The Governor and the entourage including the former governor Kashim Shettima evacuated the remains of the deceased to their family house in Maiduguri this afternoon."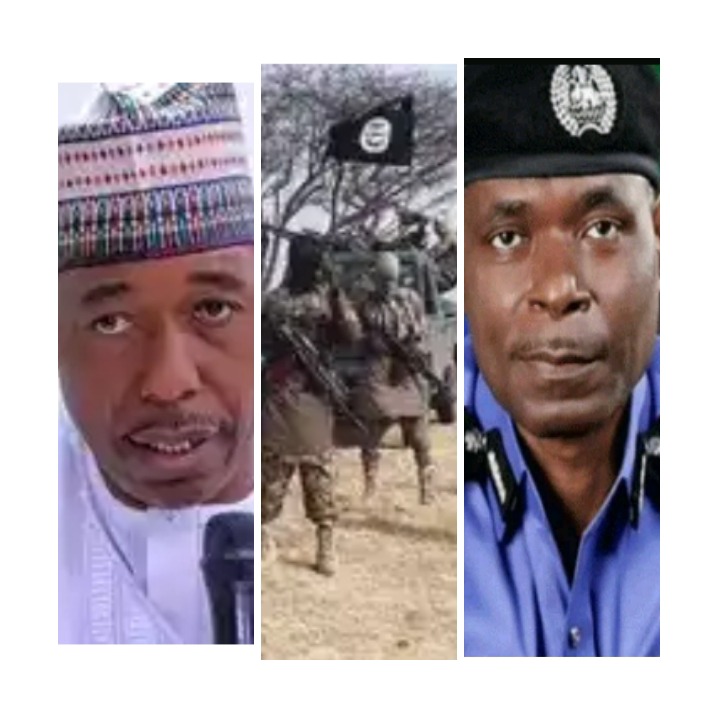 Content created and supplied by: Annypete64 (via Opera News )