The two midfielders Austin Jay-Jay Okocha and John On Mikel, represented Nigeria in the senior national team level, with both wearing the NO:10 but not at the same time.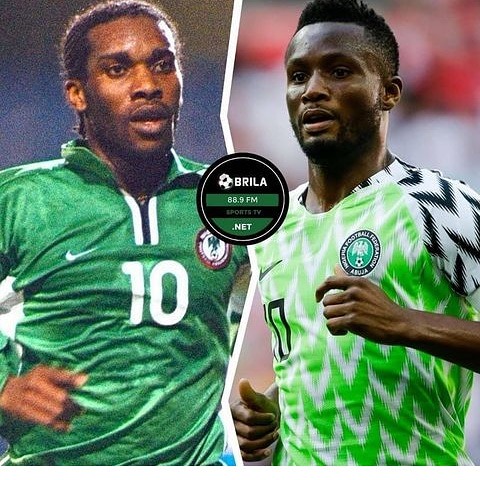 #1. Austin Jay-Jay Okocha:
Okocha is a former professional footballer, who played as an attacking midfielder during his time for the Super Eagles of Nigeria. The midfielder who need no introduction in the world of dribbles, always enjoyed maltreating his opponents with his insane dribbles and football skills. He was so good that he was nicknamed twice(Jay-Jay) and African Maradona to many.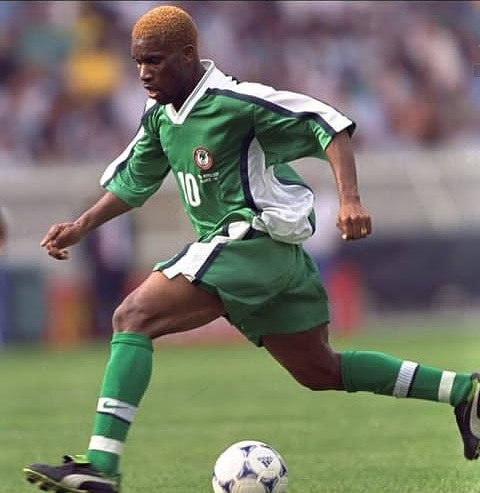 Okocha trying a step over move.
Okocha played football with a team regarded as the best Super Eagles team so far. A team which included African giants like late Rashidi Yekini, Kanu Nwankwor, Peter Rufai, Taribo West, Babayaro, Sunday Oliseh and Finidi George.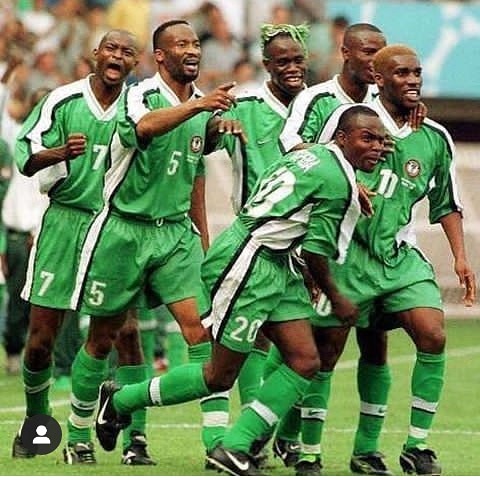 Okocha with his teammates including dreaded defender Taribo West.
Okocha played for various European clubs like Borussia Neunkirchen, Eintracht Frankfurt, Fenerbahce, Paris Saint-German and Hull City. For his national team, Okocha made 73 appearances, scoring 14 goals and winning the 1994 Africa cup of nations in Tunisia, including one silver medal, and three bronze medals in the ones he failed to win a gold medal. He is also part of the 1996 Atlanta squad, that surprised the world by winning the Olympic male soccer gold against the world's favorite Brazil and Argentina, which the defeated respectively in the semi-final and final of the tournament, to become the first African side to do that.
Okocha in his playing days for Fenerbache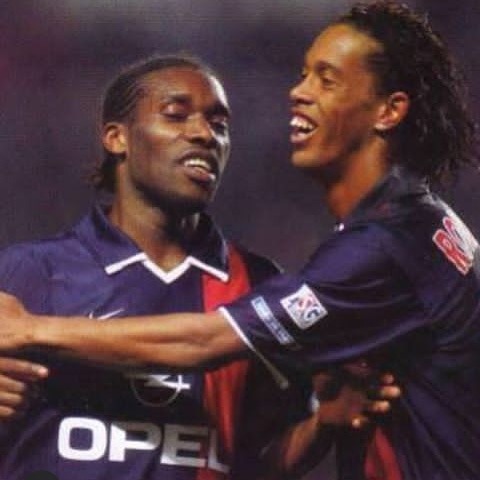 Okocha in his playing days for Paris Saint-German with fellow dribbel mate Ronaldinho.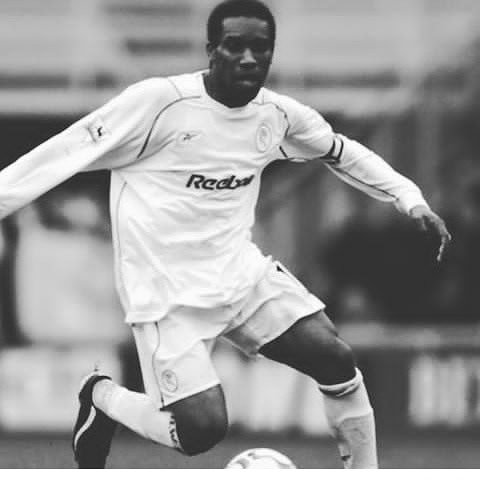 Okoha in his playing days for Bolton Wanderers.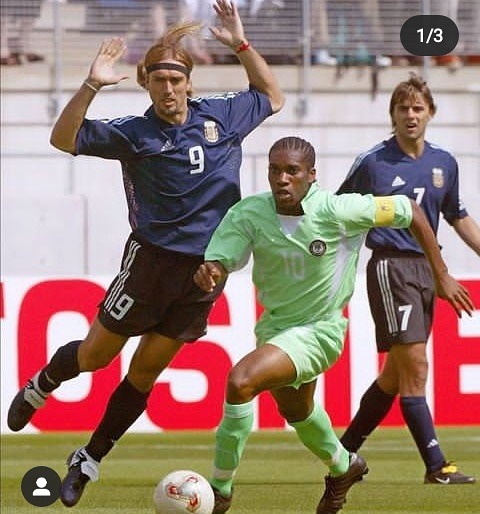 Okocha negotiating his way through with his skills.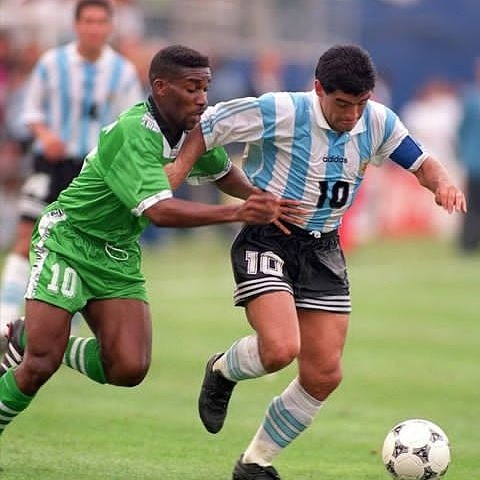 Okocha marking the late football legend Diego Maradona in the 1994 world cup.
#2. John Obi Mikel: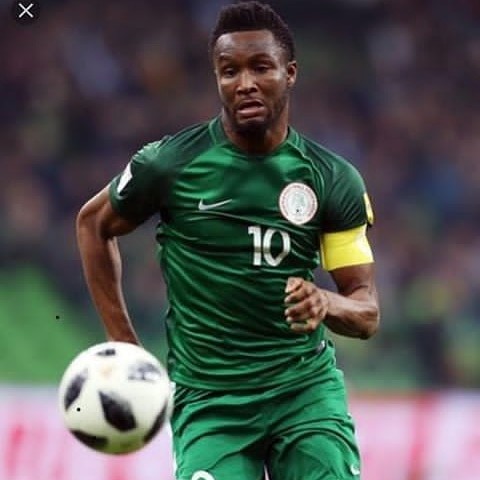 John Obi Mikel, who is regarded as the coolest Nigerian player, to play for the Super Eagles of Nigeria, started as an attacking midfielder and ended up as a defensive midfielder. The former Nigeria NO:10, who enjoyed providing accurate passes for his teammates, now plays professional football for EFL Championship club Stoke City as a defensive midfielder.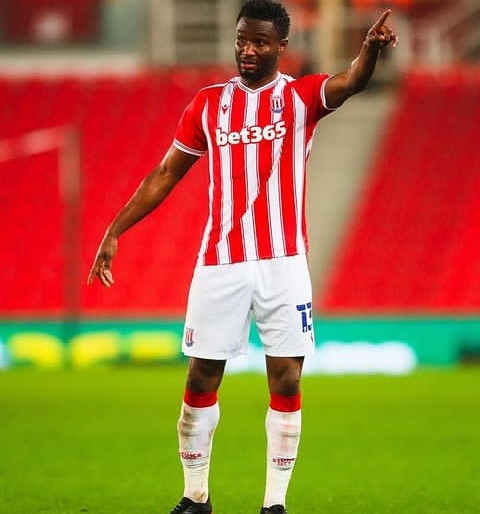 Mikel Obi in his Stoke City home kit.
John Obi Mikel, played for top English Premier League side and also for his national side, where he represented Nigeria in the world cup tournaments, which includes; the 2014 world cup game hosted in Brazil and the 2018 world cup game hosted in Russia where he was the captain of the team. Winning the Africa cup of nations in South Africa in 2010, John Obi Mikel provided three bronze medals for the Super Eagles of Nigeria in a Africa cup of nations tournament.
Mikel Obi reciting the national anthem in a the 2018 world cup, where he was the captain of the team.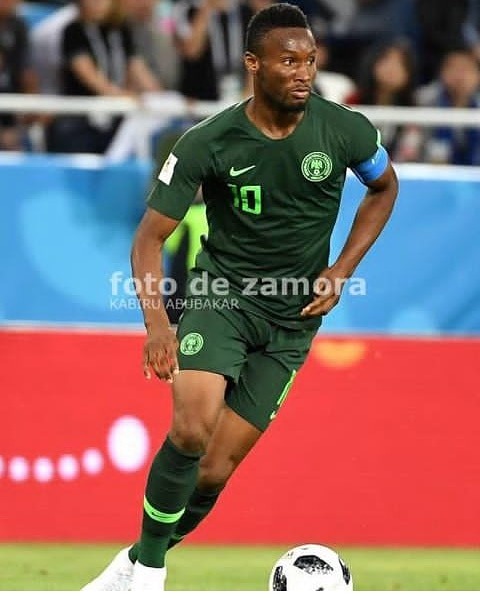 Mikel Obi trying to pinpoint a teammate with his accurate pass.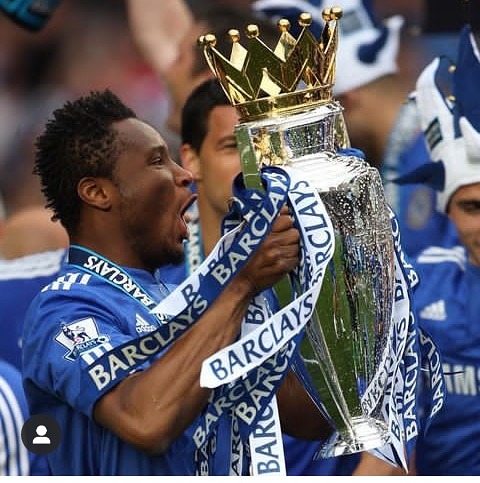 Mikel Obi lifting the champions league tittle with Chelsea in 2012.
He also captained the U-23 players, as an overaged player to the 2016 Olympic games hosted in Brazil, where they went home with a bronze medal.
Despite their different style of play, they two midfielders have two things in common, which include;
1.They were not able to win the African best player award, despite playing football to their best abilities.
2. The duo were not able to get much goals for their teams, despite being a NO:10 man.
LIKE and SHARE, COMMENT on your favorite player.
Content created and supplied by: Garavinho (via Opera News )