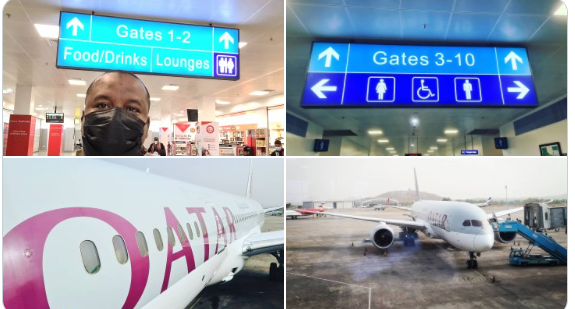 Salihu Tanko Yakasai, a former Media aide of Governor Abdullahi Umar Ganduje of Kano State, has relocated abroad
Ganduje had fired Yakasai in February after he criticised the government of President Muhammadu Buhari over rising insecurity.
The Department of State Services (DSS) had subsequently arrested Yakasai, who was detained for days.
In some pictures he posted on social media, Yakasai was seen at the airport of a yet to be known country.
A Qatar Airways aircraft was also seen in the background. He captioned the tweet "Goodbye Naija".
See Comments Below
That Na all of them Plan,all this elites and politicians in naija,they have houses all over the world cash stashed away and second citizenship,Abuja airport is littered with PJs,when dey loot finish and trouble starts,away they go,
Olatunde [email protected]_TUNADE
look at your man. You may be next to face his predicament. Keep on hailing your daddy o, the moment you change b ready for anything. Dawisu don japa, you are in edo
Where is he running to? He is part of the people that brought this "hell" to Nigerians, he should stay to face
ElénìyànSun with small cloud⚡Thought [email protected]
After the first Lady, then
@dawisu... May God provide the means for us, so that we can also follow japa.
Olatunji [email protected]
Na who get money dey Japa
God won't forgive all that voted for this calamity in 2015 where ever they run to.
CHELSEA DADDY Flag of [email protected]_Remo
Man will soon become Reno Version 3.0
[email protected]@Raphael_chuz
Japa is the only medicine for naija prob....bro is d best way for now!Rolling on the floor laughingRolling on the floor laughingRolling on the floor laughingRolling on the floor laughing
Aideloje [email protected]
The fear of this govt the beginning of wisdom
JAPPA @dawisu
Considering Mahadi Shehu's status good and patriotic citizens are now not protected #Nigeria.
#FreeMahadiShehu
THE gods Japanese [email protected]
He knows something we don't know
[email protected]_Ajayi
Funny enough this shit will campaign and cajole people in order to bring those mean people into power and bring calamity on them o Now money have been gathered but backfired
Next thing he JAPA God is in heaven sha
Ukponahiunsi [email protected]
Let him come back, the country of their creation is working well.
ola [email protected]_
Eni eleni Weary faceFace with tears of joy
Oen [email protected]_oen
If he likes he should go to outer planet,his sins must find him
If you gave money please run for your life , because we have fools as leaders
Sampson, [email protected]
He now realized that Nigeria is a scam
White [email protected]
Why will he relocate now, after helping to re-enforced Calamity PMB in 2019 via Kano State voting magical numbers. He should have waited to reap the pleasant fruits of his hardwork during the Presidential election of 2019. Just small flogging he is running away like Aisha. Yeye!
Larry [email protected]
Don't mind him, it's spineless people like this that will be misleading younger generation all because of money and jobs while they should be joining hands with people like
@YeleSowore
for us to have a better country
May God be with you and soon those that castigate for speaking the truth will meet there Waterloo.
Shooting starF∆IS∆L @Faisal___MB
Abeg how this one come be news? I swear wuna just sabi gossip
Where did run Woman running to ... he should return to enjoy his hand work! Sai baba
Content created and supplied by: Femisport (via Opera News )