Suspected pastoralists raided the farm of Akwa Ibom Udom Emmanuel's assistant, Mr Ime Uwah and destroyed at least 400 plant stands.
Wah, a Senior Special Assistant to the Governor, said his farm near Airport Road was attacked by herdsmen last July and last Wednesday.
He said pastors laid hands on his manager last year when he challenged them to destroy the farm.
The latest attack, according to Uwah, took place last Wednesday when herdsmen opened fire on a farm near his farm, adding that a fire had spread and destroyed more than 400 lumber plants on his farm.
Wah said: "Sometime in July, last year, we had an incident where shepherds were passing by our farm. Normally they will pass by on the road but recently started to enter our farm. That day when their cattle came in and destroyed our cassava and other crops.
"My farm manager came to them and in response decided to attack him and cut off his hand. We have followed up on this matter with the relevant agencies including the police and the Defense Force. The security services have such matters and we have been working with them to determine who will pay for the treatment but to no avail. "
He added: "Just last week on Wednesday they raided the farm again and destroyed our property. A fire broke out and they set fire to a farm near me.
"That fire spread to my farm. When we tried to put out the fire they attacked again and it seemed that their purpose was to burn the whole field.
"My people are fighting to put out the fire and when we thought the fire had been put out, I woke up that night and saw the fire and burned 400 tents in our garden. They threatened that no one would come near them.
Police Command is yet to confirm the attack on the herdsmen as Police Relations Officer Odiko Macdon did not return calls and did not respond to messages sent to him during the report.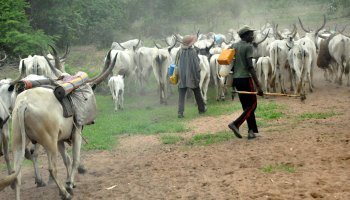 Content created and supplied by: Ndypmouwem (via Opera News )