Imagine this:
Three hours before an exam, you are seated on your chair, books on the desk. You open your textbook to study a particular topic. Your eyes scan the page, line by line. After an hour or two of reading, you feel like you have understood everything. To make sure the information sticks to your head, you reread the topic again.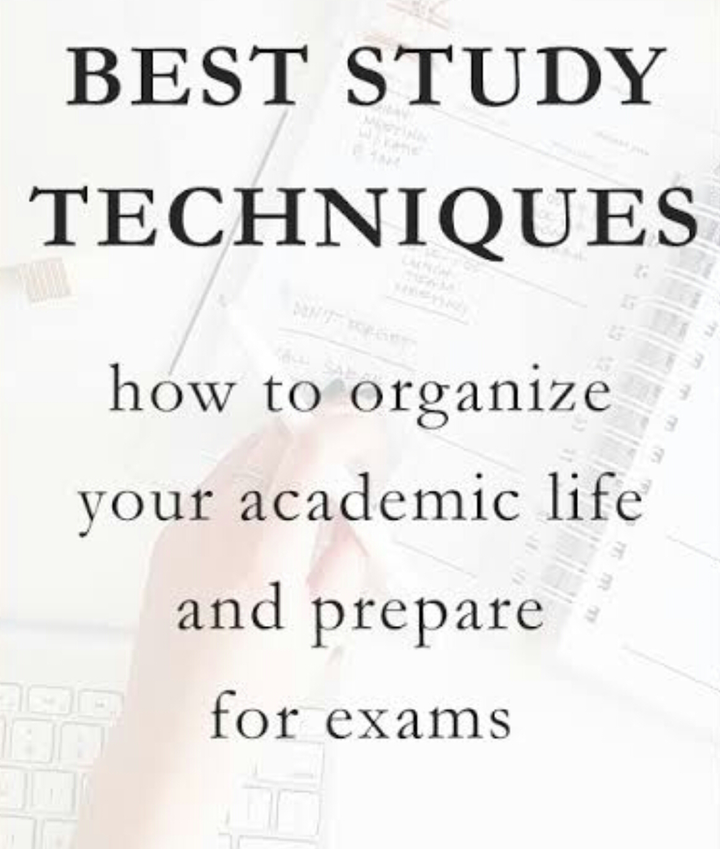 An hour later, you are in the exam hall. The questions are passed and you collect yours. Then you open the booklet. Fortunately, the questions are from the topic you read. Unfortunately, you don't know the answers to any of them. Your brain seems blank. You think and think and think, but the answers don't come. You gape at the booklet in agony.
It's a problem that affects almost everyone. You have "studied" the topic, but an hour later, you can't remember what you just read.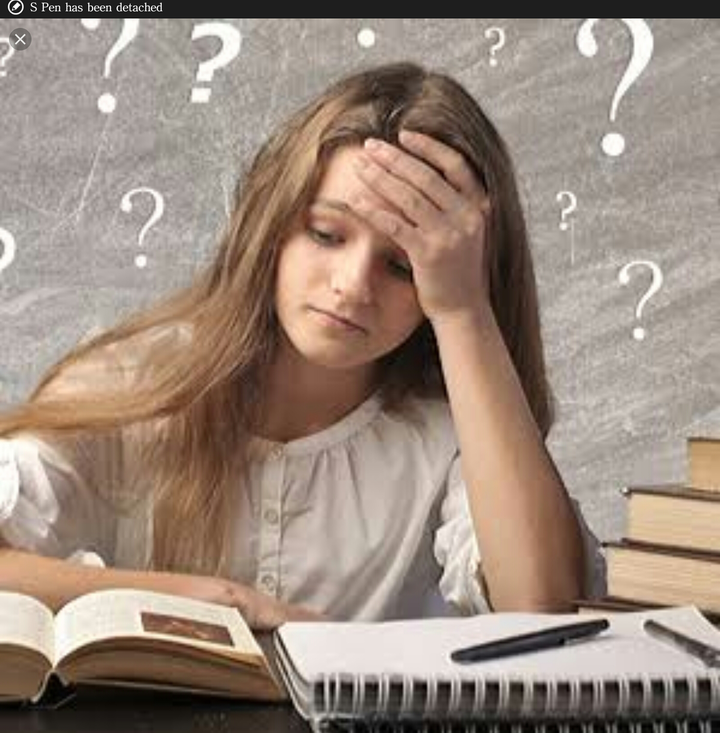 The number one cause for this? You may not be studying the right way.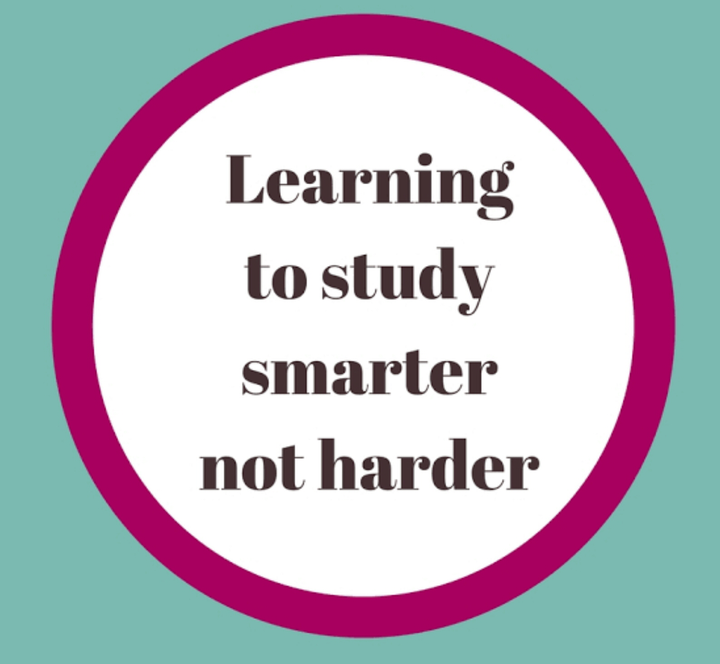 You see, studying isn't about how much time you spend, but rather, the methods you use to study. It's about being able to retain the information you read.
In this article, I'll be giving five tips that have helped me to study efficiently. And I'm sure that the tips would help you too.
1) Get an Overview of the Topic
The main aim of this is to get an idea of what you are about to study before you study it. This is like whetting your brain's appetite.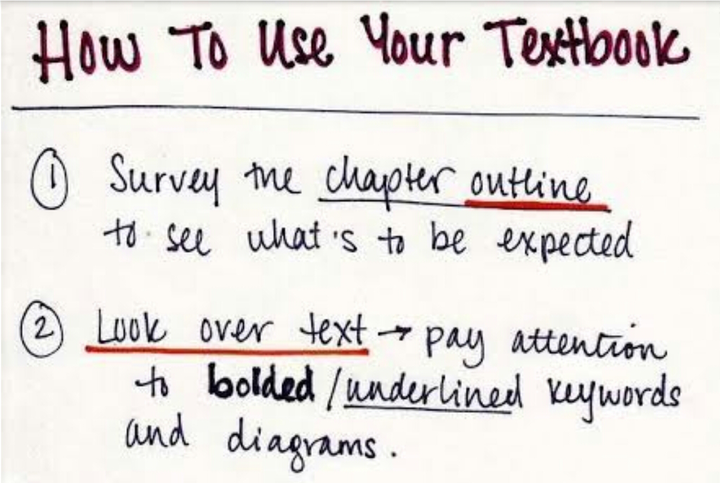 Why it Works: If you try and study a material without getting fore knowledge about it, you are more likely to give up.
How To Do:
- Take note of the main heading and other sub-headings.
- Skim through the material. Pay attention to underlined words/phrases
- If there's a summary at the end of the topic, read that too.
2) Pre-Test
Most textbooks have a set of questions for each topic. It is usually at the end of the topic, just after the summary. Even though you may have little or no knowledge about the topic, answer the questions.
Whenever you think you know an answer and you fail it, when you find the right answer, you remember it more.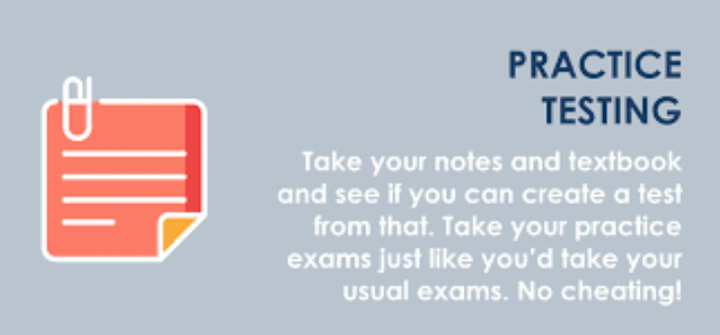 Why it Works: This is a warm-up exercise for your brain. Just as exercise is more effective after warming up, your brain will absorb more information after being made to work.
How To Do:
- Get a few questions on the topic, preferably from the end of the topic or from past questions
- Answer the questions without spying.
- Check the answers to each of the questions.
Remember: Don't beat yourself up for scoring too low. This is just to make your brain work.
3) Read The Material
Now that you have a background knowledge of the topic, read the material.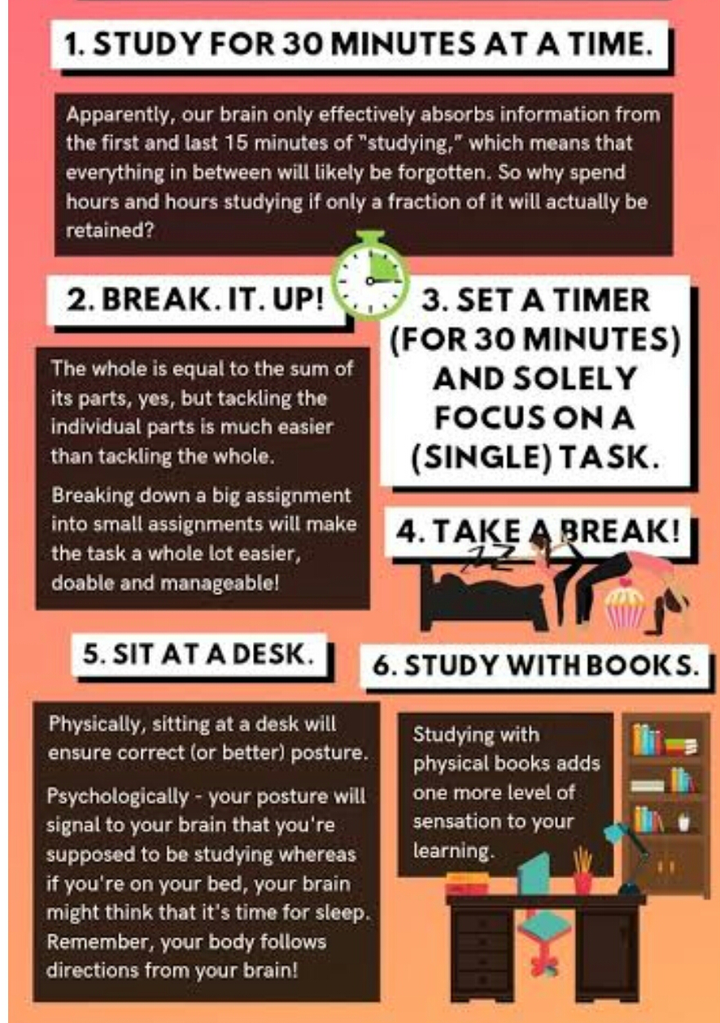 How To Do:
- Avoid distractions
- Take breaks (e.g study for periods of 30 minutes with 5-10 minute breaks in between)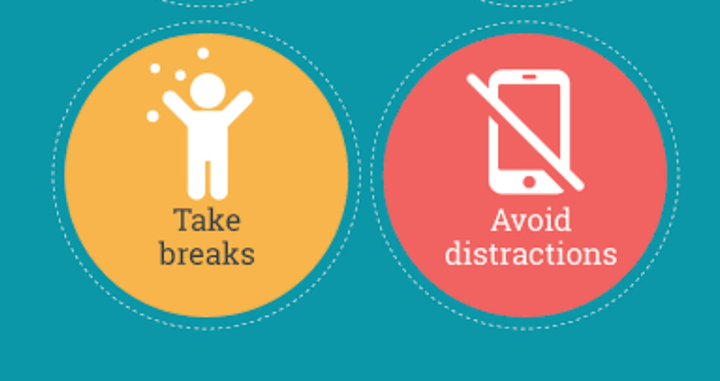 - You can take notes or jot down the main points on the textbook margin
- Don't read everything at once. Focus on one particular subject matter first.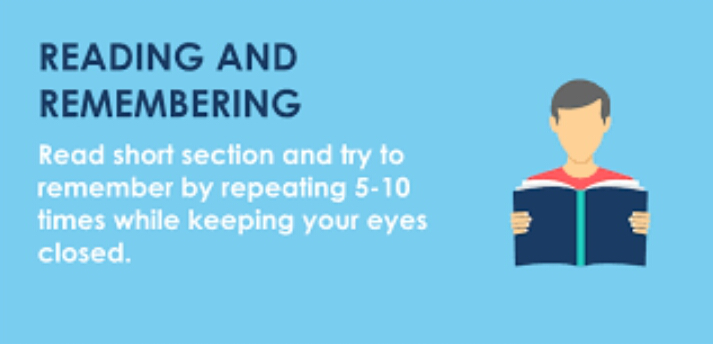 4) Teach Yourself Or Others
When you are done reading, close that textbook. Now, look at your fellow classmate, your younger sibling, your mirror or even a teddybear, and teach the topic. Try and remember everything you read from the textbook and say it out loud.
Tip: Teach as if you're teaching a five year old. Remember that children don't understand huge words. They need explanations, explanations and more explanations. They ask questions, "Why? How? When?" that will make you think twice. This would make you simplfy the material as much as possible to the understanding of a child.
Why it Works: To be an effective teacher, you must first understand the topic. Your goal is to understand what you've read. So if you find out that you can't express the information in words, go back to your textbook and read it again. It's one thing to read a material; it's another to be able to understand it.
The more you can simplify what you learn to a child's level, the more you understand the material.
How To Do:
- Teach what you've learnt to someone else, an inanimate object or in front of a mirror
- Try and simplify the material as if you're teaching a child.
Remember: When teaching, do not look at the textbook. You have already read the material. Leave your brain to do the work.
5) Active Recall
Passive forms of reading involve rereading, highlighting and summarising. So while you take in the information, your brain doesn't work to retain that information. You don't test your brain. That is why those three methods of studying are considered to be ineffective.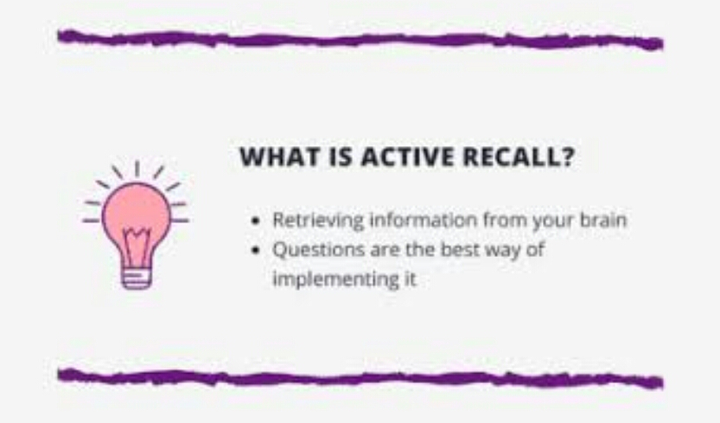 Active recall, however, refers to an active way of tasking the brain. This involves setting quizzes and answering flashcards. So as you have collected information by reading, your brain does the job of keeping that information in by working yo answer questions.
Why it Works: The more questions you answer, the more information you retain.
How To Do:
- Use flashcards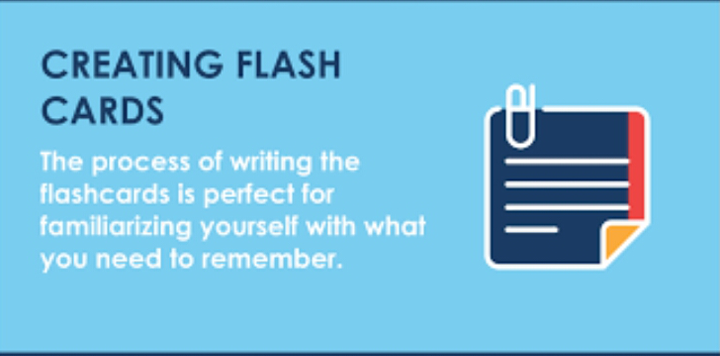 - Answer the questions at the backpage
- Use past questions
- Set your own practice questions
- For those doing CBTs, you can answer such questions in your computer.
These 5 techniques are guaranteed to make studying and remember information easier and faster for you. They have been backed up by science, too. I was able to blast my JAMB, WAEC and PUTME thanks to these tips.
Do you like this article? Is there anything you think I should have mentioned? Do I need to explain any concept further? Plesse, let me know in the comments.
Like and share this article to those who you think might need it. Don't forget to follow me for more educational tips!
Content created and supplied by: NewsbyPam (via Opera News )