Yes, you guys think all we want is just breast milk and sleep? Just in case you don't know, I will let you know that we are just as conscious as you. My fellow babies, this article is for you.
Listen up peeps, I will be laying some wisdom on you. I sleep like a baby. When I want, where I want, only as long as I want, and on my terms and my terms only. After all, I am a baby. It is what I do.
My parents? Ha. They brought me into this world, therefore they exist to meet my needs. If they're sleeping, they are not at my immediate beck and call. So it is my job to make sure they stay awake at all times of day or night.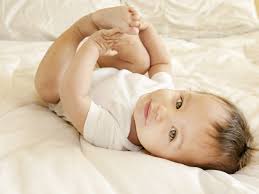 It is actually tougher than it looks. Close your eyes for just a second and they think it's safe to close theirs too. Not on my watch, folks.
Here are some tips and tricks you can use to make sure your parents don't try to sneak in some shut-eye. We babies have to stick together. Solidarity, you know.
1. Be unpredictable
It is best to keep them guessing. Enjoy a nice nap one morning but scream your head off at the same time the next day. If you really want to mess with them, follow a pattern for two days in a row. They will be patting themselves on the back thinking they have finally nailed this thing. You have got them right where you want them. The next day, stay up for 24 hours straight, taking mini cat naps here and there to keep your energy up. Gets them every time.
2. Resist double-teaming
If you have two parents, the challenge is greater, but so is the victory. They may try to take turns. Nip that thing in the bud quickly. The trick is to always demand the parent that isn't currently holding you. If you want to go pro-level, give one parent a tiny glimpse of success. Make sure you don't let the same technique work for the other parent. Play this game right, and you can have them staying awake for hours arguing about whose methods are better.
3.Practice the fake-out
Flutter your eyes a bit as if you are nodding off. Just when they start to get excited that you have dozed off, open them wide and stare straight at them to let them know you are on to them. Repeat. You can keep this gambit going for a long time.
4. Make them drive
What is not to like about a nice snooze to the gentle vibrations of the family car? Best of all, if your parent is driving, they can't sleep themselves. Win-win. Watch out for the tricky ones, though. They may try to park in the driveway, keep the car running, and catch a few winks themselves. A quick cry or two should have them back on the road quickly.
5. Demand the beating heart
Forget the fancy crib they wasted money on that should have gone into your college fund. You want body heat and the gentle thump-thump of a parent's heartbeat as your lullaby. There's a risk that once you drop off, your parent may, too. Wiggle yourself into a position that's as uncomfortable for your parent as possible. As soon as they try to shift themselves into a better posture, complain. Bonus points if you can make one of their limbs go to sleep when they can't.
6. Claim the bed
They may get so exhausted they bring you into bed with them. Sweet! Now your trick is to alternate between rolling around, kicking, and stretching yourself out starfish-like so you cover as much ground as possible. Twist yourself up in the sheets occasionally or roll close to the edge or right up snug against a parent so that their worrying about you smothering, falling out of bed, or rolling over on top of you keeps them up.
7. Recruit the cat
Sometimes we just need a break from doing it all ourselves. Am I right? This is the time to call in the reinforcements. The cat can be your perfect ally here. Give him the nod and he's got his own range of methods to tap into, including hacking up hairballs, piteous meowing or howling, scratching at doors, and his best trick: standing on faces to demand breakfast be served.
Hope you enjoyed these tricks. Just remember that you also will one day have a baby. Put a smile on somebody's face. Share, like and comment.
Content created and supplied by: moshoodgbadebo (via Opera News )