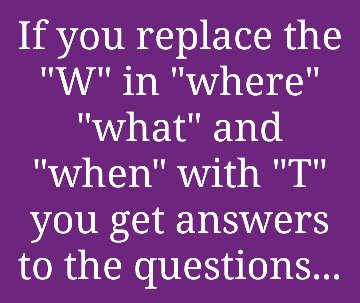 1
In the average lifetime, a person will breath in about 44 pounds of dust.
2
Coca-Cola was the first soft drink to be consumed in outer space.
3
There is a town called Paradise and a town called Hell in Michigan!
4
It is illegal NOT to smile in Pocatello, Idaho!
5
The Earth gets heavier each day by tons, as meteoric dust settles on it.
6
Girls have more taste buds than boys.
7
A rat can go without water longer than a camel can.
8
To find out if a watermelon is ripe, knock it, and if it sounds hollow then it is ripe.
9
Grapes explode when you put them in the microwave.
10
A broken clock is always right twice a day.
11
A group of kangaroos is called a mob.
12
Contrary to popular belief, lightning travels from the ground upwards not from the sky downwards.
13
Rats multiply so quickly that in 18 months, two rats could have over a million descendants.
14
Albert Einstein never wore any socks.
15
Your skeleton keeps growing until you are about 35, then you start to shrink.
16
It is estimated that millions of trees in the world are accidentally planted by squirrels who bury nuts and then forget where they hid them!
17
Marie Curie, the Nobel prize winning scientist who discovered radium, died of radiation poisoning.
18
Avocados have more protein than any other fruit.
19
25% of your bones are located in your feet.
20
If you are locked in a completely sealed room, you will die of carbon dioxide poisoning first before you will die of oxygen deprivation.
21
The tongue is the strongest muscle in the human body.
22
Your brain is 80% water.
23
Vultures fly without flapping their wings.
24
A hard boiled egg will spin. An uncooked or soft boiled egg will not.
25
The most popular first name in the world is Muhammad!
26
A single cup of gasoline, when ignited, has the same explosive power as five sticks of dynamite.
27
When a giraffe's baby is born it falls from a height of six feet, normally without being hurt.
28
It is illegal to be a prostitute in Siena, Italy, if your name is Mary.
29
If it isn't moving a frog can't see it. If the frog can't see it, he won't eat it.
30
If you are bitten by a poisonous snake, and fail to receive medical attention, you still have a 50% chance of survival.
31
The heart of a mouse beats 650 times per minute!
32
Sheep can recognize other sheep from pictures!
33
One quarter of the human brain is used to control the eyes.
34
Human birth control pills works on gorillas.
35
Pain travels through the body at 350 feet per second!
36
The penguin is the only bird who can swim, but not fly!
37
Q is the only letter in the alphabet that does not appear in the name of any of the United States!
38
To escape the grip of a crocodile's jaws, push your thumbs into its eyeballs. It will let you go instantly.
39
A giraffe can clean its ears with its 21-inch tongue!
40
In ten minutes, a hurricane releases more energy than all the world's nuclear weapons combined!
41
Food can only be tasted if it is mixed with saliva.
42
Emus and kangaroos cannot walk backwards.
43
Unlike dogs, pigs, and some other mammals, humans cannot taste water. They taste only the chemicals and impurities in the water.
44
Frogs cannot swallow without blinking.
45
It is possible for a scorpion to sting itself to death as they are not immune to their own poison!
46
If you yelled for 8 years, 7 months and 6 days, you would have produced enough sound energy to heat one cup of coffee.
47
Like fingerprints, everyone's tongue print is different!
48
The opposite sides of a dice cube always add up to seven!
49
The energy of a discharge of an electric eel could start 50 cars.
50
A kangaroo cannot jump if its tail is off the ground.
Content created and supplied by: Excellence_01 (via Opera News )
Opera News is a free to use platform and the views and opinions expressed herein are solely those of the author and do not represent, reflect or express the views of Opera News. Any/all written content and images displayed are provided by the blogger/author, appear herein as submitted by the blogger/author and are unedited by Opera News. Opera News does not consent to nor does it condone the posting of any content that violates the rights (including the copyrights) of any third party, nor content that may malign, inter alia, any religion, ethnic group, organization, gender, company, or individual. Opera News furthermore does not condone the use of our platform for the purposes encouraging/endorsing hate speech, violation of human rights and/or utterances of a defamatory nature. If the content contained herein violates any of your rights, including those of copyright, and/or violates any the above mentioned factors, you are requested to immediately notify us using via the following email address operanews-external(at)opera.com and/or report the article using the available reporting functionality built into our Platform See More