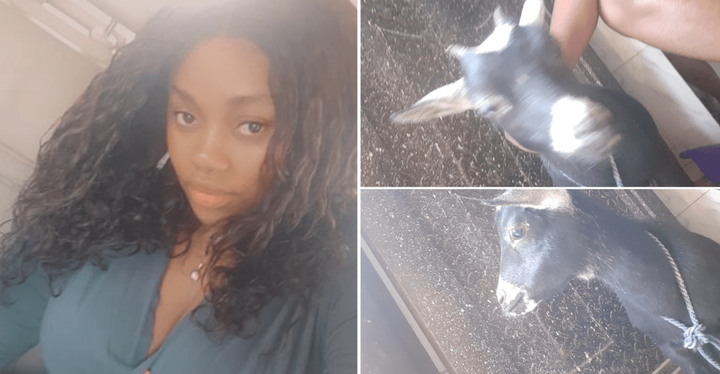 Traditionally, when you hear the word "pet", certain specific animals come to mind. For the most part, you think 'dog', 'cat', 'fish', etc. Never is the word 'goat' associated with the idea of a pet, especially here in Nigeria.
In fact, keeping a goat as a pet in Nigeria has even been the reason why some relationships ended. A while back, a woman sent a letter to Instagram Love Doctor, Joro Olumofin chronicling how her boyfriend who was otherwise perfect kept a pet goat, and how she didn't know if she could stay in that kind of relationship. She said:
I'm seeing this guy right now and it's been for 9 months. He's a cool guy/ my parents love him. He lives with his parents which I don't mind. But something bothers me a lot. They keep this goat as a pet/. They wash this goat daily, the goat is always sparklingly clean. I don't know who keeps a goat as a pet. In December I mistakenly or jokingly asked if we are killing and cooking the goat o. My boyfriend gave me this bad eye like I insulted his mom or dad. I told my parents and they said I shouldn't date him anymore. He may see this mail. I don't really care. I'm just curious. Is this weird ? I googled worlds weirdest pets and I saw snakes, rats and pigs. So is this just weird or something else ? Please share! Thanks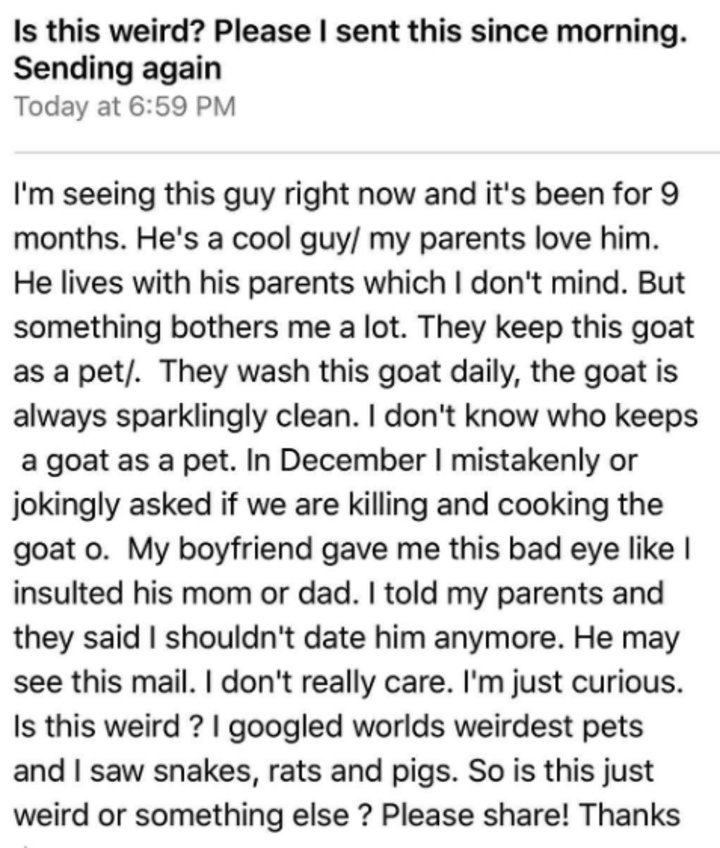 For many people, a pet goat is just one word – WEIRD!
But now, experts are saying that there may be good reason to actually keep a pet as a goat. Here's one woman's story and why a goat might just be the best option for you.
**Before reading on, please make sure to like and follow my Facebook page so you don't miss out on any new and interesting lists, articles, and stories that I post every single day. I have a really fun page. If you like my page, you will have fun too. So what's stopping you? Like my page and let's have fun together!
Nigerian twitter user, @mschykaa started quite the conversation when she uploaded pictures of her pet goat unto social media.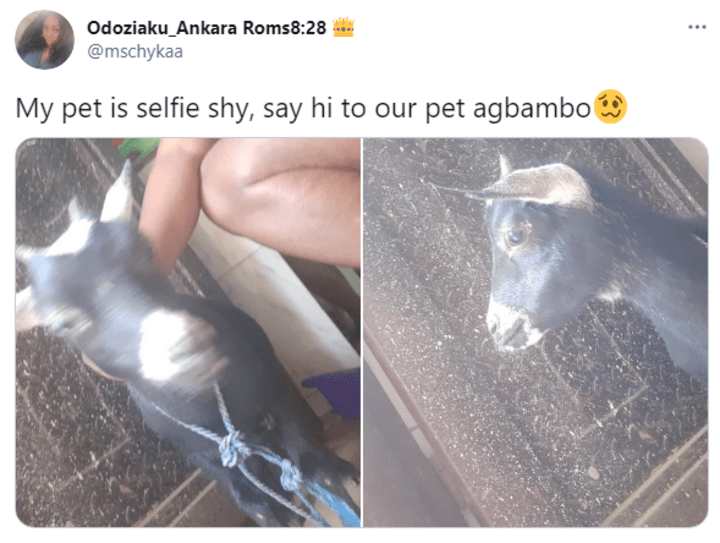 Immediately she tweed it, the tweet started picking up wind and everybody began sharing their thoughts on the matter. The response was unanimous – 'When are we killing this goat and using it for soup'.



While everybody finds it strange, experts are now saying that having a pet goat might actually just be the option for you and here are the 3 reasons WHY, they say:
1.
Experts are saying goats are less frightening than dogs, and so many people while they might not be comfortable coming around if you say you have a dog, would not give a second thought to coming over to your house if you say you have a goat.
2.
Experts say that while dogs and cats are traditionally thought as the two big companion animals, goats also make really good companions. According to experts, goats are very affectionate, loyal, intelligent, loving, and curious animals.
3.
Finally, having a pet goat is a great conversation starter. Because not many people have a pet goat especially in Nigeria, it is unconventional to have one. And so, once a person says they have one, it automatically becomes a topic of conversation. For example, just ask Nigerian superstar, Wizkid.
Wizkid got a pet goat and once the internet heard that, the news immediately started flying around the town and it became top news during that period.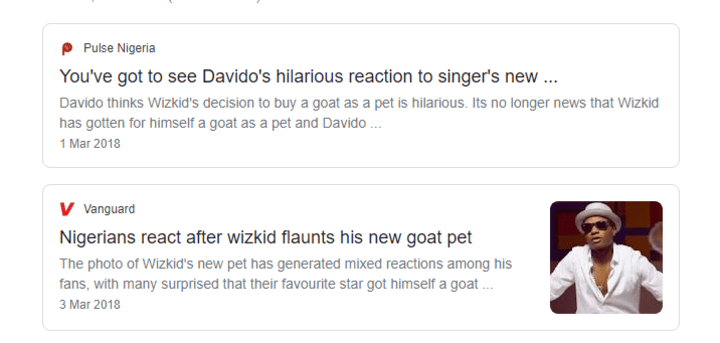 As unconventional and weird as it is to have a goat as a pet, maybe it's actually not all that bad and unusual. What do you think? Do you think you could ever have a goat as a pet?
That's All.
Content created and supplied by: Supertee (via Opera News )