You would agree with me that, the drums of war are currently in beaten in the heart of different ethnic groups in Nigeria. The Fulanis, Biafrans, Yorubas and many other ethnic groups are set to engage in a a fight at the slightest misunderstanding between themselves.
If you have forgotten so soon, what a war looks like. Their are always two parts involved in a war. The first part which is during the war, then the second part Which is survival after the war. To remind you of what a ar looks like and how it's affects everyone of us, I have decided to share this chilling photos from the past Civilian war held in Nigeria .
This photos are taken from the library of AFP photos. The source of these photos and it's Explanation are verified. While sharing these photos you would automatically see the benefits of Love and Unity.
Before I proceed, kindly note that the major reason of sharing these photos is to pass the information on the benefits of Love and Unity, and why we should remain as one Nigeria.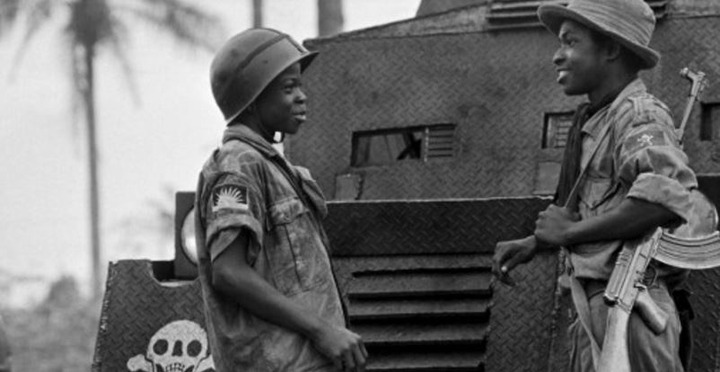 According to AFP photos/Francois Mazure, this are photos of two children soldiers of the Biafran Army. If you must know when a war have become too severe, some countries employ the help of children in the army. The protect our children Nigerians must understand the benefits of Love and Unity.
According to AFP Photos/Francois Mazure this photo contains photos of Briafrian Children who were taken to Libreville and Gabon by International Red Cross(ICRC) and humanitarian organization. Believe it or not, some of these children that are taken to other countries for safety, never returned back to their parents. If you don't want these to happen to happen to your children, let us see the benefits of Love and Unity and one Nigeria.
According to AFP/Philippe Carvallo this photos' content are wounded soldiers of the Nigerian Army, waiting for an airplane to transport them to Portharcout for treatment. Surely during a war injuries and death must be recorded. To avoid death and injuries Nigerians must see the benefits of Love and Unity.
According to AFP Photos/Colin Haynes, this photos shows when Europeans citizens were prepared to evacuate the war scenes. The truth is, if a war begins today, other countries whose citizens are present in Nigeria would evacuate their citizens immediately. One major disadvantage this would cause in Nigeria is sudden drop of investors.Investors do not invest in countries where war persists.
August 17 1967 AFP photos recorded by pictorial image the inclusion of Young millitia women undergoing a Military training in Biafra land. Sometimes the inclusion of women in a war is not certain. But in Situation where they are needed, women are included and trained to Fight. To avoid our mothers from being killed in a war, Nigerians must see the benefits of Love and Unity.
According to AFP Photos/Colin Harnes . This photo shows the view of the destroyed Prison of Calabar November 13 1967. During a war, the destruction of long term fixed assets is inevitable. Imagine the Nigeria we have today, all the beautiful buildings in Lagos , Abuja and other cities would be out to flame if a war breaks out. We must learn to see the benefits of Love and Unity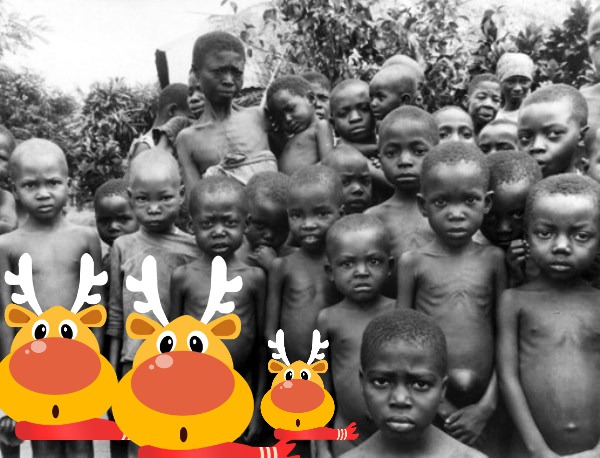 According to AFP Photos , this photo is a content of children starving in the refugees camp near Aba. August 06 1968. War come with hunger and starvation. We must prevent the act of war in Nigeria.
I hope I was able to use this photos to teach you the benefit of Love and Unity. Kindly share and remember to drop a comment.
Content created and supplied by: Aprokomedia (via Opera News )