Good People Die While Tormentors Live - Dino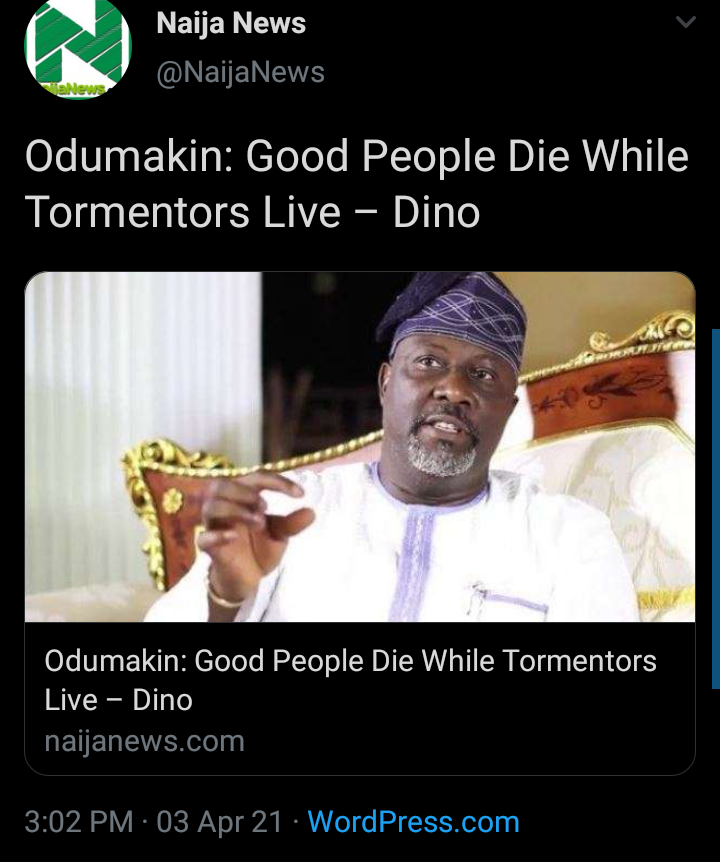 The rate at Which prominent Nigerians die is becoming alarming to the extent that The former lawmaker representing Kogi West Senatorial District, Dino Melaye, has reacted to the death of the spokesman of Afenifere, Yinka Odumakin.
Naija News had earlier reported that Odumakin died on Saturday morning in the Lagos State University Teaching Hospital.
Senator Melaye in a post on Twitter, said it is sad that good people often die while the 'tormentors' live.
IPOB Nnamdi Kanu Slams US and UK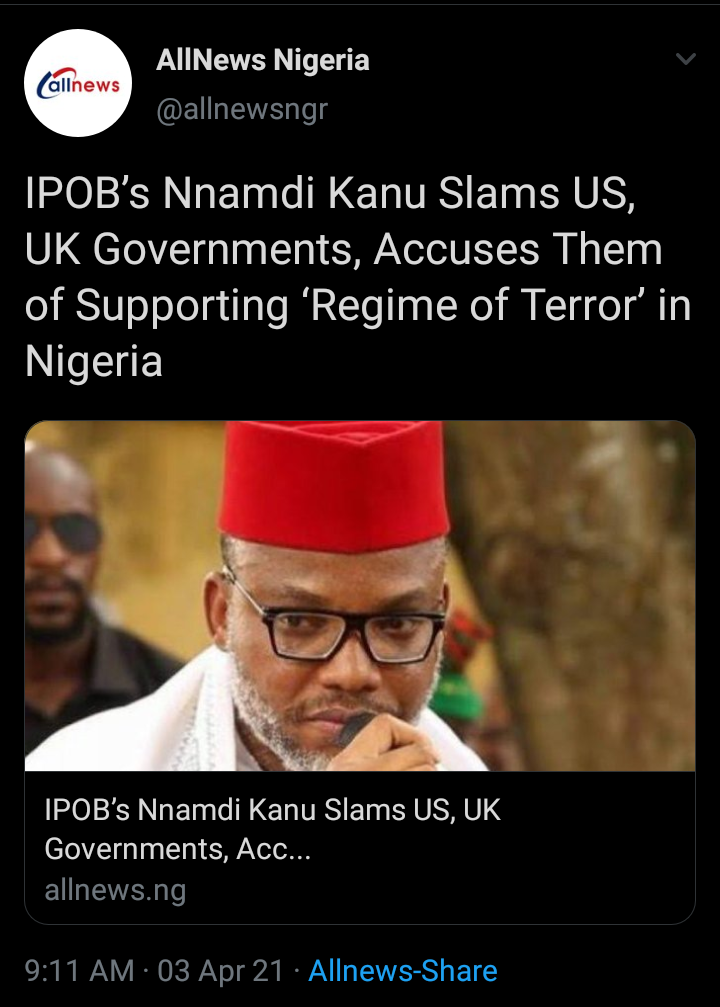 Nnamdi Kanu is the Founder of Eastern Security Network (ESN) and an advocate of Indigenous People of Biafra (IPOB).
Pro-Biafra political activist, Nnamdi Kanu, says the United States of America (USA) and the United Kingdom (UK) are backing the "murderous" administration of President Muhammadu Buhari.
Kanu in a tweet on his known handle on Saturday described the present administration as one which is coloured in 'terror, tyranny and oppression'.
He accompanied his tweet with pictures of Catriona Laing, the British High Commissioner to Nigeria; and Ambassador Mary Beth Leonard, the U.S. Ambassador to Nigeria.
Another Personality Dies In Nigeria, 
Death is inevitable, it is a call everyone must answer irrespective of your class in the society.
However, Yinka Odumakin, the human rights activist who was spokesman of Afenifere, Pan-Yoruba sociocultural group, is dead.
A family source told Daily Trust that he died at the Intensive Care Unit of the Lagos State University Teaching Hospital (LASUTH), where he was being treated for COVID complications.
The deceased was said to have been moved to LASUTH from the Infectious Disease Hospital in Yaba, Lagos, when his condition deteriorated.
Odumakin played a key role in the National Democratic Coalition (NADECO) that fought the regime of General Sani Abacha after the annulment of the June 12, 1993 election.
Pray For Peace To Return - Atiku Tells Nigerians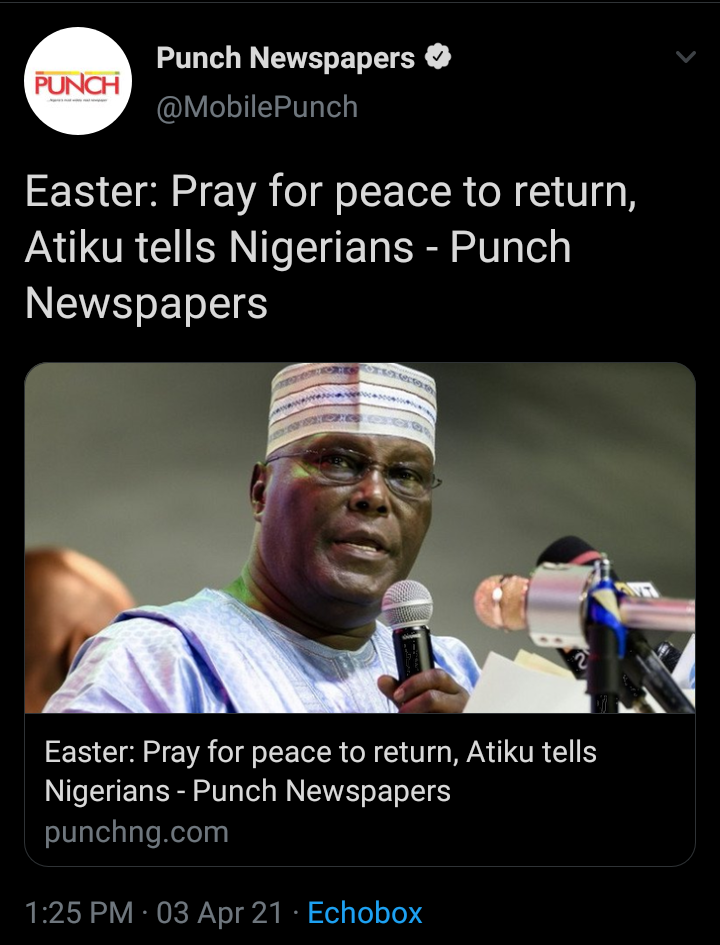 Former Vice President, Atiku Abubakar, has urged Nigerians to used the occasion of Easter to pray for Nigeria's unity and for peace to return to the country.
In his Easter message to Nigerians, Atiku recalled how the coronavirus pandemic crippled many activities in most countries in the world last year.
The former Vice President, therefore, hailed the health workers who, like the example set by Jesus Christ, sacrificed their lives in battling the virus.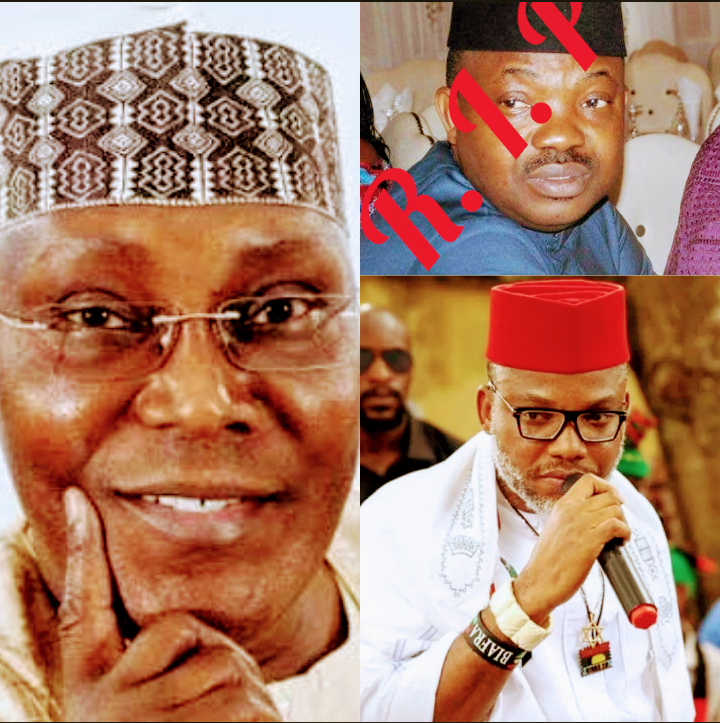 Content created and supplied by: Luckymedia (via Opera News )