AARE GANI ADAMS; A MAN OF HIS WORDS .... 
DAMILARE, (KING WHITE), National Director Oodua Graphics Communication Asserts...
Yoruba can not continue to be enslaved and be in captivity because of one self-centered and selfish ambitious man. In this present political dispensation, questions must be asked as follows:
1. What has been the Yoruba's collective gains? 
2. Can we because of one man's dubious fame, put our tribe future in jeopardy. 
3. Do we need any body to bribe us with presidency for more indigenous colonization in a dying nation? 
Enough is enough. We need Oduduwa republic now before it's too late!
Oodua Graphics Communication Director, Otunba Damilare hails the Aare Ona Kakanfo for speaking out the truth in defending Yoruba Nation against the traitors and betrayals in Yoruba land. 
The Director of Oodua Graphics Communication, Otunba Damilare popularly know as King White said Aare Gani Abiodun Ige Adams is a man of integrity that always stands with whatever he believes in. He has never sold or chickened out from his ideology of defending the Yoruba interest which is always paramount to him. 
Let's make reference to the interview he granted 10 years ago on Channels before becoming the 15th Aare Ona Kakanfo of Yoruba land which seriously confirms that he's still on point about the restructuring of our dear Nation. 
"I am a simple person who believes in justice and I always have it in mind that no matter the situation in life, the truth would prevail. I believe that anything worth doing at all, is what doing well. I believe in the liberation of my people. I believe that one of the assignments given to me in life is to be part of the people that would liberate my people. I believe in the identity of the Yoruba people." ~ Iba Gani Adams 
Channels: You have been in the vanguard of liberation for the Yoruba race and fighting the cause of justice. Why did you choose to take this path?
Iba Gani Adams: I think I got into this struggle as a result of the annulment of the June 12,1993 elections. In the aftermath of the annulment, I joined the civil society group, Campaign for Democracy (CD). From CD, we now founded Oodua Youth Movement, from which we later founded Oodua Peoples Congress (OPC). It was not an accident to have become an activist because I had been a radical from my youth. By and large, I do not regret what I am doing now because you cannot write the history of Nigeria without June 12. And there is no way you can write the history of June 12 without remembering the role of OPC, just as there is no way you can remember the role of OPC without remembering the role played by Gani Adams in OPC. So whatever one does is for the records. I have no regrets.
Channels: So far, has there been justification for your decision to toe this path?
Iba Gani Adams: There have been lots of justification. When you trace the history of Yoruba, you would find that our race has been deprived of their rights in the politics of Nigeria. We remember what happened during the imprisonment of the late Chief Obafemi Awolowo from 1961 to 1966. There was a lot of injustice done against him and we know how they used the Yoruba against him. We realised that certain tribes were behind the ordeal of the Yoruba because Awo's travails went up into the 80s.
In 1993, another Yoruba person decided to contest an election to be the president. He contested and won in the most free and fair election to be held so far in this country. But again, the election was annulled. So my generation felt that if we fold our arms and not start agitating for the interests of our people, it would be difficult for us to get out of bondage. I do not want my generation and children to be in bondage. This is why it is imperative that we liberate our people. So from all these facts, there has been justification for us to fight for the interest of the Yoruba.
Channels: One of the fronts you use in the struggle for the emancipation of the Yoruba is the Oodua People's Congress (OPC). Has the group achieved the objectives for which it was set up?
Iba Gani Adams : The coming of OPC has given the security advantage to our people in terms of internal security of lives and property. In terms of identity, we have tried to re-establish our culture. This is an organisation in the crusade for the preservation of our culture; we even encourage others to do the same. For example, most of the festivals that have been forgotten because of the religions are now being resuscitated and those who have abandoned their heritage are waking up from their slumber.
"As part of these efforts, we played a major role in ensuring that the Osun-Osogbo festival assumed a World Heritage status, we started the Olokun festival, we partook in the Olumo festival in Egba, we established Okota in Ondo and Oke-Ibadan in Ibadan and we also helped the Oodua festival on to the limelight such that it is now becoming a global festival within a short time. We have done a lot of things to change the erroneous perception that our heritage is devilish. The impression some religious leaders create that most of what belongs to our heritage is devilish is wrong."~ Iba Gani Adams 
"We have also been encouraging our people in the diaspora to come home and be part of the rebuilding process of our dear nation."~ Iba Gani Adams 
Channels: In terms of contributions to national development, how impacting has been the OPC?
Iba Gani Adams: We were very active in the campaign for Sovereign National Conference (SNC), which is a conference that would resolve the many problems of the nation. We have been involved in the national peace forum; I am an ambassador in the forum. Alongside other groups, we have acted as checks and balances in the polity.
Channels: How has your relationship with other socio-cultural groups been?
Iba Gani Adams: It has been cordial but our ways of operation and approach differ slightly. However, most of these organizations also believe in true federalism and SNC.
Channels: At 40, who in your family and the society has contributed so much to your success in life or would you regard as mentors?
Iba Gani Adams: The late Chief Obafemi Awolowo remains my mentor even in death. The foundation built by him is what we are building on. I would also thank late Justice Adewale Thompson because he was the main person who kept encouraging me to press on with the struggle. While he was alive, he also gave me allowances monthly to support the initiative. I have not had the opportunity to repay the family. I also cannot forget Chief Gani Fawehinmi. He arranged lawyers for me during most of my trials, though he was not physically on ground. Fawehinmi was like a god to me, I will never forget him and his family.
Barrister Femi Falana too has been very instrumental to our success. I recall when a book was to be written and reference was made to the OPC crisis in 1998. He was the one that told Chief Fawehinmi that the records must be set straight. He said people must be told that this boy, Gani Adams was the one that led this organisation before Dr. Faseun came from detention. He said let everyone know that this boy was the one that built the foundation of the organisation. Falana has also been supportive morally and financially, not forgetting the times he has stood to defend us at the law court. Baba Omojola, who taught me the importance of traditional religions in the struggle for liberation, is appreciated. I thank Primate Olabayo for standing by me all through the testy times. The list draws on almost endlessly.
Channels: Today, you are like a bridge between the youth and the elders. What do you think has been responsible for the lack of confidence and distrust the youth now have in the elders?
Iba Gani Adams: Without doubt, the older generation has disappointed us. Those entrusted with leadership positions in the past have betrayed that trust and as a result, the quality of life generally has greatly nosedived. Unfortunately, most of those who have failed us are still within the corridors of power. The youth must however not give up on this nation.
Channels: At this point in the nation's history, how best can the leadership successfully steer the ship of state?
Iba Gani Adams: It is a dicey situation and we must be ready to do things right. Most importantly, we must pay attention to the electoral reforms so there could be credible elections come next year. President Goodluck Jonathan must brace up to this challenge and refuse to dance to the tunes of his godfathers.
Talking about power challenge, infrastructural decay and other limitations, we must get serious with a resolve to recast the foundation of this nation if we must witness true development again. We run a federal system of government but when you look deeply, Nigeria is being run like a unitary state. There is an urgent need for restructuring in different facets of our national life. For instance, the power challenge can be resolved if we decentralize and allow each state to develop their independent power structure. Why can each state not have its police force? We are preparing for election but without adequate security, it cannot be a success.
Man of his word!
Otunba Damilare also spoke about betrayals like Maruff and Sadam. He made it clear that everybody knows them as hungry bunch always looking for money for survival. He also spoke against the backdrop of the sacking of Aare by the duo where he sarcastically asked if a tenant can sack his landlord? 
Otunba Damilola mocked the duo referred to as emergency activists by forming the OPCI and OPC NEW ERA. He wonders why they are still keen to retaining the OPC in their names if not for cheap attachment to constantly 'obtain' money from Tinubu. "Imagine 2 greedy fools not agreeing on who to lead them and had to go their separate ways for survival because of just N20m. 
Maruff and Sadam are protecting their kitchens. The OPC|OPU under Iba Gani Adams is not moved by their ways because we know them to be perennial traders who can trade their children because of money. The public is not moved by their lies against the personality of Aare Gani Adams as a similar thing was done to baba Awolowo, Mandela, Martin's Luther King. People even lied against our Lord, Jesus Christ during their liberation struggle also Anobi Muhammed, so Nigerians should disregard and not take them too serious. 
Otunba Damilola also advises Asiwaju Bola Amed Tinubu to start grooming upcoming generation who would take over from them. "What the man should be doing by now is legacy protection because it will speak about him later. Elder statesmen should be rebranding and repackaging their image instead of them focusing on personal interests. He advises that he should be more concerned about restructuring or building Oodua Republic. 
~ Otunba Damilare (Kingwhite)
Director of Graphics Communication.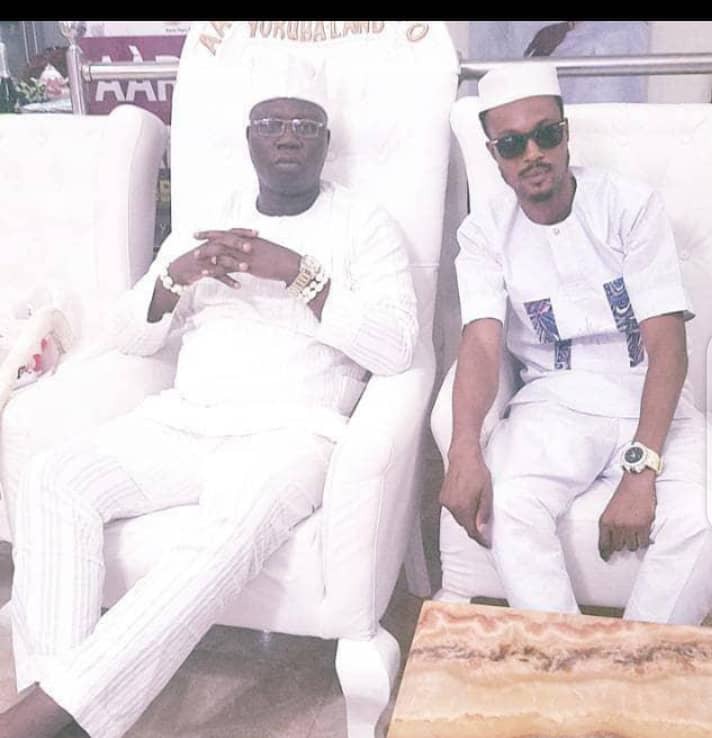 Content created and supplied by: XMediaTeam (via Opera News )
Opera News is a free to use platform and the views and opinions expressed herein are solely those of the author and do not represent, reflect or express the views of Opera News. Any/all written content and images displayed are provided by the blogger/author, appear herein as submitted by the blogger/author and are unedited by Opera News. Opera News does not consent to nor does it condone the posting of any content that violates the rights (including the copyrights) of any third party, nor content that may malign, inter alia, any religion, ethnic group, organization, gender, company, or individual. Opera News furthermore does not condone the use of our platform for the purposes encouraging/endorsing hate speech, violation of human rights and/or utterances of a defamatory nature. If the content contained herein violates any of your rights, including those of copyright, and/or violates any the above mentioned factors, you are requested to immediately notify us using via the following email address operanews-external(at)opera.com and/or report the article using the available reporting functionality built into our Platform See More