The former governor of Ekiti state has warned the current Governor of Oyo state, Governor Seyi Makinde to stop disrespecting him.
It should be noted that Ayo Fayose was the one who handed the party Flag to Makinde during the 2019 Governorship Election.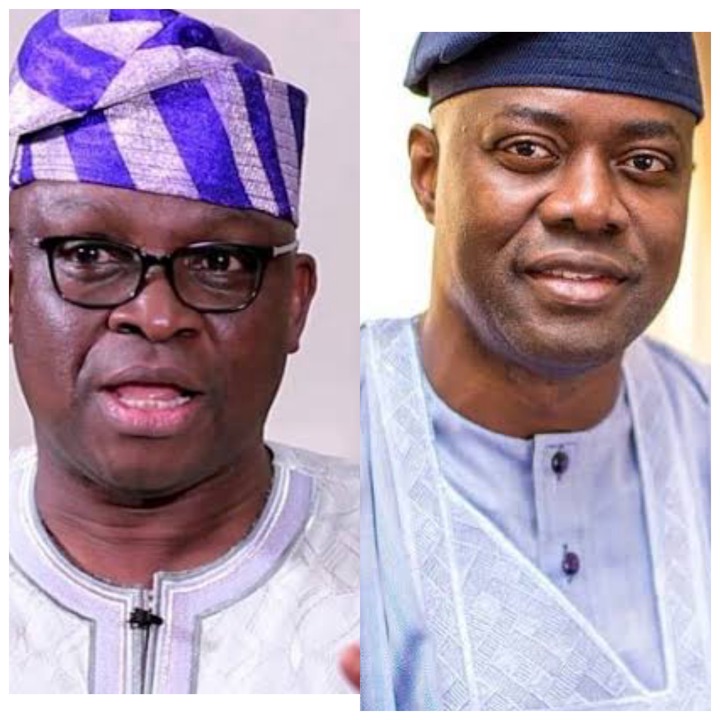 In an interview with Punch correspondents, he said he was amongst party chieftains who worked in 2019 to ensure Makinde emerged the winner of the governorship election in Oyo.
Makinde is constitutionally permitted to run for a second term in 2023 but Fayose warned him to retrace his step or he will work against his re-election.
The ex-governor of Ekiti, therefore, urged Makinde to speak out if he has anything against him.
When asked what the bone of contention between himself and the Oyo State governor was, Fayose said, "He (Makinde) is the one to tell you if there is any bone of contention. In this West, I am his brother, I am his father."
"It was Governor (Rasheed) Ladoja that was holding the structure that we gave to him (Makinde), I was the only sitting governor at the time. I had the power to influence it negatively. Are you telling me the man that gave you a red pen has suddenly become your enemy? If he has anything against me, let him say it. Governor Makinde should take it easy.
"When they were contesting the election in Oyo State, I was the one giving him information about the senatorial election. I never slept all night. In his own election, I was with him in Ibadan. If he disrespects us, we will tell him that we have the capacity to… I am not his mate.
The broken wall in the Sout west PDP needs to be Amended before things get out of hand. Governor Makinde is currently the only Governor in the South West, and if he wants the success of the party in that area, then, he has to work with everyone. from the ordinary cardmember to Senior party leaders.
The people's democratic party (PDP) in Nigeria is currently going through a revamping process as an opposition party thus, all party faithful irrespective of who they are, should come together to fix the mess suffered by the party.
Remember, Anyone ready to go to war should go with his full armor.
Content created and supplied by: Theinvincible (via Opera News )