Human rights activist Omoyele Sowore has urged Biafra political activist Nnamdi Kanu to form an alliance with him, aimed at ending "all forms of repression" in Nigeria.
Sowore, 49, a former presidential candidate of the African Action Congress who's also championing a movement to revolutionise Africa's biggest economy, made the call on February 6, on social media.
The Sahara Reporters publisher was responding to a tweet by Kanu, who leads the separatist organisation – the Indigenous People of Biafra (IPOB) – that seeks to break away from Nigeria because the federal government has allegedly left the Biafra people marginalised.
In the tweet, Kanu, 53, a British citizen and director of Radio Biafra, said: "In 1983, @MBuhari led a bloody REVOLUTION against an elected government. He actually committed TREASON but, with time, Nigerians pardoned him. It's shameful that the same Nigerians now condone the persecution of @YeleSowore for #RevolutionNow & #Igboho for stopping TERRORISTS."
In response, Sowore said: "Dear @MaziNnamdiKanu, We will not condone these criminal acts from @mbuhari and his goons any longer, we must unite and put an end to all forms of repression henceforth! #nogoingback#IPOB#RevolutionNow#unityoftheoppressed"
The duo, in mid-2019, had met in New York, the United States, to strategise on how to end what they described as injustice in Nigeria.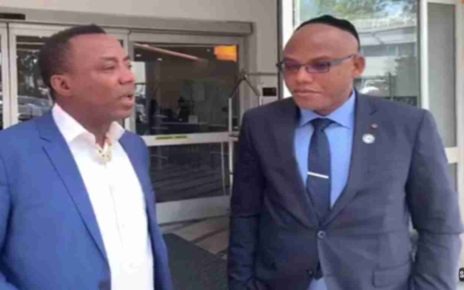 Sowore (L) and Kanu.
In a Facebook live session, Sowore had said of the meeting: "We met to talk about things we've both been passionate about, but on a different plane and we respect those boundaries, but we've had very useful conversations today so that everybody that is aspiring for a fair and just society can come together, rise up now and bring an end to the sorrow and suffering and the domination, the oppression that has become almost synonymous with our generation and our genes in Nigeria."
Content created and supplied by: Ibikunle246 (via Opera News )