Nobel Laureate and prominent South West leader Prof Wole Soyinka has told BBC News Nigeria that his biggest fear is that, Nigeria could enter a phase of fighting that may turn very violent and could turn into civil war.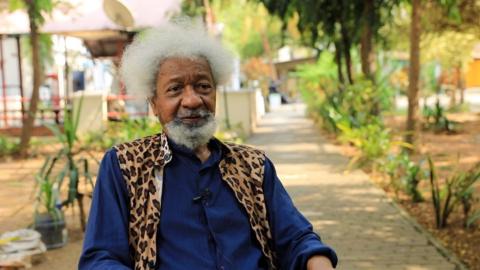 Prof Wole Soyinka
Prof Soyinka reacted to the farmers-herders crisis that has turned into serious issue in Nigeria over the last few weeks.
"We may enter a phase of fightings that may become very violent, turns into ... I hate to use the word - it can develop into civil war and very messy one. And unless they take actions, I am glad that governors are taking actions and pull groups like Miyetti Allah, to do all the talkings and they've talked about agreeing to obey the rules, I am glad that the various groups are coming together and I think that we need to force them to come for a fair conclusion."
"I hope that they can reach a conclusion so they can disarm them back to where we are before where herdsmen are sharing foods with me before in the forest where only stick and radio is what they carry." Prof Soyinka said.
Prof Soyinka made this statement following the Ondo State Governor Rotimi Akeredolu ultimatum to herders to vacate the forests of the state.
The decision to send herders out from the forest or have the. registered in the state came as the rate of kidnapping and crime in the state increases and fingers were pointing towards the herdsmen. Since the day this order came from the governor, it caused a lot of reactions, from the presidency, key stakeholders and citizens.
But Prof Soyinka says, he isn't surprised that things reached the way it is now as he has seen am coming a long time ago.
"We have enemy's who believe to act anyhow, they believe that they have immunity and nothing can happen to them and that is why in my own state, we have soldiers who has taken sides with the enemy.
"They are actually escorting killers, rapists, raiders and beats and flogs victims. That one won't happen if the people are conscious of the nature of the enemy and permits and encourage mobilise on their own behalf and collaborate with the security.
"I have been shouting about it quietly and loudly, even I should use this opportunity to say I seek and obtain audience with the security, the late Azazi for instance when I observed the deep penetration into society of enemy forces, real killer forces, You know I live partly in the forests, I do enter with my fellow hunters and we have seen the destruction, we saw ordinary citizens, former military officers.
"We saw how herdsmen rubbished their farms we even have the notorious instance when they kidnapped Olu Falae, they've threatened his farms long before that, all this we saw before and we have been drawing all attentio s to the security, the governors, that this people are coming close, we shouted when it was in Benue , Plateau and other states and now it has reached our doorstep."
"We waited until they raped people that has been happening already casually? What do they want us to do now that the war has reached our doorstep, of cause civil mobilisation will enter and if we continue to wait at the centre to handle ut, all of us will become slaves in our own land if it never already happened .
"And that one isn't something that is tolerable, it's an unacceptable condition and whatever it takes I am ready to contribute in anyway and I have made my governor understand that we are here not just to live but in dignity, right now they are rubbishing our dignity with what is happening." Prof Soyinka said.
When asked on what President Muhammadu Buhari is Suppose Do, Prof Soyinka said he needs to address the nation.
"Address the nation. In a very strong clear terms, say openly, yes I know that I am a patron of the cattle rearers association, I am a cattle rancher, its a business and I am running my business on business terms. I don't kill, rape, torture or displace people or occupy lands that doesn't belong to me and I am warning all business people on food commodity chain, all cattle rearers, anything your eyes sees on illegal occupation or trespassing on other peoples property is your business, and I order army, security forces to back thr efforts of citizens to flush you out.
I don't expect anything less, it's late already even at this stage but it's not too late, this is the language I expect from President Buhari and as long as he doesn't do that, I go see it as him having a hand on what's happening because the last order stops on his table." Prof said.
What do you have to say on this, please let's hear from you.
Thank you.
Content created and supplied by: TroyAj (via Opera News )