Nigerian Navy Ranks, Symbols and Salary Structure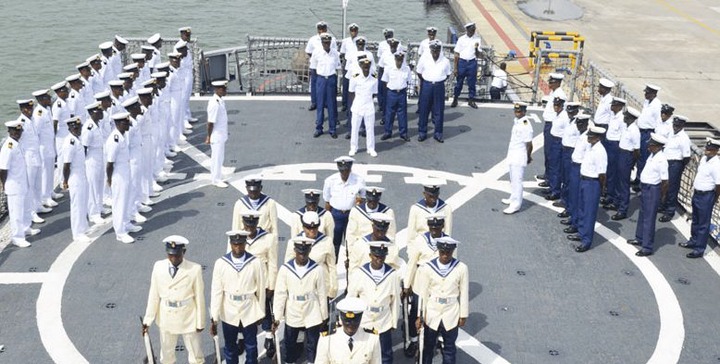 nigerian infopedia logo
Home Military The Highest Paid Force in Nigeria: Ranks And Salaries (2020)
The Highest Paid Force in Nigeria: Ranks And Salaries (2020)
Most people want to know the highest paid military in Nigeria. Although, the armed forces is a special unit in the country which comprises of the Nigerian army, air force and Navy, the question has always been whose pays highest among them?
highest-paid-military-in-nigeria
We have dully written on the Nigerian army salary structure, Nigerian Air force salary scale, How much does a senior Nigerian naval officer earns monthly and even the Nigerian Police and their various ranks.
You should be aware that the highest paid force among the military in Nigeria is the air force followed by the navy while the least paid is the army.
So if you want to go for a military job in the airforce, you should apply when they place their recruitment on their website. While the salary of an officer in the airforce might seem higher than the rest, you would enjoy a stable career in the navy than any of the armed forces in the country.
Facts on the Highest Paid Force in Nigeria
Benefits of Joining the Nigerian Air force (Highest Paid Military Job)
Ranks in the Nigerian Air force
Rank Officers Nigerian Air Force
Airmen
Highest Paid Forces in Nigeria & Their Salaries (2020)
1. Nigerian Army (NA)
2. Nigerian Navy (NN)
3. Nigerian Air Force (NAF)
Facts on the Highest Paid Force in Nigeria
The Nigerian Airforce was founded in 1961 shortly after the country participated in peace keeping missions in Congo and Tanzania. The need to airlift troops in the course of these peacekeeping operations signaled the importance of the country having a national air-force.
Subsequently between 1962 and 1964, the Nigerian Parliament began the process of institutionalizing the Nigerian Airforce. Eventually, the organization was established to ensure the integrity of the airspace by gaining and maintaining control of the air while retaining a credible capacity to fulfill other airpower tasks expected of the national defense and security outfit.
Benefits of Joining the Nigerian Air force (Highest Paid Military Job)
You are trained to be physically fit.
You are being paid well plus other monetary benefits.
You would have the opportunity to travel places especially when you are being sent to study a course.
As you are promoted from one rank to the other, you salary also increases.
Your pension and gratuity after service is never delayed after you retire from service.
You are given respect that most civilians wish to have because you are a military personnel.
RELATED POSTS Advantages Of Military Rule in Nigeria
Ranks in the Nigerian Air force
In every military job, there is order, discipline and hierarchy. The NAF's rank structure for its various officers both senior and junior are highlighted below:
Rank Officers Nigerian Air Force
In descending order of seniority the NAF officer ranks are:
Marshal of the Air Force
Air Chief Marshal
Air Marshal
Air Vice Marshal
Air Commodore
Group Captain
Wing Commander
Squadron Leader
Flight Lieutenant
Flying Officer
Pilot Officer
Airmen
In descending order of seniority the NAF airman/woman ranks are:
Air Warrant Officer
Master Warrant Officer
Warrant Officer
Flight Sergeant
Sergeant
Corporal
Lance Corporal
Aircraftman/woman
The annual salaries of the senior officers are quite high. Vice Admiral is paid ₦13,363,229 ($81,483.11). The Salary of Read Admiral is about ₦12,038,945 ($73,408.20) per year. Commodore earns ₦7,385,856 ($45,090.70). And Commander's annual salary equals to ₦3,380,086 ($20,671.49).
See the monthly salary structure of the commissioned and non-commissioned officers of the Nigerian Airforce Salary below:
Commissioned officers:
Pilot Officer N187,159
Flying Officer N218,400
Flight Lieutenant N232,484
Squadron Leader N248,004
Wing Comdr N342,586
Group Captain N352,631
Air Commodore N677,895
Air Vice-Marshal N1,376,343
Air Marshal N1,486,451
Air Chief Marshal N1,724,283
Non-commissioned officers:
Trainee N10,237
Aircraftman woman N53,892
Lance Corporal N55,832
Corporal N58,634
Sergeant N69,261
Flight Sergeant N87,119
Warrant Officer N101,974
Master Warrant Officer N165,697
Cadet (Trainee) N44,564
Air Warrant Officer N171,793
Although this information of the highest paid force in the country is available for all, most people still prefer the navy job than than of the army or even the air force. What ever military job you choose, the pay is high especially for the senior officers.
RELATED POSTS NDA Salary, Ranks, Requirements & Courses Offered
Highest Paid Forces in Nigeria & Their Salaries (2020)
There are three military forces in Nigeria and we shall discuss about them, listing their various ranks and salary structures to ascertain which of these military organization is the highest paid force in Nigeria today?
1. Nigerian Army (NA)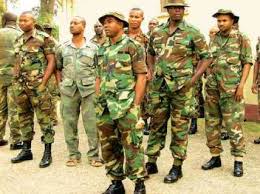 The Nigerian Army is seen as the largest military branch among the armed forces. They are mostly land forces, protecting the sovereignty, boundaries and territory of Nigeria against external forces that might try to invade the land.
The major formations of the Nigerian Army include: the 1st Division, 2nd Division, 3rd Armoured Division, 81st Division, 82nd Division, and 7th Division which was just recently formed. They are ranked 5th best in Africa in terms of strength and fire power.
Below is a table showing the Nigerian Army ranks and their monthly salary
Ranks Salary Per Month
Private Soldier ₦49, 000
Lance Corporal ₦55, 000
Corporal ₦58, 000
Sergeant ₦63, 000
Staff Sergeant ₦68, 000
Warrant Officer ₦80, 000
Master Warrant Officer ₦90, 000
Second Lieutenant ₦120,000
Lieutenant ₦180,000
Captain ₦220,000
Major ₦300,000
Lieutenant Colonel ₦350,000
Colonel ₦550,000
Brigadier General ₦750,000
Major General ₦950,000
Lieutenant General ₦1,000,000
General ₦1,500,000
2. Nigerian Navy (NN)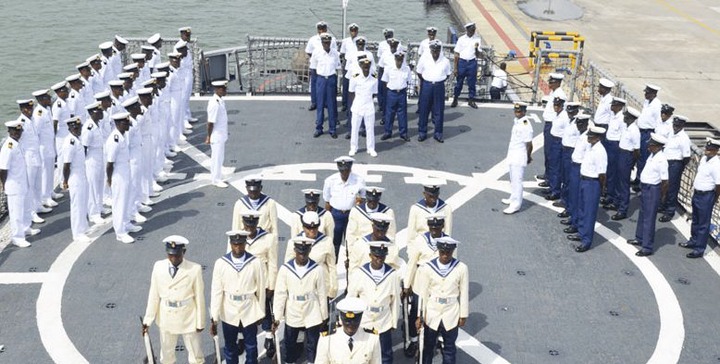 The Nigerian Navy (NN) is the branch of the Nigerian Armed Forces operating on sea. Their primary duty is to protect the Nigerian sea borders against invaders.
The Naval command structure today operates from Naval Headquarters in Abuja with three operational commands in Lagos, Calabar, and Bayelsa respectively. NAVTRAC which is the training command headquarters is located in Lagos state at Marine beach.
With various ships, fleets and military grade weapons at its disposal, the Nigerian Navy has been ranked as one of the best and strongest navies in Africa having its training facilities and five operational bases in Lagos and Port Harcourt.
RELATED POSTS Nigeria Civil Defence Salary For Graduates (2020)
Below is a table showing the Nigerian Navy ranks and their yearly salary.
Navy Ranks Salary per annum
Admiral N16,303,140
Vice-Admiral ₦13,363,229
Rear Admiral ₦12,038,945
Commodore ₦7,385,856
Captain N3,715,859
Commander ₦3,380,086
There are twelve ranks for senior officers but the following ranks below, we couldn't find figures for their salary structure:
Lieutenant Commander
Lieutenant
Sub-Lieutenant
Acting Sub-Lieutenant
Mid-Shipman
Warrant Chief Petty Officer
Chief Petty Officer
Petty Officer
Leading Rating
Able Rating
Ordinary Rating
Trainee.
3. Nigerian Air Force (NAF)
The Nigerian Air Force is the highest paid force in Nigeria among other armed forces in the country. Established in the year 1964, they have grown to be one of the most respected military organizations in Africa.
Every year, recruitment is done into the NAF via its short service program (DSSC and SSC) for University graduates and non graduates in a bid to increase man power and train officers to be combat ready in fighting skills and defence strategies.
We know that the Nigerian Air Force has fighter aircrafts, transport, helicopter, and high military grade guns and weapons in its arsenal.
See table showing information on salary structure of the Nigerian Air Force officers from lowest rank to the highest rank below.
Air Force Ranks Salary per month
Trainee ₦10, 237
Aircraftman woman ₦53, 892
Lance Corporal ₦55, 832
Corporal ₦58, 634
Sergeant ₦69, 261
Flight Sergeant ₦87, 119
Warrant Officer ₦101, 974
Master Warrant Officer ₦165, 697
Cadet (Trainee) ₦44, 564
Air Warrant Officer ₦171, 793
Pilot Officer ₦187, 159
Flying Officer ₦218, 400
Flight Lieutenant ₦232, 484
Squadron Leader ₦248, 004
Wing Commander ₦342, 586
Group Captain ₦352, 631
Air Commodore ₦677, 895
Air Vice-Marshal ₦1,376,343
Air Marshal ₦1,486,451
Air Chief Marshal ₦1,724,283
Although the salaries mentioned looks big as to what they earn, this is apart from allowances accrued for special assignments, foreign missions, military operations and estacode
Who Is The Highest Paid Military Force in Nigeria 2020? See Answer
Chizoba Ikenwa
Chizoba is a seasoned Information blogger, content developer and the founder of Nigerian Infopedia. He is a tech enthusiast who loves reading, writing and research
RELATED ARTICLESMORE FROM AUTHOR
paramilitary-recruitment-in-nigeria
Latest Paramilitary Recruitment Jobs in Nigeria & Requirements (2020)
nda
How to Join Nigerian Defence Academy & Requirements (2020)
nda
NDA: History, Ranks & Salary Structure (2020)
Content created and supplied by: studio.opera.com (via Opera News )
Opera News is a free to use platform and the views and opinions expressed herein are solely those of the author and do not represent, reflect or express the views of Opera News. Any/all written content and images displayed are provided by the blogger/author, appear herein as submitted by the blogger/author and are unedited by Opera News. Opera News does not consent to nor does it condone the posting of any content that violates the rights (including the copyrights) of any third party, nor content that may malign, inter alia, any religion, ethnic group, organization, gender, company, or individual. Opera News furthermore does not condone the use of our platform for the purposes encouraging/endorsing hate speech, violation of human rights and/or utterances of a defamatory nature. If the content contained herein violates any of your rights, including those of copyright, and/or violates any the above mentioned factors, you are requested to immediately notify us using via the following email address operanews-external(at)opera.com and/or report the article using the available reporting functionality built into our Platform See More