China to meet Russia against China;FENCE MERCHANDISE
In late June, just days after a deadly border skirmish between Indian and Chinese troops, Indian Defense Minister Rajnath Singh traveled to Moscow to attend the 75th Victory Day Parade that commemorated the defeat of Nazi Germany. During his visit, Singh concluded a deal to purchase fighter jets and other arms worth $2.4 billion. The accord followed an agreement reached last year for India to acquire Russia's S-400 air defense missile system despite explicit objections from the United States.
What explains India's continued reliance on Russian weaponry at a time when it has no dearth of other suppliers, including the United States? The answer to this question is complex. However, one of the principal reasons for India's fondness for Russians arms stems from what institutional economists refer to as path dependence. Put simply, path dependence means that in any given arena policymakers are constrained by decisions made in the past. Even though India has sought to diversify its sources of supply, as much as 60 percent of its military arsenal is either of Soviet or Russian origin. Not surprisingly, India remains reliant on Russia for spare parts and upgrades for a disproportionate segment of its armory.
This, however, is not the sole reason that explains India's habit of turning to Russia to replenish its military capabilities. New Delhi also looks to Moscow because unlike other suppliers—most notably Washington—few political considerations come into play when acquiring weaponry. The Russians, who are acutely cash-strapped and have few, if any, domestic institutional constraints, are only too happy to provide India with top-grade weaponry. U.S. weapons systems, while often more sophisticated, have in the past been subject to congressional oversight and vagaries.
There is at least one other factor that explains India's reluctance to rely too heavily on the United States. This hesitation stems in considerable part from U.S. sales of sophisticated weaponry to Pakistan during much of the Cold War and even, on occasion, thereafter. Even though U.S.-Pakistan relations have noticeably cooled over the last several years, Indian misgivings about the past remain alive and well.
While most of these issues are understandable, it may now be time for India to recalculate its weapons acquisition strategies. During the Cold War, when India had a strategic partnership with the former Soviet Union, it made much sense to acquire military technology mostly from the Kremlin. The Soviet Union was willing to supply advanced weaponry at bargain-basement prices, it accepted Indian rupees in payment, and it shared deep misgivings about the rise of China. Most importantly, at that time, Moscow was a reliable supplier.
Practically every one of those considerations do not hold today. Moscow today has an ambivalent relationship with Beijing. India, on the other hand, sees China as its principal, long-term security threat. More than two decades ago, Mikhail Gorbachev made it amply clear that Russia no longer intended to act as a strategic bulwark against China. Subsequent leaders, including President Vladimir Putin, have hardly disavowed Gorbachev's stance.
Sushant Singh Rajput Death;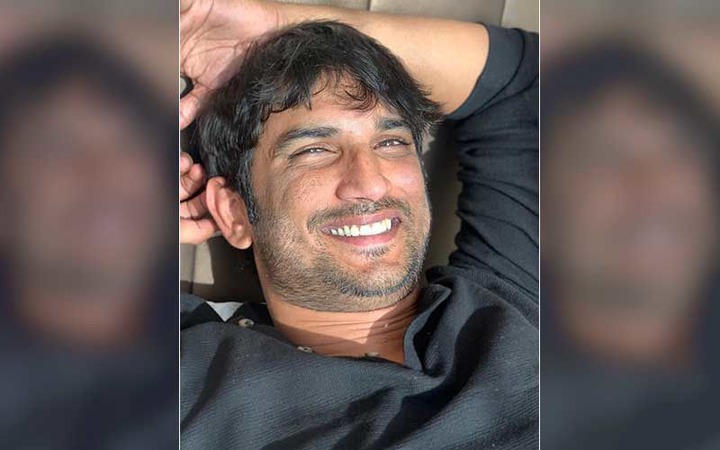 Sushant Singh Rajput's girlfriend Rhea Chakraborty recently made a plea to the honourable Home Minister Amit Shah requesting a CBI inquiry in the actor's suicide case. Soon after, it was reported that Maharashtra Home Minister Anil Deshmukh mentioned how he thinks that there is no need for a CBI probe and said that the Mumbai Police are competent enough to handle such cases. Now, Sushant Singh Rajput's cousin and BLP MLA Neeraj Kumar Singh Bablu talks about the progress in the late actor's suicide investigation.
Speaking with Beyond Bollywood, when asked what he made of the investigation so far, late Sushant Singh Rajput's cousin Neeraj Kumar Singh Bablu and Bharatiya Janata Party MLA from Chhatapur, Bihar said, "Kuch samajh nahi aa raha hai. There are no concrete answers coming. So far, we are waiting for the investigation to be completed." He mentioned that nobody can understand anything as there are no concrete answers from the investigation. The 51-year-old also mentioned that everyone is waiting for the investigation to be completed.
During the interview, when asked whether he was aware of any trouble in Sushant and Rhea's relationship, Bablu replied, "I don't know. They shared a cordial relationship in the beginning." Moving on, in the interview, reacting to reports that stated that Sushant suffered depression and was undergoing treatment 6 months before his demise, Bablu acknowledged his late cousin might have had some health issues, but he cannot fathom how the late actor could have taken his life. He said, "Everyone has some minor health issue, but if he was depressed, then there must be some cause for his depression? The police will have to give a reason."
Meanwhile, the MLA from Bihar also stated that until now, even he is not clear whether it was a suicide or if there was any foul play and said, "It is said that there was a friend with him the previous night? Who was that friend? We don't know yet. Who all were questioned? Is it murder or suicide? Nothing is clear so far." As Sushant Singh Rajput's cousin talks about the progress of the investigation, Maharashtra Home Minister Anil Deshmukh revealed that in the investigation by far, the Mumbai Police do not see any foul play. Also Read: Sushant Singh Rajput Death: 'No CBI Inquiry, Mumbai Police Is Enough' Says Maharashtra HM Anil Deshmukh, After Rhea Chakraborty Requests CBI Probe
Sushant Singh Rajput died due to suicide on June 14, after he hung himself in his Mumbai residence. It's been one month and three days since Sushant's tragic demise, and by far, the Mumbai Police have recorded the statements of over 30
Mary Trump's Book on Donald Trump's nearly sells of one million copies in the first day of launch;
Another book on US President Donald Trump that White House attempted to restrict sold nearly one million copies on just the first day of release in the United States, its publisher reportedly said on July 16. Trump's niece, Mary Trump has written Too Much and Never Enough: How My Family Created the World's Most Dangerous Man which is also the first critical portrayal of Donald Trump by someone from his own family. Now a psychologist, Mary's father was US President's oldest brother, Fred and has accused Donald Trump to be hubris and ignorance.
Elaborating on his unflattering description of Trump, Mary has also said that the POTUS fits clinical criteria of being a narcissist. The publisher Simon & Schuster reportedly said that Mary's book sold 950,000 copies on July 15 including pre-orders, audio and digital versions which is also 'a company record' for the house. However, the White House has dismissed Trump's niece's memoir as a 'book of falsehoods
Trump has Difficulties in uphill gate for re- election;
President Donald Trump faces an "uphill battle" in the 2020 presidential race, according to billionaire investor David Rubenstein, who worked in the White House under Democratic President Jimmy Carter.
In a newly released interview, Rubenstein said Trump faces a difficult re-election because of the economic fallout from the coronavirus outbreak and other issues that have eroded his popularity.
"Clearly, President Trump has a challenge now, because presidents don't usually get re-elected when the economy is in bad shape," Rubenstein told Yahoo Finance on Tuesday.
"When the economy is not good, you have people like Jimmy Carter not getting re-elected, George Herbert Walker Bush not getting re-elected, Gerald Ford not getting re-elected. So the economy is not as good as it once was," adds Rubenstein, who interviews top CEOs on Bloomberg's "Leadership Live."
Trump on Wednesday replaced campaign manager Brad Parscale, a significant change of leadership with the election less than four months away.
A Gallup survey conducted in June gave Trump an approval rating of 39%, which marked a 10-point drop from his rating in the poll a month prior. Trump currently trails Biden by 9.1 percentage points, according to an average of national polls calculated by FiveThirtyEight.
After the spread of the coronavirus became widely known in March, tens of millions of Americans lost their jobs and thousands of businesses declared bankruptcy. The economy showed some signs of initial recovery last month, when the U.S. added a record 4.8 million jobs, which dropped the unemployment rate to 11.1%.
Both Jimmy Carter and George H.W. Bush, the two most recent presidents who failed to win reelection, lost their bids in part due to an economic downturn. Carter, a Democrat, lost to Republican challenger Ronald Reagan in 1980 after a six-month recession that began in January of that year. George H.W. Bush lost to Democratic challenger Bill Clinton in 1992, not long after an eight-month recession that began in July 1990.
Countries where you can use your red card without visa;
By Petar Core -
July 17, 2020
Img source: pinterest.com
US green card holders enjoy certain luxuries, especially when it comes to overseas traveling. There are plenty of countries that don't require US citizens to obtain a Visa. In total, the list includes more than 160 countries.
This has caused the same countries to give the same privileges to green card holders. While the number of countries doesn't mimic the exact number that allows for US citizens to travel, certain countries do allow travel without needing a Visa.
So, let's get to know the 6 places where you can travel Visa-free if you're a green cardholder.
Can You Travel Anywhere?
It's safe to say that you can travel without needing a Visa to any number of countries that allow it. Fortunately for you, there are plenty of countries that do extent this privilege to green cardholders.
All you have to do is either make it to this end of this article or check an individual country's Visa policy. So, without further ado, let's get right into it.
Countries That Allow Access With No Visa
Below you'll find information on some of the countries that don't require Visa for traveling when it comes to green card holders.
1. Canada
Img source: pexels.com
Our northern neighbor doesn't require Visa for US citizens to travel. With that said, they don't require green cardholders to have one as well.
The only thing you'll need is an eTA, which costs a measly 7 bucks. This paper is very easy to obtain and a must if you want to cross the border.
With this paper in hand, you can legally hop over the northern border at the nearest entry point or simply board a plane. Once you're into Canada, simply show this piece of paper to the immigration officers and you're all good to go.
2. Mexico
Img source: unsplash.com
The southern neighbor is also nice enough to allow Visa-less entry to both US citizens and green cardholders. And, same as Canada, you have to obtain a special document if you wish to enter Mexico.
This document is the Mexico Tourist Card, but luckily for you, there are plenty of ways to obtain it. If you're flying to Mexico, then the personnel inside the plane will be nice enough to hand you one as you're about to enter. Many airline companies include this document in the price of the ticket, but you can also buy it separately for $25.
If you're looking to obtain it before traveling to Mexico, then you can do it online on the official website. Simply write Mexico Tourist Card into Google and you cannot miss.
You will need to print the card before traveling to Mexico. Other ways to obtain this document is at the Mexican embassy, the immigration desk once you enter the country, at any Mexican port, or any entry point into the country. It's safe to say that there are plenty of ways to obtain this document.
If you're looking to apply for a green card visa, then you will need help from professionals and access to information that will make it easier to do so. For more information about both, make sure to visit 
meet the Nigeria boy that was arrested in Benin for scam;
The Economic and Financial Crimes Commission, EFCC, has arrested a 22-year-old Internet fraudster (aka Yahoo Boy), Kenneth Gift, for suspected internet fraud in Delta state.
PARADISE NEWS learnt that Kenneth Gift was arrested by the Benin Zonal Office of the EFCC on Thursday July 16, 2020 in Agbor, Delta State.
The 22-year old, who is a Computer Science Undergraduate of the University of Port Harcourt, UNIPORT, was arrested alongside his girl friend, Dandy Spice Igwe and mother, Dorah Animam.
Their arrest was sequel to a petition from the US Federal Bureau of investigation, FBI, and intelligence by operatives of the Commission.
READ ALSO: Nollywood actor John Okafor (Mr Ibu) says COVID-19 is a scam in Nigeria; do you agree with him?
Items recovered from them at the point of arrest include a 5-bedroom duplex, Mercedes-Benz CA250, Mercedes-Benz C250, Mercedes Benz GLK 350, laptop computers and mobile phones.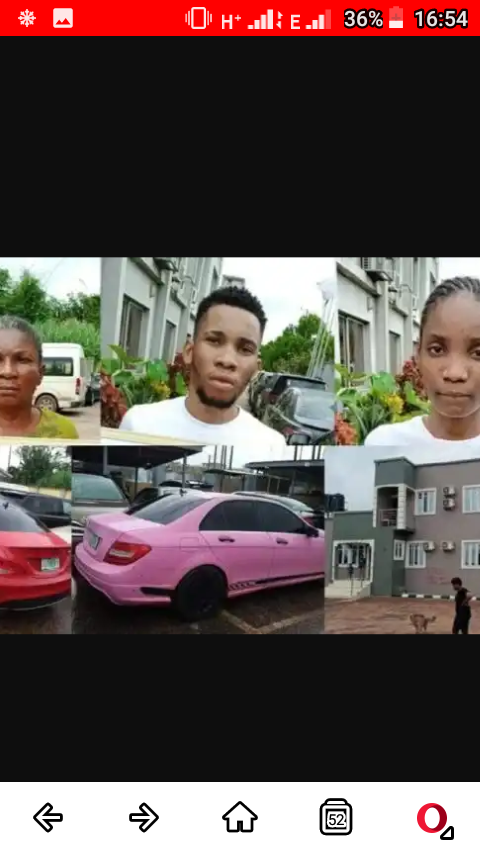 "The suspects have made useful statements and will be charged to court as soon investigations are complete", the EFCC said in a statement on Friday.
READ ALSO: Man jailed for stealing church offering, phone
for more follow me up and comment
Content created and supplied by: Lilsam333 (via Opera News )
Opera News is a free to use platform and the views and opinions expressed herein are solely those of the author and do not represent, reflect or express the views of Opera News. Any/all written content and images displayed are provided by the blogger/author, appear herein as submitted by the blogger/author and are unedited by Opera News. Opera News does not consent to nor does it condone the posting of any content that violates the rights (including the copyrights) of any third party, nor content that may malign, inter alia, any religion, ethnic group, organization, gender, company, or individual. Opera News furthermore does not condone the use of our platform for the purposes encouraging/endorsing hate speech, violation of human rights and/or utterances of a defamatory nature. If the content contained herein violates any of your rights, including those of copyright, and/or violates any the above mentioned factors, you are requested to immediately notify us using via the following email address operanews-external(at)opera.com and/or report the article using the available reporting functionality built into our Platform See More