- The 10 prominent Nigerians that died in January of the year 2021 as a result of pandemic disease and other diseases
- Some of them are scholars, traditional leaders, politicians and richest men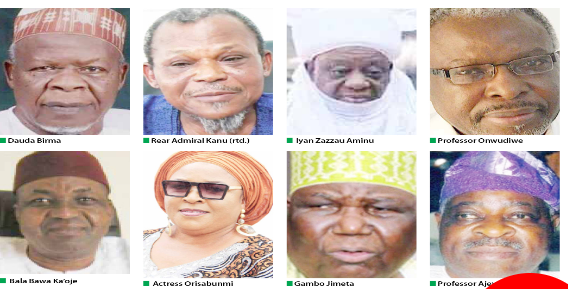 They were as follows;
1. Professor Ebere Onwudiwe (died on 9th January)
He is the Professor in political science at the Central State University, Wilberforce Ohio, he died as a result of pandemic disease.
2. Rear Admiral Ndubusi Kanu (died on 13th January)
He is former administrator during Military Government in Lagos State, and also he is the member of National Democratic Coalition (NADECO). He died at 77 years of age after a brief sickness at his residence in Imo State.
3. Prince Bolu Akin-Olugbade (died on 13th January)
Late Prince Bolu Akin-Olugbade has turbaned as a traditional leader in Aare Ona-Kankanfo of Owu Emirate. He is also a lawyer, businessman.
4. Iyan Zazzau, Alhaji Bashir Aminu (died on 1 st January)
Before his demise he is the spokesman and also a ruler to the Zazzau Emirate in Kaduna State.
5. Dauda Birma (died on 5th January)
Alhaji Birma, is the former Minister of Education and he is the Presidential candidate of All Nigerian Peoples Party (ANPP). He died on Tuesday morning 5th January, 2021 at his residence in Yola, Adamawa State.
6. Folake Aremu (died on 3th January)
Folake is former Yoruba actress in Nollywood and she was popularly known as Orisabunni. She has demise at 60 years of age.
7. Professor Duro Ajeyalemi (died on 6th January)
Late Professor Duro Ajeyalemi, of Lagos State University, who retired from service at the 70 year of age has died on 6th January, 2021.
8. Bala Bawa Ka'oje (died on 19th January)
Ka'oje is the former Minister of Sports and also a chairman of National FIFA, he died at 60 years of age.
9. Gambo Jimeta (died on 21st January)
Muhammadu Gambo Jimeta, the former Inspector General of Police (IGP) who took over from Etim Iyang in the year 1986 and handed over to Aliyu Attah in the year 1990.
10. Justice Abdulkadir Orire (died on 26th January)
Abdulkadir Orire, is the former Grand Khadi of Kwara State, he was born in 1934 at Obaninsunwa in Illorin. He worked in the Court of Appeal in Kwara State.
Here is the list of 10 prominent Nigerians that died in January of the year 2021.
What do you think about this? Kindly click on bottom below to share your thought in the comment section. Also don't forget to like and share this article.
Please follow us for more latest update.
Thank you.
Content created and supplied by: MlyGetso (via Opera News )