China: Not because of their military, but because they have something that the USSR never had, soft power. The Soviet Union was a juggernaut, it was menacing and its thousands of tanks lined up in Germany were one of the gravest threats that western democracy ever faced. But when the USSR wanted something done, all they could do was threaten, and if London and Paris and Brussels ignored their threats then they were defeated. China though, can do more, because they have economic influence that spans the globe. If the USSR were dealing with Taiwan, their only option would be to threaten. China can bring other countries to isolate Taiwan with the allure of infrastructure deals and jobs. If the USSR were committing genocide against their Muslim minority, the whole world, especially the Muslim world, would condemn them. As China does that though, Saudi Arabia and Jordan remain silent in exchange for investment from Huawei and Tencent. China takes control of shipping lanes and secures bases overseas, it influences western leaders, it spreads its companies around the world, gains ownership of infrastructure and rights to resources, and sends its military to train others all on the back of its economic might.
Chinese President Xi Jinping with French President Emmanuel Macron, as Europe has moved away from America under the Trump Administration it has aligned itself ever more closely to China.
The Addis Ababa-Djibouti Railway, one of many Chinese built, staffed and owned infrastructure projects in Africa and Asia.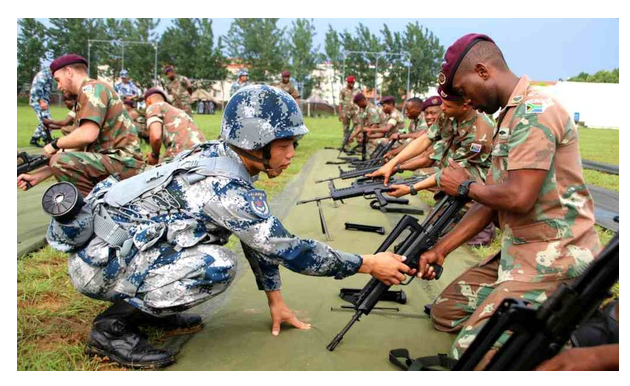 PLA Marines training the South African Army, spreading Chinese military influence into the continent.
China spreading its economic influence though, is not inherently a threat to democracy, but China realizes that politics is about more than money. Global politics in the modern age is a great power struggle between competing systems just as it was during the Cold War. But instead of being a contest between capitalism and communism, it is now a contest between democracy and autocracy. The Chinese believe that their system of government is the best, they believe that democracies are messy and inefficient and divisive and that their authoritarian system is the best system for the future. But they also know that they are the minority, and that if they allow autocracies around the globe to be overtaken by democracy that one day they will be overtaken too. So with their economic influence comes a system of governance. They sell not only cell phones, but surveillance equipment, they export not only their companies, but their way of thinking. As China spreads its influence around the globe, it brings the mission of propping up authoritarian regimes and of convincing people that what they believe is true, that democracies are inefficient, unnecessary, and unreliable, that autocracy gets things done and keeps a nation strong.
That is the biggest threat democracy faces today.
Content created and supplied by: SeyiXam (via Opera News )