Rumours has been rocking various social media platforms, that second wave of COVID-19 will affect the school resumption date that was earlier announced by the Federal Government of Nigeria. Some people even went ahead and said the date has been shifted.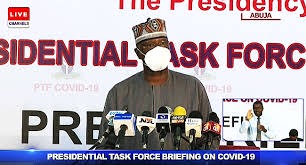 But Sani Aliyu, the National Coordinator of the Presidential Task Force (PTF) on COVID19, came on air to clarify the confusion in the minds of Nigerian students.
According to him, 18th January, 2020 still remains the date for school resumption. It will only change if the Federal Government review it.
The coordinator clarified this in an interview with TVC yesterday.
As announced by Malam Adamu Adamu, the Minister of Education on Monday, January 11th, 2020, as a result of the second wave of the dreadful corona virus, the Federal Government would review the January 18 date that was fixed for school resumption. But it does not mean that the date was shifted indefinitely.
"As regards schools, I just want to make a clarification. What the minister said yesterday was that they were going to review, he didn't say that they were going to change the date. He said they will review the situation and let the nation know", said Aliyu.
Content created and supplied by: AllnewsKY (via Opera News )