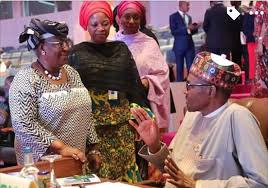 Nigerian political system is funny, as some people view the players of the game as enemies of one another.
Something happened today that proved that the believe people bear in their mind is totally wrong. 
Mrs Ngozi Okonjo Iwella was appointed today as the first woman and the first African to become director-general of the World Trade Organization , her term commencing on 1 March 2021.
This is a goodnews to every Nigerians and African, as she had brought honour and pride to the black race.
However, beyond been a goodnews, there something Nigerians can learn from this latest development.
Mrs Ngozi Okonjo Iwella is an economist and not a politician, however, by vessel of the post she has occupied in Nigeria, she can be said to some extent, that she is a politician, having occupied some political posts.
On the 17th August 2011, She was appointed by former President Goodluck Jonathan as minister of finance, however, before that, she was appointed by former President Olusegun Obasanjo as a minister as well.
Both former leaders are of the People democratic party, meaning that Okonjo Iwella is a beneficiary of the people democratic party, but this development never stopped President Muhammed Buhari of the All progressive congress from giving her his support.
As a matter of fact, the great economist visited President Muhammed Buhari when she was vying for the post, and in the President sense of humor, he gave her a warm welcome.
President Muhammed Buhari even went to the extent of writing letters to a good number of some world leaders, soliciting for their support for his fellow Nigerian.
This is a good development, despite different political parties, the two work together to achieve a common goal to the pride of our great country.
Content created and supplied by: Tumex7 (via Opera News )