January 14, 2021.
Stop Kidding Yourself, It Was Sadistic, A Betrayal Of Trust And Abuse Of Power- FFK Fires Back At Twitter CEO Over Trumps Twitter Ban.
Nigeria Politician, Chief Femi Fani Kayode Has Fires Back At Twitter CEO Jack Dorsey over his role in the Banning of the account Belonging yo the outgoing President of the US, Donald Trump.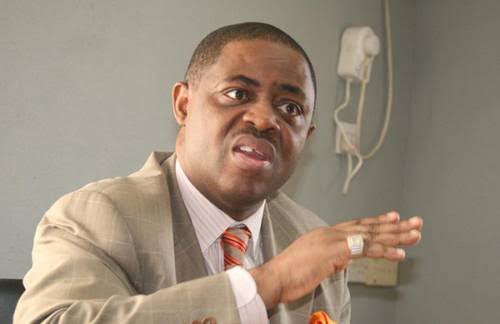 Donald Trump was banned from posting on his twitter account which had over 80 million followers by Jack Dorsey's twitter what he perceived as threat and unverified allegation always being released by trump. This allegation of fraud and discrepancies from trump was due to how the US Election held on November 3, 2020 went and trump do use his twitter account to voice out about the election.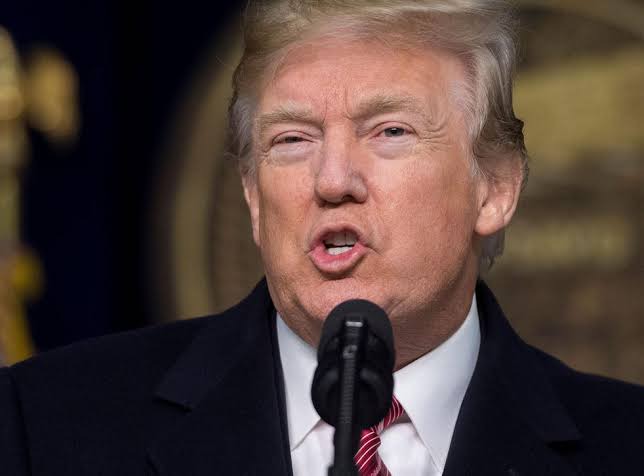 Although, before trump was totally banned, Dorsey said the President has been warned over his post on the platform but he had to ban trump in the interest of the platform especially looking at the effect his post on twitter may cause.
After trump was banned, there has been different kind of backlash from people towards the twitter CEO over his move to ban trump with some stating the fact that banning trump has set another concern for freedom of expression on social media.
Hours ago, Jack Dorsey posted on twitter the reason why trump was banned. He used the opportunity to once again state why trump was banned and also to ask of the move was correct.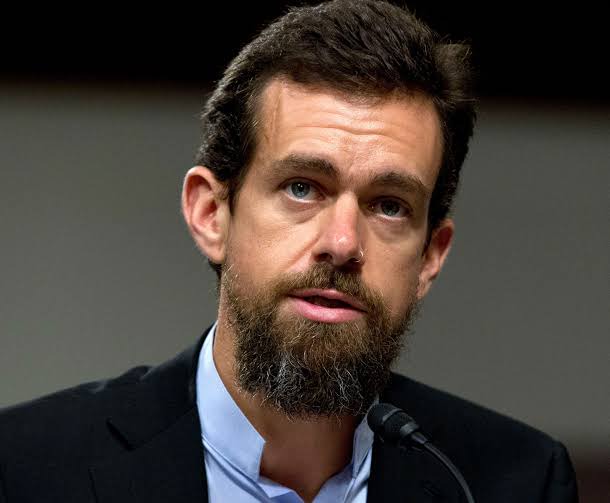 See Full tweet below;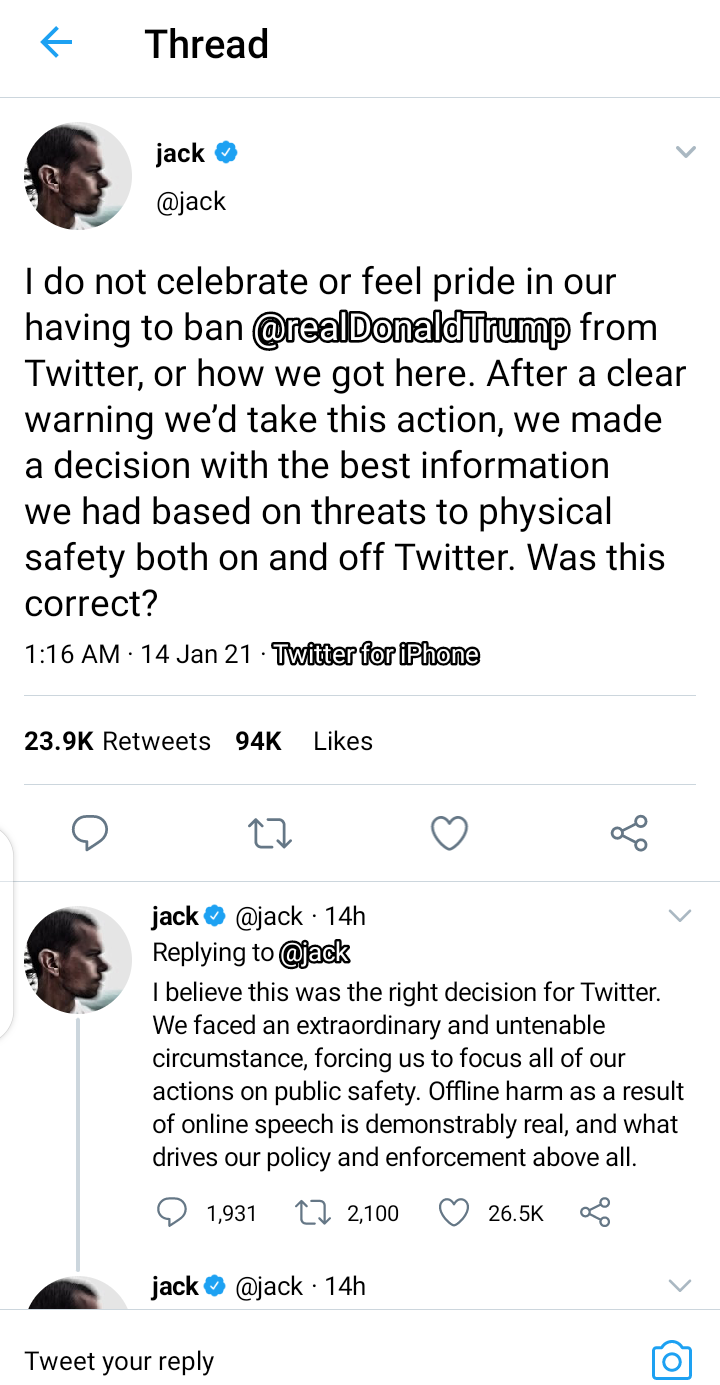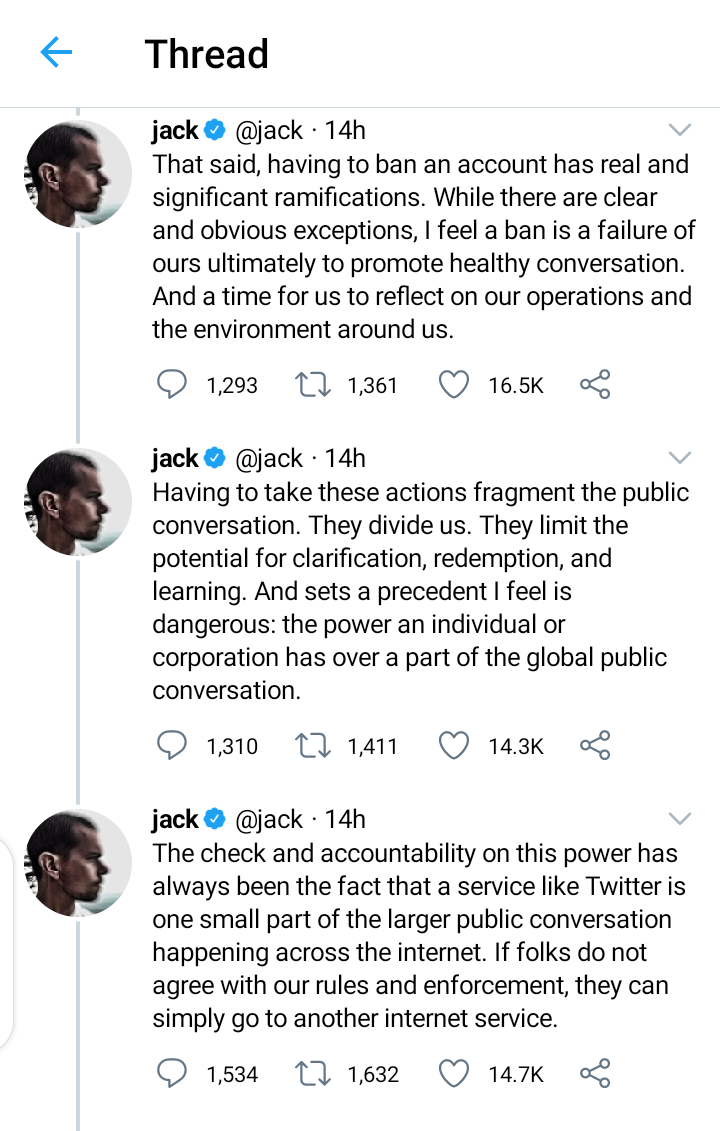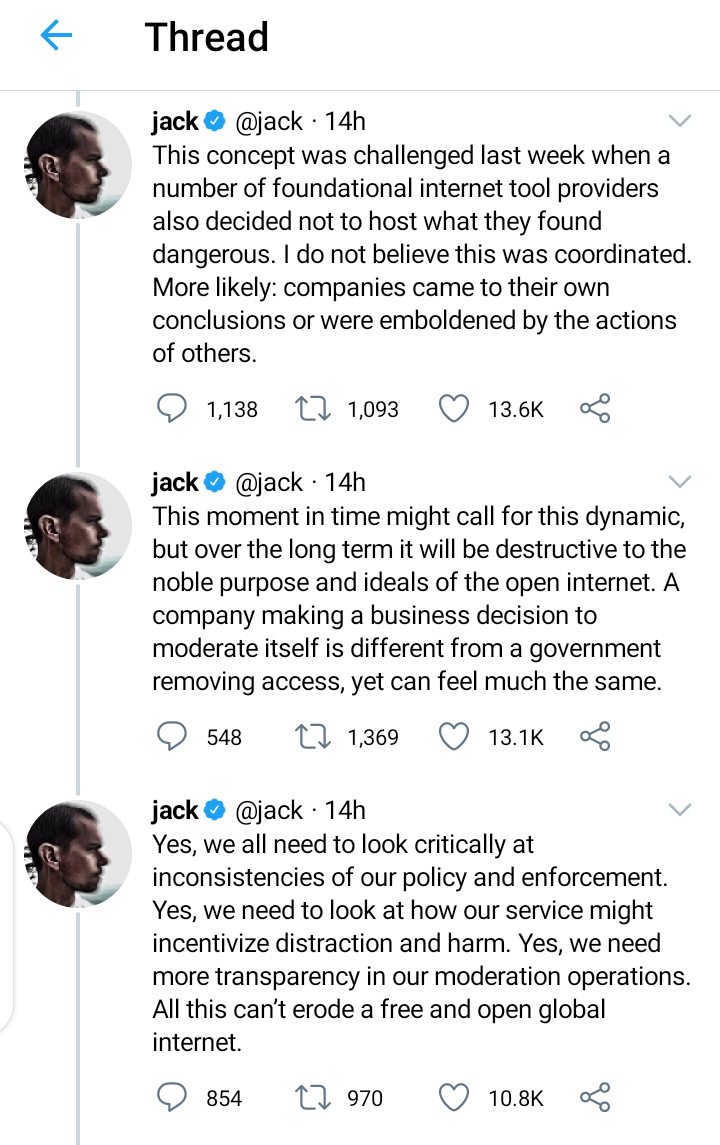 Meanwhile, Femi Fani Kayode who is an admirer of trump fires back at Jack Dorsey over the ban of trump stating that the Twitter CEO denied trump of his right to express himself.
He added by stating that Jack took great pride and pleasure in what he did thus making him say its a betrayal of trust and abuse of power against trump.
See His Statement Below;
"Stop kidding yourself. You took great pride & pleasure in doing what u did. It was sadistic & it reflected ur pathological hatred for Trump & those on the right. You shut out an alternative voice & u sought to silence a great man. It was a betrayal of trust & an abuse of power".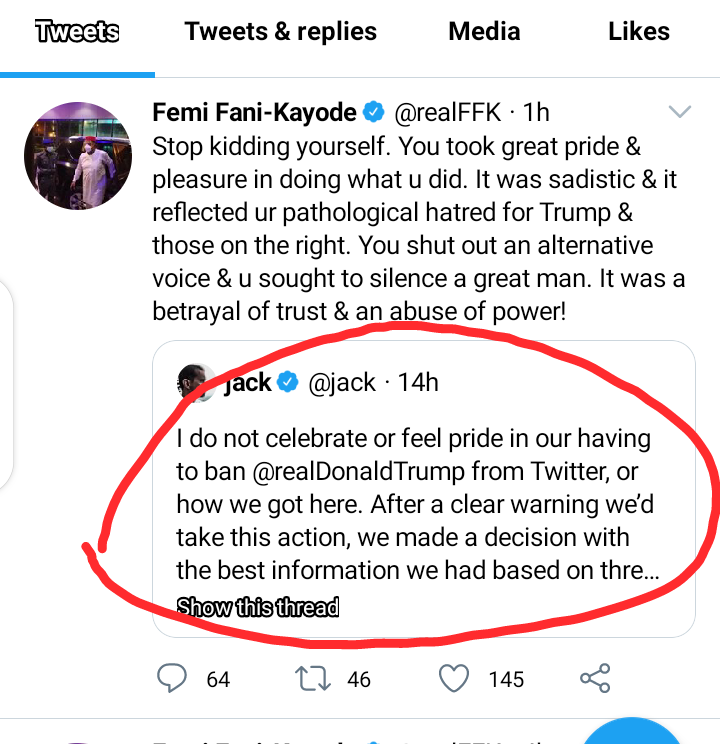 After FFK made this tweet, see what people are saying below.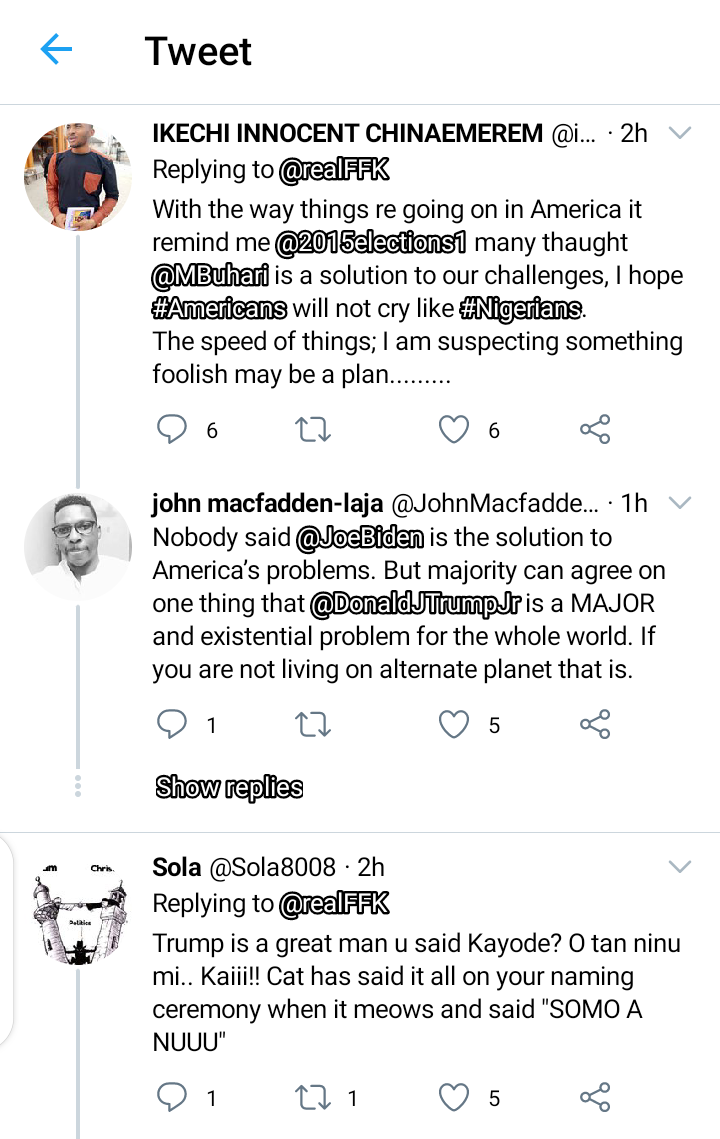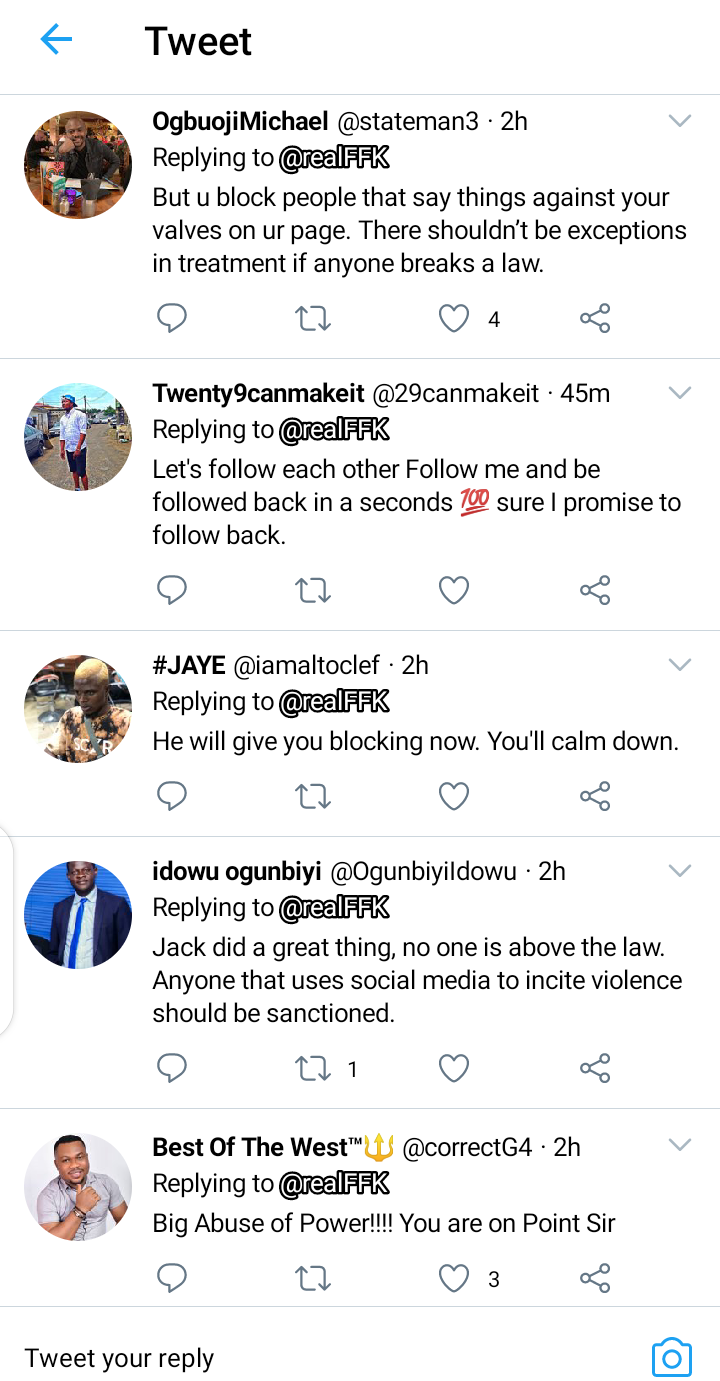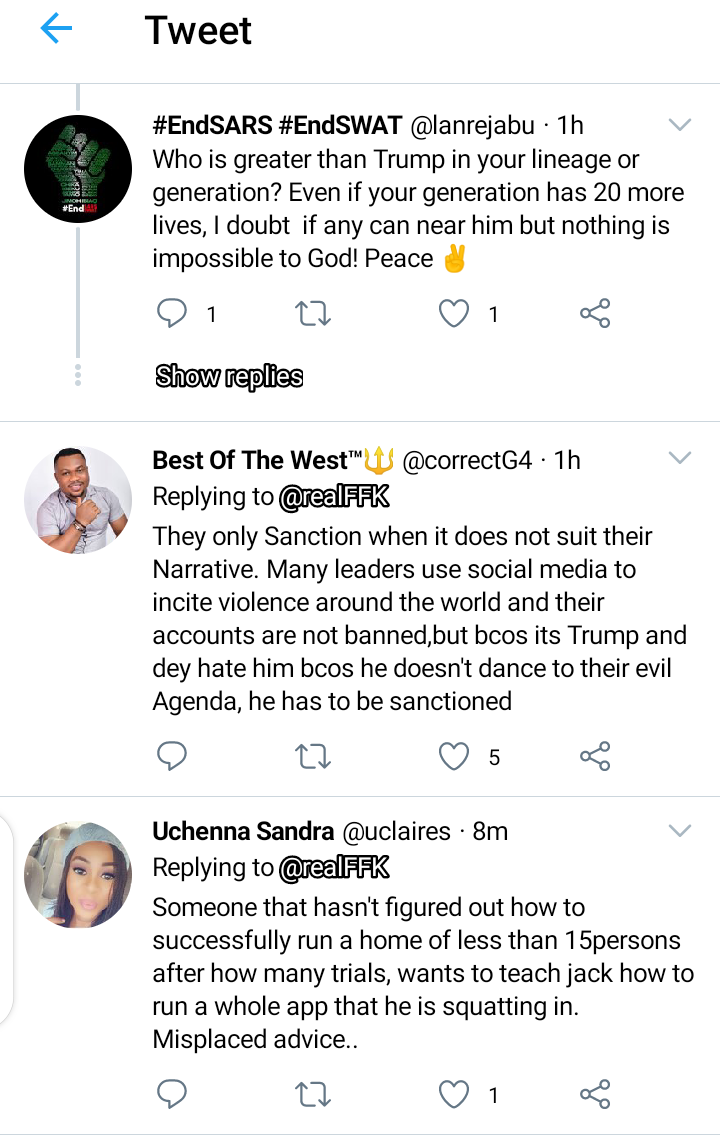 What can you say as regards FFKs reply to Jack Dorsey?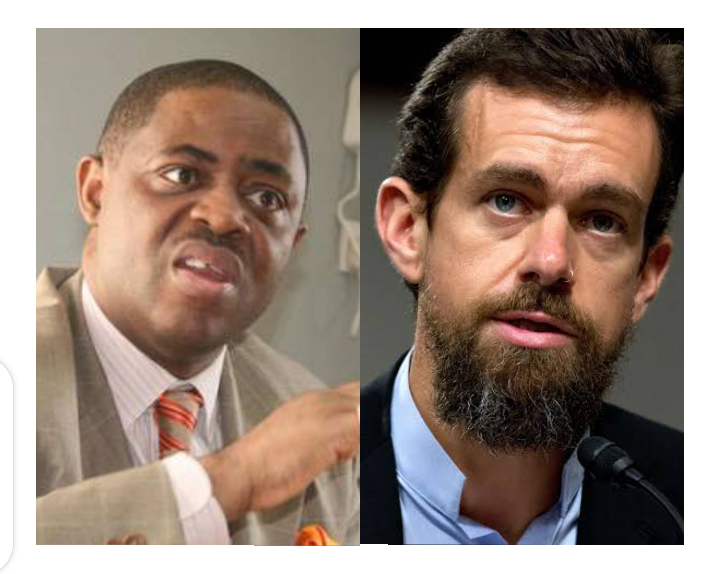 Kindly drop your opinion in the comment section below.
Don't forget to like share and follow for more update.
Content created and supplied by: CityPost (via Opera News )