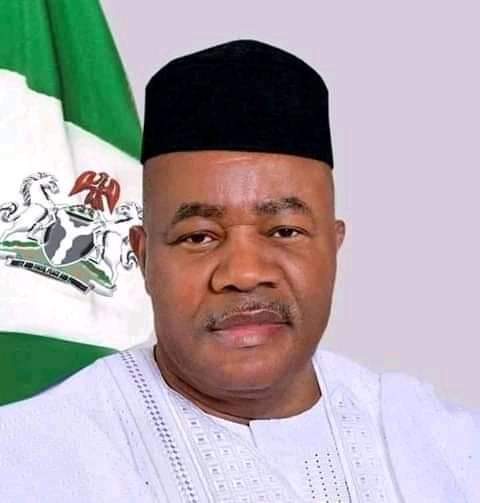 A socio-political group in Akwa Ibom State has slammed the Minister of Niger Delta Affairs and firmer governor of Akwa Ibom State, Senator Godswill Akpabio over boycott of Air Commodore Otuekong Idongesit Nkanga's funeral which held last week Saturday, 6th February 2021.
The group which is named 'Akwa Ibom Transformation Ambassadors in her press statement released this evening maintained that for Senator Akpabio to stay back from the former and first indigenous military governor of the state, Otuekong Idongesit Nkanga's funeral depicts politics of bitterness and high regard for partisanship over patriotism.
Read full text of the release below:
AKWA IBOM TRANSFORMATION AMBASSADORS, AKITA 
Press Statement 
AKPABIO'S BOYCOTT OF NKANGA'S BURIAL, AN ALIEN CULTURE THAT SHOULD BE BANISHED IN AKWA IBOM
It has been a very harrowing period in the history of Akwa Ibom State, with the unfortunate demise of the first indigenous military Governor of the State, who was committed to Mother Earth last Saturday February 6,2021. In such a trying time, all patriotic indigenes of the State were expected to bury their hatchets and unite to celebrate the life the late gentleman had lived.
Interestingly, while alive, Idongesit Nkanga stood for, and represented sacred beliefs founded on democratic ideals, justice and egalitarianism. Apart from leaving indelible imprints on the sands of time as Military Governor of Akwa Ibom State, such as the state of the art Idongesit Nkanga Secretariat complex, he, through the umbrella of PANDEF fought relentlessly for a just and egalitarian social order for the Niger Delta within the Nigerian polity, some of which include, true federalism, resource control and the political restructuring of Nigeria. 
The totality of these, led to the enunciation by PANDEF, of a 16-point Agenda to President Muhammadu Buhari in 2016, which the APC led Federal Government has refused to implement. Viewed from the above, Nkanga's life fits into Robert Ingersoll's thought that, "a great man does not seek applause or place; he seeks for truth; he seeks the road to happiness, and what he ascertains, he gives to others".
It's therefore not surprising that Otuekong Nkanga's funeral attracted dignitaries from far and near, who turned up in their numbers to show solidarity to the Government and people of Akwa Ibom State, and expressed their heartfelt condolences to the family of the departed colossus, whose sacrifices and dogged zeal for the emancipation of the Niger Delta region and its people within the unjust configuration, Nigeria, cannot be overemphasized. These included the Bayelsa State Governor Senator Duoye Diri, Governor Nyesom Wike and others who had earlier visited to express their grief, Stakeholders and elders in their different capacities from the different political, sociopolitical and ethnic blocks and other various groupings in the region, irrespective of political divides. This was to be expected, most especially in the light of the various advocacies and legal battles the retired air force general led on behalf of the region during his last couple of years. 
Incidentally, while it was near impossible to count the high profile guests who came to identify with the state at the solemn occasion, it was almost a simple arithmetic, calculating those who where do busy to honour the elder statesman with their presence, chief of whom, was Senator Godswill Akpabio, who in the federal executive council, represents the region that Nkanga epitomised. Lamentably, the boycott of Otuekong Idongesit Nkanga's funeral by Senator Godswill Akpabio, former Governor of Akwa Ibom State and Minister of Niger Delta Affairs whom the departed served as Director General for his re-election as Governor in 2011, corroborates the philosophical standpoint that "man's inhumanity to man is worse than nature's cruelty". More astonishing is that the Sole Administrator of NDDC, Effiong Akwa, toed the line of the same sacrilegious infamy by disrespecting the departed elder statesman and the people of Akwa Ibom State. 
It is apposite to ask:
• What offence did Nkanga commit by working tirelessly as Director General of Campaigns, to ensure the re-election of Chief Akpabio as Governor in 2011?
• Did he commit any crime by accepting to teamwork with Akpabio on the airport project, which he served as Chairman of implementation committee? 
• Should Statesmanship always be sacrificed on the altar of selfish political venom and self-aggrandizement? 
• Could Senator Akpabio have elected to repay Nkanga in this manner by boycotting his funeral, for the latter's refusal to support his gubernatorial candidate in 2019, having joined forces with the people to oppose Warsaw Saw War?
• Is this the same mindset that the duo of Senator Akpabio and Effiong Akwa would use to work with their state government to bring any meaningful project to this state?
* What lesson is Akpabio, as former Governor passing on to his followers by such exhibition of viciousness?
*Does he think that paying some form of respect to Idongesit Nkanga, would adversely affect the fortune of his political party?
If that's the case, then James Clark was right to have asserted that, "the difference between a politician and a statesman is that a politician thinks about the next election while a statesman thinks about the next generation". 
Unlike Senator Akpabio who subjects everything to political considerations, the departed, while alive, committed his life to the happiness and prosperity of the people and posterity. 
It was James Dean, a Writer and Philosopher who said that, "if a man can bridge the gap between life and death, if he can live on after his death, then maybe he was a great man". This thought aptly explains in bolder relief, the sublime idiosyncrasy of the Late Otuekong Idongesit Nkanga, the Chairman of the Pan Niger Delta Elders' Forum (PANDEF). Obviously Nkanga, a man of peace, would not entertain this emotions over who chooses to hate him or like him even in death, however we deem it appropriate to condemn in strong terms, this atrocious and strange attribute, and to banish it from our clime.
On a note of finality, We, hereby advise Senator Godswill Akpabio to eschew Political vendettas and embrace statesmanship, which is catalytic to nation- building! 
Signed: 
Comr. Umani Uwemedimo 
Chairman 
Comr. Godwin Edet 
Secretary
Content created and supplied by: Watchdog.com (via Opera News )