Does the rejuvenation of the Chinese nation require political unification with Taiwan, when China is doing pretty well for herself now?
It depends on what "China", or the Chinese nation, means.
Traditionally, Imperial China thought of itself as the Celestial Empire, meaning the surrounding states are tributary states of China; other states are not the equals of China. This model is inconsistent with Westphalian sovereignty that is the basis of international order today. If the rejuvenation of the Chinese nation means restoring the tributary system of Celestial Empire, then the minimum requirement for Taiwan is for it to recognize the superior status of China over it (North Korea would be an example of that). Since this would be unacceptable to a democratic, sovereign Taiwan, the alternative would be to absorb Taiwan to be part of China. That is why China puts "unification with Taiwan" on the table.
Historically, Taiwan became part of China only during the Qing dynasty. PRC models itself as a modern version of Qing Empire and defines its territory based on the Qing Empire, ruling regions outside of China Proper (i.e. regions of Han Chinese) such as Tibet and Xinjiang. That's why PRC claims itself to be a multi-ethnic state instead of a nation-state (of Han Chinese). By that logic, it wants to reclaim Taiwan as territory of Qing Empire. So why does PRC model itself on Qing Empire, a Manchu dynasty instead of Ming dynasty, which was essentially a Han Chinese nation-state? Because the territory of Qing Empire is much bigger. Even though the newly acquired territories during Qing dynasty were mostly sparsely populated, they are rich in natural resources or offer advantages in national defense, so PRC doesn't want to give them up easily.
Lastly, "China" as a modern state is a concept formed during the 19th century after contact with the West after the Opium War, so it's natural to define its boundary based on Qing dynasty instead of the previous Ming dynasty. Whether that makes most sense is subject to debate.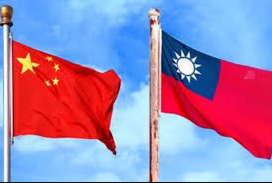 Content created and supplied by: SeyiSamOlu (via Opera News )