As the herdsmen are still struggling with the current crisis in some parts of Yoruba Land including Ondo, Oyo, and Ogun which resulted from the Ultimatum earlier given to them by Igboho and others; there seem to be another challenge for the herdsmen as more Communities in the south west are still speaking out in similar voices.
According to the report on TRIBUNEONLINE, People of Oro kingdom in the Irepodun Local Government Area of Kwara State, under the aegis of Oro Descendants Union (ODU), have issued a seven-day ultimatum to herdsmen in Okerimi-Oro community to relocate to ensure security in the area.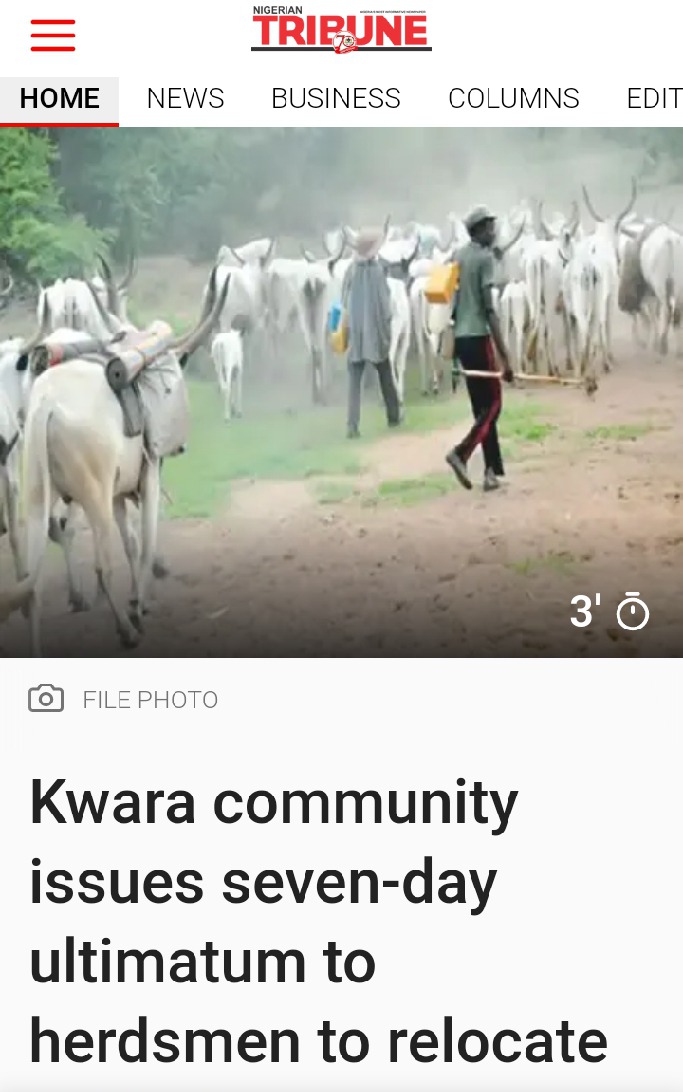 Giving their reasons for the Ultimatum, the community alleged that some traditional rulers of Buhari and Ilala, which are their nearby communities, collected money from the herdsmen inorder to accept them in their communities. But they later directed the herdsmen to occupy Oro community which is not part of Ilala or Buhari community.
They therefore maintained that they give the herdsmen just seven days to relocate to their respective places since they are occupying their community without permission.
In their statement, they said, "Can a house owner collect rent from anyone and direct the person to another man's house to be received as a tenant after signing? Buhari and Ilala are not part of Oro. In fact, it is a slap on our face for them to bring strangers to our Land for them to come and occupy it."
This really seems to be another challenge to the herdsmen, as some of them that left Oyo and Ondo due to crisis, have allegedly relocated to some part of the Oro Community.
I believe this community may not have bothered about the fact that the herdsmen are occupying their community, if not because of this recent crisis.
This is the reason the Government needs to act fast in this arising cases of the herdsmen in the South West, because if nothing serious is done about this quit notice in Oro community, it may result to something else, just like in Oyo State and other states.
Content created and supplied by: PostMaster (via Opera News )